By Carla Fried
A 22.5% earnings jump on the back of a 6% revenue gain in the first quarter has sent CVS Caremark shares (NYSE:CVS) on a mini run since the May 2nd quarterly release. The largest retail pharmacy and second largest pharmacy benefit manager has bested rivals Walgreen's (WAG), Rite-Aid (NYSE:RAD) and Express Scripts (NASDAQ:ESRX), as well as the S&P 500 and the SPDR Select Health Care ETF (NYSEARCA:XLV). CVS provided an unusual bit of good news in a mostly lackluster earnings season.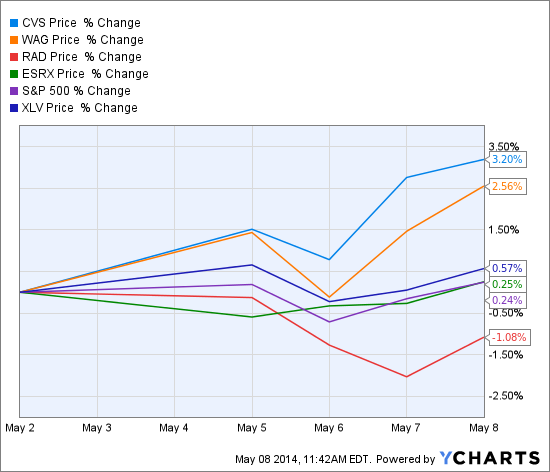 CVS data by YCharts
A recent report from the Leuthold Group suggests there's plenty more upside over the long-term as CVS Caremark is well positioned to be a continuing and major beneficiary of demographics (older folks = more prescriptions) and the growing role of generic drugs.
Back in August 2012 Leuthold made its first bull call on eight stocks along the pharmaceutical supply chain. In addition to the aforementioned stocks were Amerisource Bergen (NYSE:ABC), Cardinal Health (NYSE:CAH), McKesson (NYSE:MCK) and Catamaran Corp (NASDAQ:CTRX). Since that call, Leuthold's weighted composite for the eight stocks gained nearly 72%, almost double the advance for the S&P 500 and 20 percentage points ahead of the S&P 500 Health Care Index. In its recent May note, Leuthold reiterated it still likes the theme, and called out CVS Caremark.
"From a competitiveness standpoint, CVS stands quite strong against the others," wrote Leuthold's Jun Zhu.
Part of the Leuthold argument rests on the growing volume for generic drugs, which offer higher margins to the supply chain movers than higher-cost name brands. Leuthold notes that since 2008 generic prescriptions are up 56% compared to a 41% decline for branded drug prescriptions. While the growth rate for generics will likely slow, the high utilization rate means plenty of volume for supply chain operators like CVS Caremark. And then there's always the tailwind of an aging demographic likely needing more prescription drugs.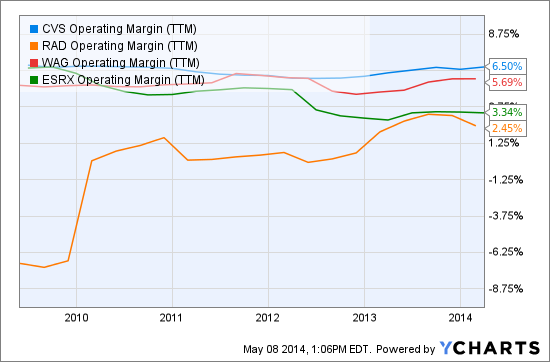 CVS Operating Margin (TTM) data by YCharts
Management is guiding for operating margin to hit between 7% and 8.75% this year.
A 10-year joint venture with Cardinal Health kicks into gear this year that will give both firms serious negotiating leverage and operational efficiency working with generic drug manufacturers. CVS is also building up a "specialty" pharmacy operation to deliver advanced prescriptions, such as infusion therapies. In the first quarter, CVS revenue from its pharmacy segment grew more than 10% and management cited the specialty segment as a key driver. Last year's acquisition of Coram, an infusion delivery specialist that had more than 165,000 patients in 2012, is aimed at building out this segment even more.
CVS earnings growth also led over the past five years.
And that has helped boost CVS free cash flow. Management is guiding for full-year 2014 free cash flow of between $5.5 billion and $5.8 billion, which would be a sharp rise from its 2012 peak of $4.6 billion.
And yes, a chunk of that extra free cash is indeed being returned to shareholders, both in dividend growth and share repurchase.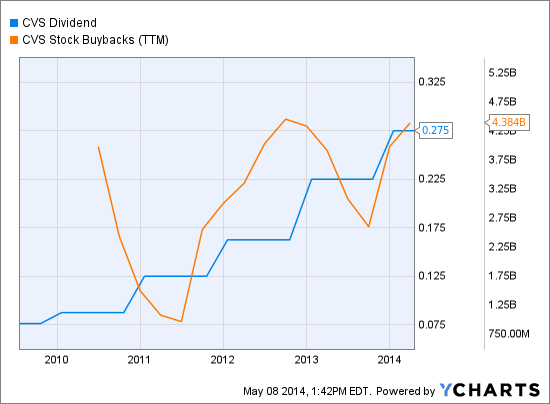 CVS Dividend data by YCharts
From a valuation standpoint CVS is neither a steal nor a red-light problem.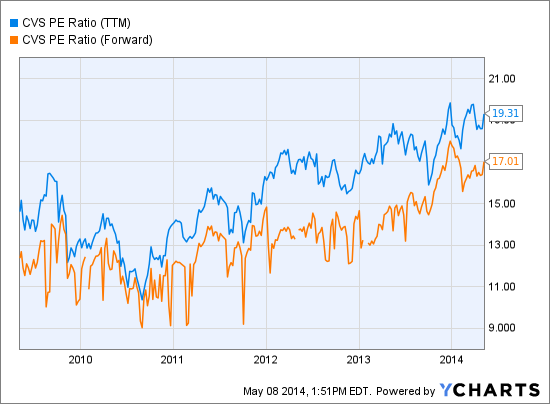 CVS PE Ratio (TTM) data by YCharts
Morningstar currently pegs this wide moat stock as trading about 10% higher than Morningstar's $68 per share estimate of fair value. With its compelling long-term positioning in the drug supply chain, CVS Caremark is a stock well worth keeping tabs on. The first significant market pullback could create a more enticing entry point.
Disclosure: None.