The National Association of Realtors released its Pending Home Sales report for April today (May 29). The index registered a slight .4% gain from March but missed the 1% increase forecast by Wall Street. In the context of the fact that April should be one of the peak months seasonally for home sales (April-August), an analysis of the data released suggests that the housing market continues to reflect fundamental weakness. Furthermore, the data suggests that prices, which have been in a downtrend since last summer, will continue to head south.
While the PHSI registered a slight monthly gain vs March, it has registered a decline in nine of the last 11 months including today's report. It missed the analyst consensus forecast by more than double (.4% actual vs. 1% expected). The gain was primarily fueled by a 5% monthly gain in the Midwest. Moreover, the South and West showed monthly declines vs. March (chart is from the NAR, edit in yellow is mine):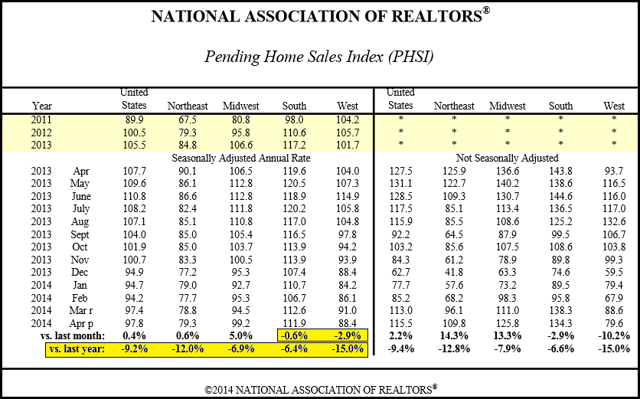 Click to enlarge
In addition to the tepid monthly gain from March, the year over year for April data showed a considerable percentage decline in the index, with double-digit percentage declines in the Northeast and the West. To be sure, a year/year drop in sales, especially given the consensus view that the market is "recovering," is indicative of a market that is demonstrably weak.
The PHSI index reflects contracts that are signed but not closed on existing homes. The NAR asserts that the PHSI "is a leading indicator for the housing sector, based on pending sales of existing homes" (see the link at the top). The yearly comparison therefore suggests that the market is headed south. The fact that interest rates declined considerably during April further reinforces this view: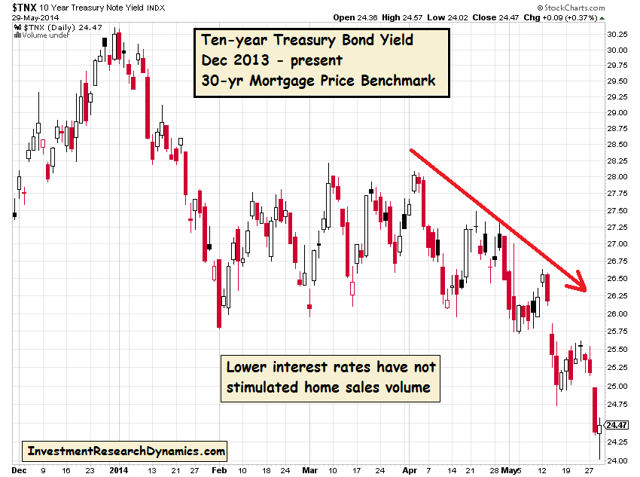 Click to enlarge
As you can see, the 10yr Treasury declined from 2.80% to 2.60% during April, which means that 30yr fixed mortgage rates also declined. Part of the argument for disappointing home sales has been the higher level of interest rates. However, a fairly rapid decline in rates in April failed to stimulate a meaningful increase in purchase contract signings during the month. This also means that the existing home sales metric for May and June will likely disappoint expectations, as the NAR states that it take 1-2 months for contracts to close and existing homes sales reflect closings.
If you sift through the Bloomberg Economic data and look at the mortgage applications report released weekly by the Mortgage Bankers Association of America, you'll see that mortgage purchase applications have declined on a week to week basis sequentially in four of the last five weeks. From this data, we can conclude that the PHSI, and therefore the existing home sales reports, will reflect further weakness and declines in home sales in May and June. To be sure, there's a possibility that investor/flipper cash sales will make up for the decline in sales that require mortgages, however, it is my opinion that the investor/flipper buying cohort is fading.
Finally, as I've detailed in several previous articles on new and existing home sales, the housing inventory is starting to climb fairly quickly. Part of the rationalization for slow home sales data has been a "low inventory" narrative. However, the existing home sales report for April showed that inventory jumped 16.8% from March and 15.7% from April 2013. Months supply also jumped 16% from March and 13.5% year over year. In other words, the low inventory excuse for home sales weakness is no longer valid. In fact, I will extrapolate out from that to suggest that inventory will continue to expand, which means that unless demand picks up considerably, the trend in declining home prices will begin to accelerate.
With a detailed analysis of the housing market data thus suggesting a further decline in the market ahead - despite this currently being the strongest seasonal period of the year for home sales - I am pounding the table on shorting the homebuilder stocks. The homebuilders squeezed higher this week on bullish interpretations of Toll Brothers' (NYSE:TOL) earnings released on Wednesday. I recommend using the spike up in the homebuilder stocks as an opportunity to sell down long positions and add to or establish short positions. I am short DR Horton (NYSE:DHI), KB Homes (NYSE:KBH) and Ryland (NYSE:RYL). I also like shorts in Pulte (NYSE:PHM), Beazer (NYSE:BZH), Lennar (NYSE:LEN) and TOL. As always, I advise leaving room to dollar cost average short positions because the homebuilders are heavily shorted and volatile.
Disclosure: I am short DHI, KBH, RYL. I wrote this article myself, and it expresses my own opinions. I am not receiving compensation for it (other than from Seeking Alpha). I have no business relationship with any company whose stock is mentioned in this article.