In his book, Built to Last, Jim Collins wrote:
The critical question asked by a visionary company is not "How well are we doing?" or "How can we do well?" or "How well do we have to perform to meet the competition?" For these companies, the critical question is "How can we do better tomorrow than we did today?"They institutionalize this question as a way of life--a habit of mind and action. Superb execution and performance naturally come to the visionary companies not so much as an end goal, but as the residual result of a never-ending cycle of self-stimulated improvement and investment for the future...
It seems that the biggest question today regarding American Realty Capital Properties (ARCP) is whether the dividend is sustainable, that is, built to last.
Since going public on September 6, 2011, the New York-based REIT has grown into a dominating aggregator of free-standing net leased properties. As of the latest quarter ARCP owned 3,815 properties comprised of over 103 million square feet.

No other REIT in the history of the universe has grown as fast as ARCP. When the company listed shares on NASDAQ around 20 months ago the capitalization consisted of 5.58 million shares valued at $12.50 with an initial equity raise of around $67.75 million. ARCP began paying an initial dividend yield of 7% that was comprised of a payout of $.875 per share.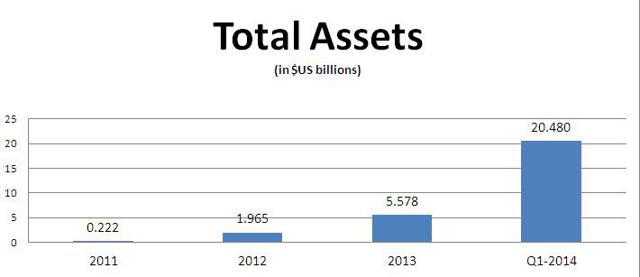 To fund the extraordinary growth ARCP has raised a considerable amount of common and preferred stock. The most recent common equity offering was announced last week as ARCP issued a record 138 million shares at $12.00 (per share) with proceeds raised of over $1.59 billion. That's the largest secondary equity raise in the history of REIT-dom and the proceeds are being used to pay-down debt and other corporate expenses. (keep in mind that $1.59 billion is the size of an IPO).

As a result of the acquisition activity ARCP's debt has also ballooned. Since year-end 2011 ARCP's total debt has gone from $77 million to over $10.3 billion, as of the latest (Q1-14) quarter. The debt consists of $4.29 billion of secured debt and $6.00 billion of unsecured debt.

During the latest quarter (Q1-14) ARCP has successfully added long-term debt: secured $1.2 billion 10-year fixed rate interest only financing consisting of $693 million of mortgage debt and $500 million of senior unsecured notes. In addition, the company successfully refinanced $730 million of secured mortgage financing. The proceeds received from the 5-year unsecured note offering were used to replace 2-year debt.
At the end of the quarter ARCP's weighted average interest rate was 3.7% which includes the line of credit with a weighted average maturity of 5.7 years. This compares favorably when considering other peers which have an average maturity of 5.9 years and an average debt cost of 4.8%. Also ARCP recently secured investment grade rating from S&P and received a reaffirmation of investment grade from Moody's.
ARCP also issued Series F Preferred stock that pays cumulative cash dividends at the rate of 6.70% per annum on its liquidation preference of $25.00 per share (equivalent to $1.675 per share on an annual basis). The Series F issue will not be redeemable by ARCP before the fifth anniversary of the date on which such issue is issued (the "Initial Redemption Date").
The shares of Series F has no stated maturity, are not subject to any sinking fund or mandatory redemption and will remain outstanding indefinitely unless the ARCP redeems or otherwise repurchases them or they become convertible and are converted into common stock. The Series F Preferred Stock trades on the NASDAQ under the symbol "ARCPP"
So What Is the Biggest Risk to ARCP's Dividend Sustainability?
As most of you know, I have been covering ARCP since inception. As in most all Triple Net REITs, the value proposition for the Net Lease REIT brands has been consistent dividend income. There are a growing number of new REITs and in large part; the most durable REITs have been the ones that enjoy high-quality predictable income.
Three of the eleven REITs that managed to pay and increase dividends every year before, during, and after the Great Recession were Realty Income (NYSE:O), National Retail Properties (NYSE:NNN), and W.P. Carey (NYSE:WPC). It stands to reason that investing in high-quality real estate with long-term contractual leases offers a very defensive strategy in which predictability plays a very large role.
For most REITs, and especially the Net Lease REITs, credit risk is mitigated by owning properties leased to a variety of tenants within various operating sectors. For example, when ARCP went public, the company had just two tenants and the risk of owning shares in the company was influenced by the highly concentrated characteristics of the revenue stream.
Now, around 20 months later, ARCP has a much more diverse model; the company's largest tenant, Walgreens (WAG), has around 3.6% of ARCP's ABR (annual base rent) and ARCP's top 10 tenants account for around 22.7% of revenue.
A few days ago ARCP announced that it was acquiring approximately $1.5 billion of assets under a sale-leaseback transaction that includes 500 Red Lobster restaurant properties. This transaction will be consummated in conjunction with Golden Gate Capital's acquisition of Red Lobster from Darden Restaurants (NYSE:DRI). Nicholas S. Schorsch, chief executive officer and executive chairman of ARCP explains:
This transaction further demonstrates our team's ability to execute on our investment strategy. As corporate America continues to sell its owned real estate, our team has shown its strength in seizing these opportunities, evidenced by this deal, and due largely to our inherent advantage as the largest net lease REIT.
As a percentage of assets, the Red Lobster-leased properties will consist of around 7.3% of ARCP's total assets and the seafood chain will contribute around 10% in ARCP's total revenue.
The Red Lobster deal is the largest sale-leaseback deal ever consummated and as I referenced in a previous article, ARCP is one of the only REITs capable of absorbing that many properties under one REIT umbrella:
The only REIT that could possibly take down Red Lobster's real estate (by itself) is American Realty Capital Properties. Now that the Cole Real Estate (NYSE:COLE) merger has closed, ARCP has the size to swallow up the big "Lobster;" however, ARCP would be going against its policy of acquiring investment grade leased properties and further exposing itself to more restaurant concentration risk.
The market reaction to the Red Lobster deal was not as significant as the latest growth news. ARCP shares have fallen by 5.25% since the Lobster story broke on May 16th.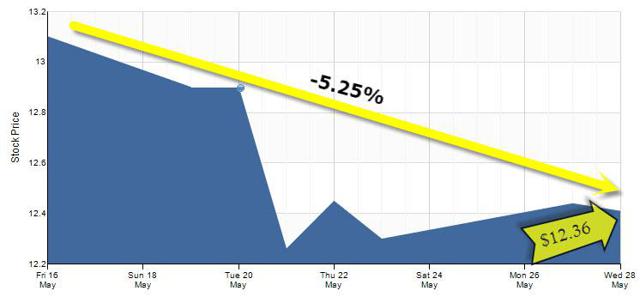 It appears that Mr. Market likes the Red Lobster spin-off better as it relates to Darden shares - up 3.5% since the news broke (May 16th).

So, who really got the better deal of the deal and what's the future impact on ARCP investors?
Is Red Lobster a Trusted Brand?
As mentioned above, ARCP is acquiring 500 Red Lobster sites as Darden has announced a definitive agreement to sell its struggling seafood chain to Golden Gate Capital for around $2.113 billion.
In Darden's presentation, the company set forth a compelling argument making the case that Red Lobster is the weak link and that by divesting the chain, Darden will be a tremendously more valuable restaurant conglomerate. Darden explained that the spin-off to Golden Gate is a "culmination of a robust process to maximize the value potential" that would enable Darden "to reduce debt and support its capital return objectives".
To support the argument, Darden provided the following same-restaurant-store sale chart that illustrates the inconsistency in the Red Lobster model (12 consecutive quarterly declines):

Here is a snapshot of industry same-restaurant-store sale data:

Here is a snapshot of Red Lobster's same-restaurant-store data compared with industry averages:

Darden said that it had explored several separation alternatives and the Board concluded that the agreement with Golden Gate Capital would maximize the value of the Red Lobster business and its real estate assets. Management stated, "the separation of Red Lobster from Darden will better enable the management teams of each company to focus their exclusive attention on their distinct value-creation opportunities its real estate assets".
When you consider the most recent growth related to Red Lobster it's plain to see that Red Lobster was the "weak link in the chain". As evidenced by the snapshot below, Red Lobster has produced anemic growth for the Darden conglomeration of companies.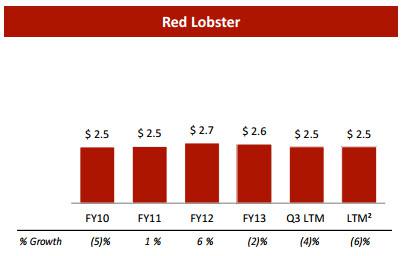 However, when you exclude Red Lobster from Darden's umbrella the company appears to generate more durable growth.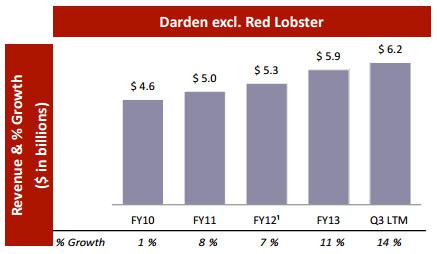 Upon spinning off the Red Lobster chain, Darden will reduce its overall store count from around 2,178 sites to less than 1,500. By removing the "weak link from the chain" Darden believes that it will enjoy a healthier business model - consisting of 836 Olive Garden sites that generate average unit sales of $4.4 million.

…and 453 Longhorn Steakhouse sites that generate around $3.1 million in average unit revenue…

…and 189 specialty sites that generate around $6.8 million in average unit revenue.

It's interesting that while Darden considers Red Lobster to be the "weak link" ARCP considers the struggling seafood chain to be a solid one. I'm not certain whether or not Darden will guarantee the sale-leaseback deal with Golden Gate/ARCP; however, it's obvious that the new entity that operates Red Lobster (by Golden Gate) will be much less than investment grade.
To acquire Red Lobster, Golden Gate will pay Darden $2.1 billion and a large majority of the purchase price will be funded by ARCP (around $1.5 billion). The balance of the overall purchase price - around $600 million - will likely be a combination of equity and debt. ARCP is only purchasing around 500 of Red Lobster's 700 sites so Golden Gate will likely secure the remaining "junk" assets (many of which are ground leased) with more expensive debt.
In addition, Golden Gate will bear the cost of relocating its management and accounting team from Darden's new corporate headquarters in Orlando to a new location (to be determined). Since Red Lobster previously operated alongside other integrated chains, the new operating entity will have a higher G&A load since the economies of scale will be significantly diminished.
Needless to say, Golden Gate will be buying a mature seafood chain with a brand (name) that's declining. The biggest risk for all of the parties concerned will be the investors in ARCP. The most concerning metric for me is Red Lobster's declining traffic growth. While the seafood chain once enjoyed a powerful competitive advantage in the restaurant space it seems that the brand has significantly eroded and appears to be less sustainable over time.
Note: I did not say that Red Lobster is a dying brand but Golden Gate will have to working feverishly hard to move the needle and get the stores back to profitability. Over the years brands have become less about trust and more about certainty and to resurrect the struggling chain Golden Gate must get customers to come back again and again - repeatability is the hallmark for any successful brand.

A Big Bet for ARCP
When it comes to investing, those emotional less-than-rational decisions are marketing gold. It's those that let companies charge a premium for their products, and investors that rake in the profits. Think Starbucks (NASDAQ:SBUX)… I buy at least one vanilla latte every single day and I never think twice about swiping my card for $4.75 (my #1 vice is that I drink at least 2 lattes a day so thanks for reading and helping me support my coffee addiction).
Red Lobster is not gold and although I'm not putting the last nail in the coffin for the stressed chain, I will admit there is no seafood lover in me. I have carefully tried to weigh the pros and cons for the ARCP deal and while on the surface buying the portfolio at an 8% cap rate seems attractive, the lobster transaction smells a little bit fishy.
First off, ARCP says that they are buying 500 Red Lobster sites and 93% are in fee-simple and 7% are ground leased. That means that ARCP is paying around $100 million for brick and mortar with the land owned by a third party. It's likely that the leases are unsubordinated and at the end of the lease term, the landowner will own the buildings. It's hard to say how ARCP will account for the ground leases but in all likelihood the cash (GAAP) cap rate for these deals will reduce the overall cap rate on the aggregated portfolio by around .25%, or an average weighted cap rate of 7.75%.
Secondly, ARCP has negotiated the Red Lobster leases in 5 different pools (or tranches) and although I'm not certain how the leases were structured, the company mostly likely opted to weight the best to worst performing tranches in order to manage the risk of potential store closings in the future.
It's very common in the restaurant industry for private equity firms (i.e. Sun Capital) to restructure leases and when a company decides to unload poorly performing stores the landlord usually has to decide whether it's more prudent to take a rent concession or take back the keys. As one person in private equity once said, "our business is to buy it, strip it, and flip it".
Given the unit economics associated with Red Lobster, I believe that it's highly likely that the company will commence a restructuring strategy in 2015. Although ARCP supposedly owns the better of the 700 Red Lobster stores, the REIT will not be immune to credit losses. So did ARCP overpay for these stores?
According to one of Darden's largest investors, Starboard Value (owns 5.5%), "a substantial portion of Darden's real estate value comes from Red Lobster's owned real estate". I'm not sure that I agree with that thesis and based upon my research, I believe that the $3 million average unit sales price for the real estate is fair - not a bargain and not a nose bleed. Discounting the cap rate argument, ARCP is effectively acquiring an average of 2.5 acres (per site) with most of the buildings renovated. Since 2004, Darden has spent $6.1 billion on capital expenditures and acquisitions to fund revenue and EPS growth.
The real winner in this deal is Golden Gate. Thanks to ARCP (and ARCP investors), Golden Gate has effectively structured a sweet deal in which ARCP is footing around 70% of the bill and 15% will be further leveraged (secured) by the "junk" real estate (I'm glad that's not in my portfolio) and the balance will be rolled up into an IPO at some point. Darden also looks a winner but it's too bad that there wasn't a more tax-efficient mechanism to deleverage the company - although a REIT roll-up would have been beneficial, I commend Darden for focusing on its "core of competence" as a restaurant operator and not a real estate landlord.
So what about ARCP? After all, this is a "big bet" and there's quite a few chips riding on the table. The odds are not predictable and based upon the appetite of the US consumer, there is no guarantee that Golden Gate will be able to turn the ship around. When the deal closes, ARCP investors will have the most skin in the game.
Let's go in history and recall some of the similar restaurant failures, names like Friendly's, Old Country Buffett, White Tower, Steak and Ale, Shoney's (I loved the strawberry pie), Burger Chef, and a long list of others.
At one time, all of these restaurants thrived but as the business models evolved, customers became less interested and eventually the brands died. The bottom line is that some of us "pay up" for the brand, never questioning the motivation, and some of us don't.
What About the ARCP Brand?
After conclusively researching the merits of the Red Lobster deal, I am still Long ARCP. Although I predicted that Darden would spin-off Red Lobster in February, it still surprised me that ARCP would take the big bite to acquire the seafood chain's real estate holdings. Given the massive size of the transaction, ARCP is one of the only REITs that could acquire the portfolio and I would not be surprised to see ARCP sell-off a few of the stores to mitigate the concentration risks.
It's virtually impossible for me or anyone else to determine whether the Red Lobster deal is a good deal or a bad deal. We won't know that for another 3 to 4 years or until we see if Golden Gate is successful with its turnaround strategy. It's like banking, the bankers always look good when they book a loan but you really don't know if you're good until there's a credit default.
So for ARCP, we have to wait on a hiccup. This is still a new REIT and the management team has not seen a skinned up knee. At some point, ARCP will have to address the risk of loss and attempt to mitigate bankruptcies and tenants that have poor sales performance.
I consider the latest sell-off to be a selective buying opportunity. ARCP shares closed at $12.34 with a dividend yield of 8.10%. Although I'm concerned with the potential risk of lease restructurings associated with Red Lobster and Golden Gate, I don't see that dividend at risk (in the short term). In addition, I believe that if the Red Lobster deal closes, ARCP will continue to focus more on larger corporate transactions that will further enhance the REIT's growth strategies. Larger corporations that own real estate may be enticed to partner with ARCP to unlock real estate asset values and further reduce exposure to ARCP's tenant base.
Finally, I believe that the latest capital raise for ARCP demonstrates that dedicated REIT investors are beginning to move the needle. Although most Institutional investors typically favor the more risk-averse strategies, the 8% dividend yield ($12 price) has become an opportunistic flavor of the day. I'm not a big fan of lobster, but maybe I'll scoop up a few more shares of ARCP - it's awfully hard to resist!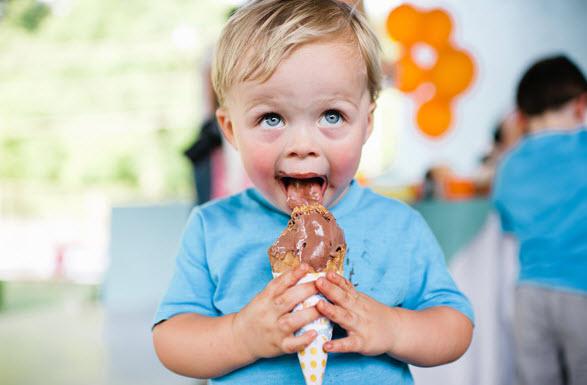 Recently I interviewed ARCP's Chairman and CEO on The Street. Here is the video interview HERE.
For more information on my REIT portfolio, check out my monthly REIT newsletter HERE.
Sources: SNL Financial, Darden Presentation, and Starboard Presentation.
Disclaimer: This article is intended to provide information to interested parties. As I have no knowledge of individual investor circumstances, goals, and/or portfolio concentration or diversification, readers are expected to complete their own due diligence before purchasing any stocks mentioned or recommended.
Disclosure: I am long O, DLR, VTR, HTA, STAG, UMH, CSG, GPT, ARCP, ROIC, HCN, OHI, LXP, KIM, WPC, DOC. I wrote this article myself, and it expresses my own opinions. I am not receiving compensation for it (other than from Seeking Alpha). I have no business relationship with any company whose stock is mentioned in this article.