By Steven Carroll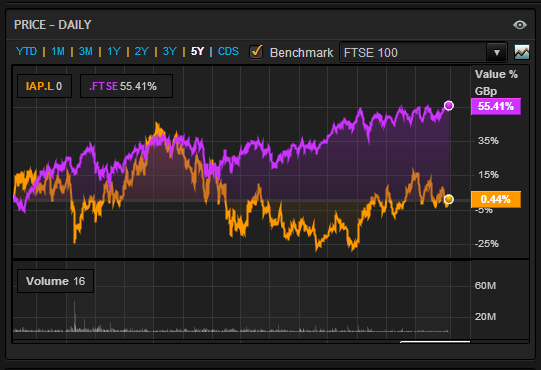 Anemic forecasts
The sell side has certainly joined the pity party - with large reductions in I/B/E/S forecasts across the income statement - for both the March 2015 and March 2016 fiscal years. Recommendations remain equally tepid with nine holds and five sells against three intrepid buyers. The median price target is 378p, versus a current stock price of 395p - so is the outlook as dire as the market would suggest?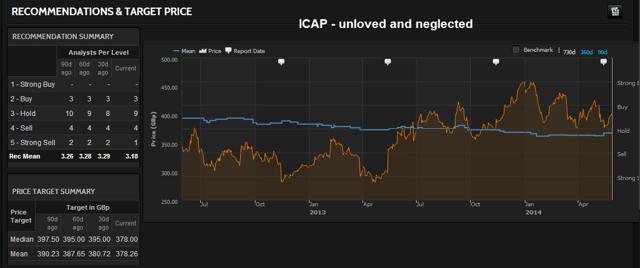 An ominous checklist
Let's recap ICAP's main challenges:
The changing regulatory environment for OTC trading.
Most revenue depends upon trading so the lowered volatility on many asset classes reduces activity.
Banks are a large part of the client base. According to a recent report by UBS, they still make up 80% of revenues and they're hardly in great shape themselves.
EBS, ICAP's FX platform, has been losing market share.
All of these challenges are well documented and understood in the marketplace, meaning any surprises are likely to be positive. The broader question is which challenges are structural and which are merely transitory or cyclical? While I am no expert on the regulatory environment, I think one can safely assume the greater transparency being forced on the OTC market to be structural, and the currently lowered volumes in many asset classes are likely cyclical.
Any time we hear forecasts of new realities and that we have tamed volatility, or the economic cycle, or other such nonsense, I always take note. How can anyone discount the likelihood of a macro shock, or of the consensus expectations in FX, bond and equity markets proving to be wrong?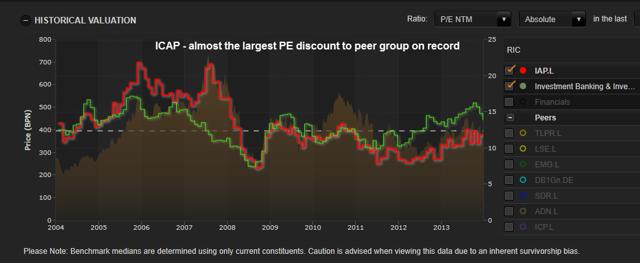 Share price value
From a valuation perspective ICAP looks appealing. The current stock price is implying -2.7% growth each year for the next five, compared to a positive 4.9% expectation built into the broader investment banking /investment services sector. From a P/E standpoint, the company trades at 11.9 times forward earnings (the red line above), below its 10-year median of 12.4.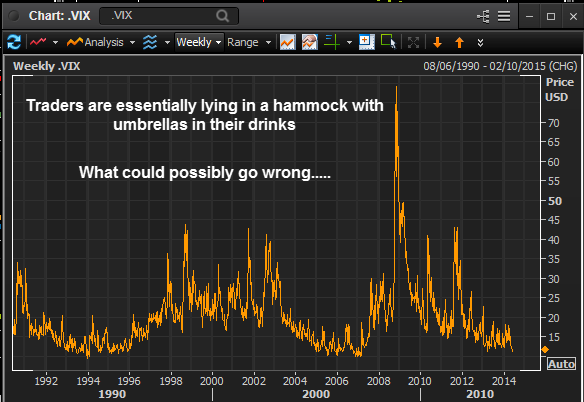 Dare and win?
The market is trading at all-time highs, with the U.K. market's aggregated P/E ratio at 14.3. The VIX (measuring implied equity market volatility) is again approaching danger levels that show an overlay sanguine attitude to risk embedded in market participants. For those like me who don't like a bullish consensus, here's an interesting idea - a stock that actually will thrive in any kind of greater volatility as trading levels spike. Oh, and while you're waiting around, there's a 5.5% yield to help your carrying costs and the sellside doesn't like the stock. For those with the risk profile: Qui audet adipiscitur (Who dares, wins).
Disclosure: I have no positions in any stocks mentioned, and no plans to initiate any positions within the next 72 hours.
Business relationship disclosure: Alpha Now at Thomson Reuters is a team of expert analysts that are constantly looking at the financial landscape in order to keep you up to date on the latest movements. This article was written by Steven Carroll, independent commentator and analyst. We did not receive compensation for this article, and we have no business relationship with any company whose stock is mentioned in this article.
Editor's Note: This article discusses one or more securities that do not trade on a major U.S. exchange. Please be aware of the risks associated with these stocks.