Bank of America (NYSE:BAC) shares have taken quite the hit since the company announced its embarrassing adjustment to its estimated regulatory capital ratios in late April. Then it followed that nightmarish notation with a lousy earnings report, showing a loss per share where Wall Street had expected positive earnings per share. Needless to say, BAC shares were as low as $14.53 less than a week ago, down from their 52-week high of $18.03, but they closed at $15.15 Thursday. This is it folks - the bad news has been priced in and the selling on that news is about exhausted. When we look back at May a year from now, this will be the point we will have wanted to have purchased the stock, in my view. Instead of pouting over the mistake and drop in the stock, we should look ahead at the 37% upside opportunity I see as a gift from God.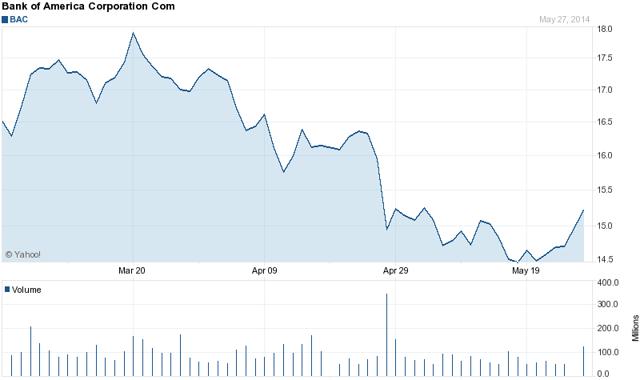 Click to enlarge
It has been a bad second quarter for Bank of America. Some of the decline depicted above here reflects the broader issues of the stock market, but some of it is also because of what happened on April 28th. On that embarrassing day for the executive team, BofA had to announce that it had erred in its reporting of its regulatory capital ratios. Accounting errors related to its acquisition of Merrill Lynch were only just discovered, and so it had been misrepresenting itself to the Federal Reserve by overstating its regulatory capital ratios. As a result, the Fed asked Bank of America to freeze its capital plans for 2014, which included a $4.0 billion common stock repurchase program and a planned increase in its quarterly dividend to $0.05 from $0.01.
It was quite a significant blow to shareholders, and the stock dropped 6.3% on the day. That compared to the 0.3% increase in the SPDR S&P 500 Index (NYSEARCA:SPY) that same day. The reason was more than just the uncertainty about where the bank stood or the undermined confidence in management. The cutoff of share repurchases would have a real impact on earnings per share estimates, which would now need to be revised lower. Also, as the dividend increase was built into expectations, so the loss of it would reduce expected return on investment to shareholders. Thus, BAC required a valuation adjustment, and it got it.
But where we stand now is from the ground looking up. The selling appears exhausted to me, though I'm not a technical analyst. What remains ahead of us are improving regulatory capital ratios, a renewed share repurchase program & an increased dividend payout; and that's not to mention improved operational results.
On May 27, Bank of America resubmitted its requested capital actions and its 2014 Comprehensive Capital Analysis and Review to the Board of Governors to the Federal Reserve System. The Fed has 75 days to review the plan and respond. Bank of America's review process included third-party assistance and resulted in minimal additional impact to the regulatory ratios of the periods in question.
In time, I believe investors will look back at the events that have transpired this spring and view them as a gift from God, so to speak. The stock once again trades at significant discount to peers in terms of tangible price-to-book and still stands to benefit from a rise in interest rates, which is at least the Fed's expectation if not that of most economists.
| | | | |
| --- | --- | --- | --- |
| Bank | Price | Tangible Book Value | Price-to-Book |
| Bank of America | $15.15 | $13.81 | 1.1X |
| Wells Fargo (NYSE:WFC) | $50.27 | $30.48 | 1.65X |
| JPMorgan Chase (NYSE:JPM) | $55.72 | $41.73 | 1.34X |
| U.S. Bancorp (NYSE:USB) | $42.03 | $20.48 | 2.05X |
| Average | | | 1.5X |
What has changed since late April is significant, but what is to come for BofA is likewise significant. Most importantly for those of us who like BAC for the long term is that we can pick it up cheaper today. If Bank of America can get to the average price-to-tangible book value of the peer group in my table above (conservatively including BAC), its stock will trade at a price of $20.72, or 37% above current value. That is like a gift from God for new entrants in my opinion, and an opportunity for extraordinary capital appreciation if I am correct.
Disclosure: I have no positions in any stocks mentioned, and no plans to initiate any positions within the next 72 hours. I wrote this article myself, and it expresses my own opinions. I am not receiving compensation for it (other than from Seeking Alpha). I have no business relationship with any company whose stock is mentioned in this article.