Like many of the dividend stocks we covered in our recent articles, this week's focus stock recently upped its dividend payout in 2014. We've added it to our High Dividend Stocks By Sector Tables, (in the Financials section). This stock also has attractive put options available, which we'll cover later on in this article.
Profile: Chatham Lodging Trust, (NYSE:CLDT), is a self-advised REIT that was organized to invest in upscale extended-stay hotels and premium-branded, select-service hotels. The company owns interests in 77 hotels totaling 10,688 rooms/suites, comprised of 25 hotels it wholly owns with an aggregate of 3,592 rooms/suites in 15 states and the District of Columbia and holds a minority investment in two joint ventures that own 52 hotels with an aggregate of 7,096 rooms/suites.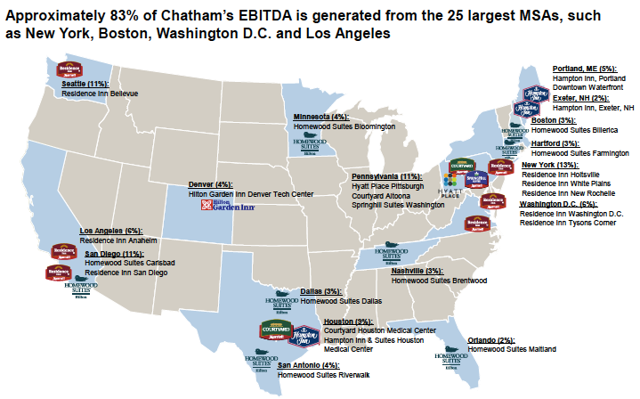 Click to enlarge
(Source: CLDT website)
CLDT's strategy is to achieve higher revenues per available room, (RevPAR), via concentrating on high density areas of peak demand.
After bottoming out in 2009, the extended stay hotel segment has come back steadily, in revenues and occupancy rates: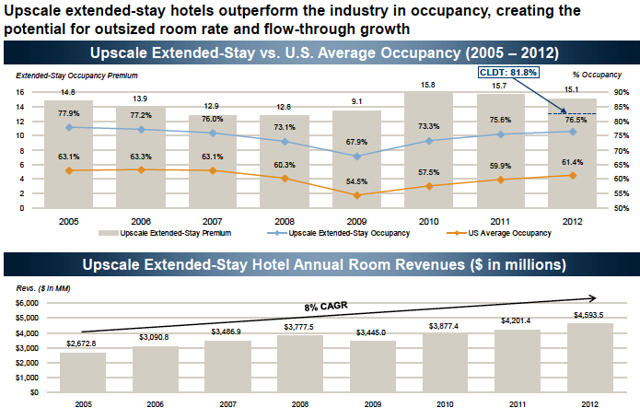 Click to enlarge
(Source: CLDT website)
Dividends: CLDT pays a monthly dividend, which it increased to $.08/share, from $.07/share, in April, a 14%+ jump. The dividend looks well-supported, with a 1.33x coverage ratio:

Since going public in 2010, CLDT has had steady, yearly dividend increases:

Chatham has charted steady quarterly growth in both its Revenue per Available Room, (RevPAR) metric, and in its adjusted EBITDA. AFFO/Diluted Share growth has varied from quarter to quarter over the past 12 months, but it's still one of the best growth rates in its industry since 2011: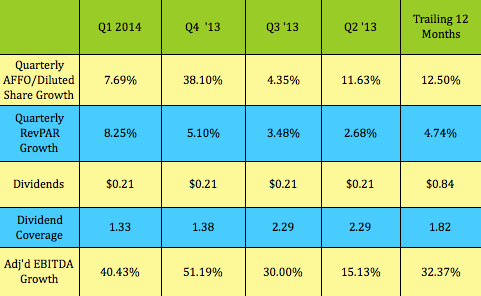 Click to enlarge
Options: Given CLDT's market-beating price performance over the past month, you may want to consider selling cash secured put options below CLDT's price/share.

The November 2014 $22.50 put currently pays $1.40, over 3 times CLDT's monthly dividends between now and then. Put sellers don't collect dividends, but you will have the advantage of being paid this put premium within 3 days of the trade, vs. waiting for monthly dividends.
CLDT's put options have quite a wide bid/ask spread, so you may be able to get a higher payout than the bid that's listed below. For example, this trade had a bid/ask of $1.40/$2.60 at press time.
You can find more details on this and over 30 other Put-selling trades in our free Cash Secured Puts Tables.

Click to enlarge
Covered Calls: We haven't added any CLDT call-selling trades to our Covered Calls Table as of yet, as the yields aren't that attractive.
Valuations: Analysts normally use Funds From Operations, FFO, or adjusted FFO, to measure a REIT's ability to sustain its dividend payments.
We compared CLDT's price/share to its trailing 12-month AFFO, and its estimated AFFO for 2014 and 2015, and, although we don't have Hotel REIT industry averages for this metric, analysts are forecasting continuing AFFO growth for CLDT in 2014 and 2015:

CLDT does look undervalued on a Price/Tangible book basis, but not on a Price/Sales basis:

Fly In The Ointment Dept.: CLDT's management effectiveness ratios are below industry averages, and it has a less favorable Debt/Equity ratio. However, its Operating Margin and Interest Coverage is above industry averages.

Also, when analyzed on a Net Debt/EBITDA basis, CLDT appears to be using lower leverage, in addition to having one of the highest yields in its industry: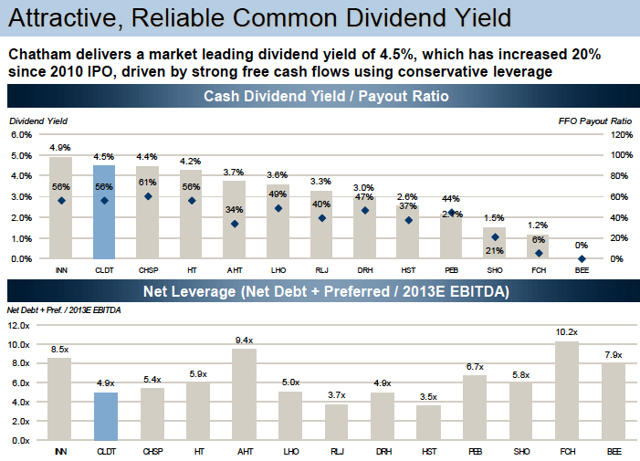 Click to enlarge
(Source: CLDT website)
Disclaimer: This article was written for informational purposes only.
Above Tables were furnished by DoubleDividendStocks.com, unless otherwise noted.
Disclosure: I have no positions in any stocks mentioned, but may initiate a long position in CLDT over the next 72 hours. I wrote this article myself, and it expresses my own opinions. I am not receiving compensation for it (other than from Seeking Alpha). I have no business relationship with any company whose stock is mentioned in this article.