On March 21, 2014, I wrote an article about BlackBerry (NASDAQ:BBRY) titled "Is Chen Understating BlackBerry's Turnaround Odds?" in which I quite provocatively argued that Chen doesn't want to make the same mistake as other CEOs in the tech business: Overpromising restructuring progress. Instead, I argued, he was merely being cautious with his remark that BlackBerry has a 50% turnaround probability at the time. In my opinion, this was a classic example of managing investor and analyst expectations. High expectations for a company in a restructuring don't usually bode well. If investors and analysts expect too much too early, the entire restructuring process can be undermined, leading to disappointments along the way and probably extreme volatility in the stock; events that are neither helping the company nor its investors.
Chen went on record on May 28, 2014 and updated his view about a BlackBerry turnaround saying the odds of a successful restructuring now stand at 80%. Not too bad and quite an improvement over his previous 50/50 estimate.
BlackBerry's share chart, however, doesn't reflect the new turnaround odds at all. One would assume that with an 80% chance of survival, the stock would trade radically higher as investors give up their expectation of BlackBerry going out of business, which, not too long ago, was a scenario that was passed around quite a lot (and still is, but to a lesser degree). After Chen's upbeat remarks, BlackBerry's share price shot up more than 6% in yesterday's trading session.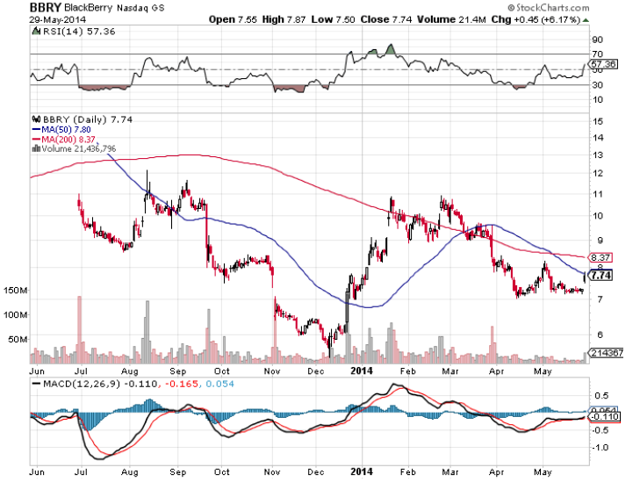 Click to enlarge
(Source: StockCharts.com)
Is the recent pop in BlackBerry's share price a straw fire?
Unfortunately, I think so. The market has not yet bought into the idea of BlackBerry turning around, and I expect, for the time being, prices in the $7/8 range to persist. This, of course, is good for investors who want to build a stake in the company and who anticipate a turnaround to play out in 2014/2015.
Psychological factors determining market prices
Only a minority of investors believe in a successful turnaround story, and as the company shows restructuring progress (many do at some point) in the form of an improved cash flow profile or a rebound in sales, more and more investors come on board and start believing again. By then, of course, the "ridiculed minority" is already laughing all the way to the bank, as they have understood and internalized the repeating pattern associated with distressed security investing: Extreme discounting of present successes, extrapolating of negative events into the future, followed by slow restructuring progress, a solidifying turnaround, and finally, higher share prices.
Stock markets are, after all, what they have always been for hundreds of years: An experiment in mass psychology. That is why behavioral factors are so important to consider when it comes to restructuring investments, which obviously are emotionally distressing investment situations. Negativity is an essential part of the human condition; those investors who are aware of the negativity bias are already way ahead of the average investor.
BlackBerry, therefore, is primarily an investment for investors who are capable of incorporating psychological factors into their analysis. The patient investor who can see past short-term upheaval is likely the one who will prevail.
BlackBerry remains an asymmetric bet
Similar to other written-off equity investments like J.C. Penney (NYSE:JCP) or RadioShack (NYSE:RSH), there is a solid turnaround case for BlackBerry to be made by contrarian investors. Instead of focusing on what's bad, let's focus on what's good and not mindlessly assume that the future just looks like the past (a key challenge for many investors). I think two factors could support higher share prices of BlackBerry more than anything: First, the implementation of a comprehensive emerging market smartphone strategy which will see the BlackBerry Z3 being launched in a variety of Asian countries, and the company is being given time to build momentum in these key markets. Secondly, the anticipated return to cash flow profitability by 2015, which I assume will be a major catalyst for the stock (also, in my experience, many companies achieve their restructuring milestones a little bit sooner than communicated to the market).
Final assessment
Too often in my investing career have I seen that investors write off a company prematurely, as negative news out of a company's headquarters wears people down and causes serious emotional costs for investors. The cost of attrition is immense and should never be underestimated.
Also, I think a common misconception regarding my BlackBerry investment position and my upbeat articles on BlackBerry is that many investors believe I am a shareholder who has been invested in BlackBerry at substantially higher prices and I am now trying to rationalize my bad investment by forcing myself to be bullish. Nothing could be further from the truth. As a distressed security investor, I have just recently established a long position around $8 per share. However, I continue to see solid potential to earn multiples of my capital with a BlackBerry investment over the next two to three years. BlackBerry is just another classic turnaround investment, like so many others. Strong Buy.
Disclosure: I am long BBRY, JCP. I wrote this article myself, and it expresses my own opinions. I am not receiving compensation for it (other than from Seeking Alpha). I have no business relationship with any company whose stock is mentioned in this article.