One of the wonderful developments from the financial crisis is the renewed importance of risk-weighted assets. In essence, banks take all of their assets and put them into "buckets" that assign a value based upon the bank's perceived riskiness of the asset. Riskier assets receive lower weightings than safer assets, so you can get a better picture of what a bank's balance sheet is exposed to versus simply looking at earning assets or total assets. Many analysts and bank investors cite return on assets as a standard metric, and while useful, I believe it leaves a bit to be desired. A bank like Wells Fargo (NYSE:WFC) has a much different risk profile than, say, Bank of America (NYSE:BAC) or JPMorgan (NYSE:JPM), and as such, I believe it is more instructive to view their respective returns in light of the risk that was taken to earn them. So while certainly imperfect, I like return on risk-weighted assets, or RORWA, as a measure of bank profitability.
In this article, we'll take a look at BAC's RORWA as a way to see how the bank is doing in terms of earning profits from its risk-weighted assets, and compare it to the bank's oft-cited, relatively low return on assets. To do this, I pulled the bank's financials from its SEC filings and produced the chart below.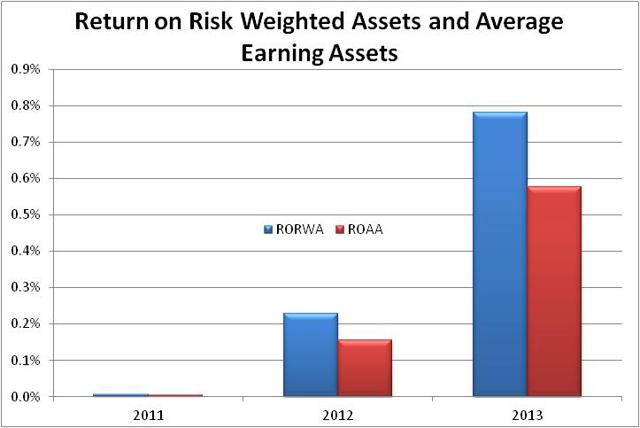 What we see here, in my view, is that BAC's return on asset problem isn't as bad as the simple ROA calculation would lead you to believe. In fact, BAC's RORWA was a full 20 basis points higher in 2013 than its ROA, calculated using average earning assets. You can also see the rapid expansion of the RORWA number from basically zero in 2011 to 78 basis points last year. Time will tell what 2014 ends up looking like, but indications are good so far that, excluding litigation, BAC's operating earnings will be strong. BAC's low ROA has persisted since the financial crisis and is still lagging far behind its competitors, but this chart gives an indication that things are looking up.
With ever-changing capital rules, it can be difficult to compare a risk-weighted asset number from year to the next, but in the past three years, BAC has posted RWA numbers of $1.365 trillion, $1.204 trillion and $1.293 trillion, respectively. This stands in stark contrast to the average earning asset numbers around $1.8 trillion we have seen from BAC since the crisis, as the riskiness, or lack thereof, of certain assets means some assets get weighted far less than others.
What's interesting is that even in the wake of a very public de-risking, BAC is holding its RWA fairly steady around $1.3 trillion. However, it has become much more productive with those assets, as we've seen in the chart above. Part of this has to do with BAC taking on somewhat risky assets when prudence dictates. It also has to do with BAC becoming a leaner operator, requiring lower costs to sell and service those assets. Whichever way you slice it, however, BAC is taking its risk when practical, and the results speak for themselves.
If we assume BAC will hold something like $1.3 trillion in RWA this year, what does that mean for potential returns? Under a "normal" banking environment scenario, I'd say BAC could see 2.5%+ in RORWA, but we are far from normal even years on from the crisis. However, if we consider a couple of scenarios for 2015, we can quickly see that BAC is cheap at the moment. If BAC earns 1% on its RWA, that would make for $13 billion in net profits, or about $1.25 in EPS. I think that number is possible for 2014, although BAC has some ground to make up after a not-so-great first quarter. However, litigation unknowns aside, I think that's a reasonable EPS target for BAC in 2014.
But if we look beyond this year at next year and conclude that BAC could reasonably produce 1.3% in RORWA, that would still be far below historical norms that would amount to $16.9 billion in net profit, or $1.61 in EPS. With the stock at $15, we are talking about a value for sure. And keep in mind that I'm not throwing out 3% RORWA targets; I'm simply slowing down the uptrend RORWA has seen for the past three years and that these numbers are well within historical norms.
BAC has a lot going for it, and anyone who has read my articles knows I'm a bull, to say the least. However, I think this metric is underappreciated and provides an interesting look into a bank's earnings ability from a different perspective. I think 1% and 1.3%, respectively, are very achievable for BAC, and the kicker is that if BAC adds some riskiness to its portfolio, it could even best those returns. We aren't seeing that yet, but BAC has certainly slowed the deleveraging to a halt, so when the time comes to increase risk-taking, watch RORWA to see if it is working.
Disclosure: I am long BAC. I wrote this article myself, and it expresses my own opinions. I am not receiving compensation for it (other than from Seeking Alpha). I have no business relationship with any company whose stock is mentioned in this article.