In a surprising move to some, Senator Patrick Leahy (D-VT), chairman of the U.S. Senate Judiciary Committee, announced last week that the patent reform bill has been officially taken off the table.
The reason? Yep, you guessed it, a lack of support, cooperation, understanding and agreements from both sides (competing companies and members of Congress), that doomed the bill.
Over the last couple of years, there has been many topics and issues with regards to patent reform. Today, I would like to talk about the recent bill being removed and what this means going forward for Intellectual Property ("IP") companies like Vringo (VRNG), VirnetX (NYSEMKT:VHC), ParkerVision (NASDAQ:PRKR), Document Security Systems (NYSEMKT:DSS), among others.
Patent Reform
On September 16, 2011, President Barack Obama signed the America Invents Act ("AIA"), which aimed to help American entrepreneurs and businesses bring their inventions to the market sooner, thus creating more jobs and new businesses opportunities.
So what exactly did this accomplish? Basically, it made a couple of changes to the system with the way that patents are granted. However, bigger issues were left on the table and didn't do much to address the problems of patent litigation.
Fast forward a couple of years and the Innovation Act was born. So what exactly did it cover and how will it improve the patent system? The Innovation Act was brought up to help change the rules and regulations surrounding patent infringement lawsuits. This was an attempt to reduce foolish and irresponsible lawsuits brought on by companies and patent trolls.
Below are the main points of the bill:
Specificity in patent lawsuits
Make patent ownership more transparent
Delay discovery (keep costs down)
Protect end users
Make losing party pay
Going over the bill in great detail, one can see that the Innovation Act was a pretty aggressive attempt to stop patent trolls dead in their tracks. At the same time, there were other companies that are unfairly grouped into this category. Luckily for all of these companies, it's pretty clear now that based on last week's outcome, patent reform will not make its way back anytime soon.
"If the stakeholders are able to reach a more targeted agreement that focuses on the problem of patent trolls, there will be a path for passage this year and I will bring it immediately to the committee," Leahy said. The keyword here is "if" and going by the history of our politicians in Washington, it will most likely be awhile before things are worked out, especially with how far apart both sides have been on the issue.
"Unfortunately, there has been no agreement on how to combat the scourge of patent trolls on our economy without burdening the companies and universities who rely on the patent system every day to protect their inventions," Leahy said. "Regrettably, competing companies on both sides of this issue refused to come to agreement on how to achieve that goal."
In an article that I wrote just a couple of months ago (what investors should know about patent reform and this patent hero), I went through each of these points and showed why companies such as VRNG, PRKR and VHC would not be largely impacted by this bill, because they already put into practice many of these principles. If anything, these companies probably welcomed the bill as they would have been financially compensated for beating the big boys [Apple (NASDAQ:AAPL), Google (NASDAQ:GOOG) (NASDAQ:GOOGL), Qualcomm (NASDAQ:QCOM)] in court.
The Next Big Catalyst
It is no secret that shares of IP companies are driven by news (litigation updates, etc.), and not so much on fundamentals and technical charts. So what is the next big catalyst coming this way for these companies? Seven words; The Supreme Court of The United States (SCOTUS).
Think about this for a moment. What do you remember happening 30 years ago? Were you getting married or graduating from college, or for some of you, were you even alive at this point? Let's face it, a lot has changed over the last 30 years, but one thing hasn't changed, and that my friends is the legal view on software patents. With all of the advancement of technology over the years, it's crazy to think that those views haven't changed.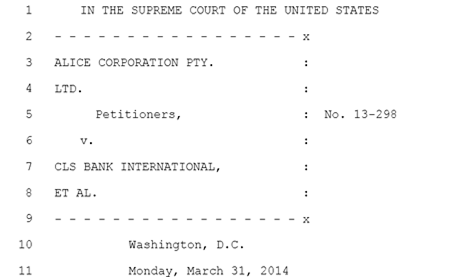 However, this might finally be the year, based on the outcome of one critical Supreme Court case of course. On March 31, 2014, SCOTUS heard arguments in Alice Corp. v. CLS Bank, a case that will likely clear up case law and could possibly topple the software industry as we know it.
The case not only has big implications for the plaintiff and the defendants, but for companies throughout the country. SCOTUS will make waves one way or another as they help clear up the industry picture.
The primary issue at hand that the Court needs to clear up is the application of the "101 filter." This part of the application decides whether or not an invention may be patented.
Another reason why this case has been getting so much attention lately is that it closely relates to the patent troll issue. According to insidecounsel.com, nearly half of patent troll litigation deals dealt with software patents, so there is a strong overlap here.
Not only that, but companies around the country are waiting for the results to come out so they can continue on in their respective cases. Take for instance Document Security Systems. On January 13, 2014, the US District Court for the Northern District of California issued a stay of proceedings for the company in its case against Facebook (NASDAQ:FB) and LinkedIn (NYSE:LNKD) in light of Alice Corp. v. CLS Bank. This essentially means that things were put on hold and were postponed until the court decides the fate of software patents.
Conclusion
The removal of the patent reform bill was a major blow to major companies like Apple, Google, Microsoft, Samsung (OTC:SSNLF), etc., while delivering IP companies a much needed boost and timely victory.
Looking at the overall trend of IP companies in general, the last couple of months has been pretty disappointing to say the least for investors. However, as you can see in the chart below, things have started to turn up for these companies as news continues to spread about the patent reform bill and what it means right now for IP companies in general.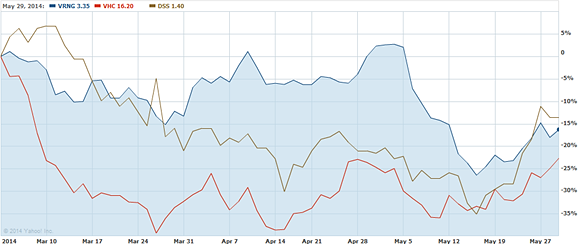 I believe the removal of the bill eliminates some of the uncertainty that is out there in the IP industry and makes these undervalued stocks with big wins over major tech giants a great opportunity for investors to get in and ride some major gains ahead.
As always, I'm providing you with my track record and other particular stocks that I recommend. The link provided will show you all of my picks, how they have fared, and where I think they will be going in the near future. I think you will find my track record to be very impressive and useful.
Disclaimer: Investors are always reminded that before making any investment, you should do your own proper due diligence on any stock mentioned in this article. On that note, have a great day and as always, I look forward to hearing your thoughts or questions that you might have.
Disclosure: I am long VRNG. I wrote this article myself, and it expresses my own opinions. I am not receiving compensation for it (other than from Seeking Alpha). I have no business relationship with any company whose stock is mentioned in this article.
Editor's Note: This article covers one or more stocks trading at less than $1 per share and/or with less than a $100 million market cap. Please be aware of the risks associated with these stocks.