By Jeff Bailey
The last six months has not been kind to shareholders of companies involved in connecting consumers to local merchants, with shares of OpenTable (NASDAQ:OPEN), Yelp (NYSE:YELP) and Groupon (NASDAQ:GRPN) all hit hard, alongside other Internet and tech stocks with high valuations.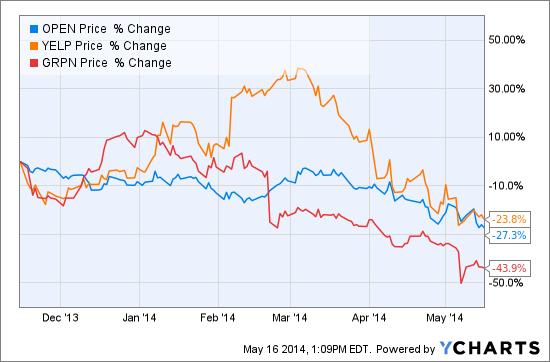 OPEN data by YCharts
These companies, conceptually at least, are in the right place: positioning themselves as useful middlemen between consumers and a highly fragmented population of businesses. It's hard for consumers to find these merchants, the thinking goes. And it's hard for local merchants to reach out to consumers effectively.
This is precisely the business model Priceline (NASDAQ:PCLN) has ridden to a $60 billion market cap, focusing brilliantly on the fragmented world of foreign hotels – which, unlike large domestic hotel chains, airlines and car rental companies aren't consolidated and thus easily findable.
So far, the going is much tougher for the local merchant middlemen. Structurally, the services are less essential. If you need a Barcelona hotel room, chances are you're completely in the dark and will Google "Barcelona hotels" and, by and by, fall onto Priceline's booking.com site or some similar one. But want to eat out, get a massage or engage some other local service provider? You may very well know of good options in each category, and only seek out a middleman on the occasions you're stumped.
OpenTable has by far the most advanced business among the three, nicely profitable (except for a loss due to a charge against first-quarter results) and growing steadily if not spectacularly. Its business is a restaurant reservations and table management system – an inventory control system, essentially – and the company has achieved strong market share and is able to charge enough for its service -- $1 per diner, roughly, plus some system fees – to be increasingly profitable (restaurants pay; the service is free to diners).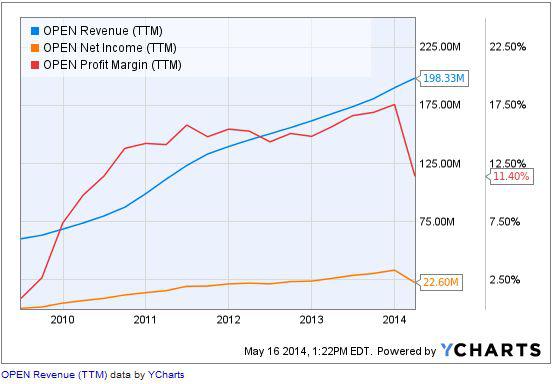 OpenTable has more than 31,000 restaurants that have installed its system, about three quarters of them in North America and one quarter in international markets. Its systems brought 46.7 million diners into eateries in the first quarter, a 25% increase over the year-earlier period. OpenTable estimates that North American restaurants that accept reservations and thus might have use of its service number about 55,000, and that they combined seat about 740 million people a year.
So there are more restaurant customers here to sign up, but most of the opportunity seems to be in building consumer usage.
Revenue is growing at slightly less than 20% right now, and projected to do so for 2014. "Our recent growth rate will likely be unsustainable," the company warns in its most recent 10-K filing. So as a 20%-and-slowing grower, after a nearly 30% stock price decline, is OpenTable a value?
The forward PE ratio has fallen from speculative heights down to about 45 right now. To justify that, earnings would need to grow a lot faster than revenue. Is there operational leverage?
Certainly, there's some. The international operations are losing money right now as OpenTable invests in local markets. A critical mass of eateries is necessary to draw consumers, and so sales and marketing expense runs higher during that phase. But the phase isn't brief.
In 2013, for instance, OpenTable brought in about 6,050 diners for each of the 23,824 North American eateries it had signed up. In those foreign markets, just 1,806 diners were attracted for each eatery. By the way, the curious investor crunches those numbers himself. The OpenTable 10-K is remarkably lacking in metrics that might help one actually evaluate the business. The economics of an individual city market go largely unexplained here, as they do in investor presentations on the company website. Proprietary information? Perhaps, but a company more confident about its future might be telling us a lot more.
There have been plenty of smallish acquisitions and we also don't learn much about how those are working out. The first-quarter charge against earnings of $12.6 million was to write off the intangible asset of an acquired trade name, toptable, as the company adopts OpenTable as its brand globally.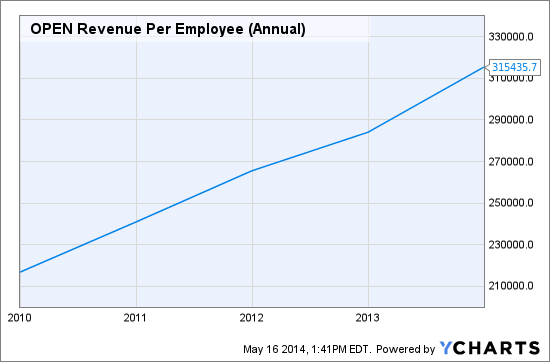 OPEN Revenue Per Employee (Annual) data by YCharts
There is operating leverage, as we see in rising revenue per employee. Payroll was at 625 at year-end.
One guesses that the obvious candidates as North American customers have been signed up and that those resisting – chains with proprietary reservation systems unwilling to share revenue, highest-end eateries that can operate on paper if they wish, low-end joints that attract a loyal and local crowd -- may come onboard slowly if at all.
The international effort is focused on Germany (entered market in 2007, 2,057 restaurants signed up), Japan (2006, with 1,567) and the United Kingdom (2004, with 4,097) to date.
While the entire company has been solidly profitable thanks to more mature U.S. markets – Chicago, New York, San Francisco and Washington D.C. led the way – the foreign markets have piled up operating losses (before depreciation and amortization and stock-based compensation and taxes) totaling about $42 million over the past five years. It's a slog to build a business around local merchants; OpenTable was founded in 1998 and went public in 2009.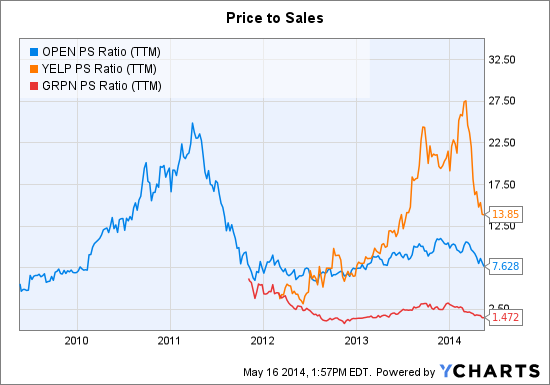 OPEN PS Ratio (TTM) data by YCharts
As we've written recently, Yelp's business model struggles to be successful, too, and as Groupon morphs from its initial daily deals site into a broader online merchant, one is hard pressed to define its business model other than poor man's Amazon (NASDAQ:AMZN). The opportunity is large in connecting local merchants to consumers, but investors may have gotten way out front of the financial realities at all three of these companies.
Disclosure: None