Apple's (NASDAQ:AAPL) Worldwide Developers Conference is set to kick off on June 2nd. The event will be met with much fanfare, but in usual Apple fashion, the company tends not to reveal any details about its upcoming event to journalists. The future event may give investors more perspective on Apple's software. New hardware announcements will be limited, because competitors tend to imitate product design. This means that Apple will not reveal a new iPhone or iPad.
What to expect
The company is likely to reveal a new version of its iOS and Mac OS software. The media anticipates iOS 8 to be revealed, and Mac OS X 10.10. Because Apple doesn't really have much of an edge in hardware, the company will have to demonstrate that its software can continue Apple's design philosophy of simplicity and smoothness.
The problem many have mentioned about Apple's mobile OS is the lack of multi-tasking capability. The new mobile OS is likely to come with features that allow for a larger form factor device to use multiple screens at the same time. This will confirm the speculation of Apple's move to a 4.7" and 5.5" screen for iPhone 6.
If you ever use the Samsung (OTC:SSNLF) Galaxy S, one of the clumsiest features on the device is the multi-screen feature. The primary flaw with Samsung's software design is that it's an additional user interface over the Android OS. The lack of compatibility with various software applications limits the usefulness of the feature.
Microsoft (NASDAQ:MSFT) released Office 365 for both iOS and Android recently. Apple's rumored phablet may become a better alternative for taking care of minor edits, or may become a capable companion for writing content on the go. Apple's digital assistant, Siri, may have improved capabilities where it can be used to open software applications and perform tasks using voice commands. One of the software where this becomes extremely practical is in the case of Office 365. After all, you can tell Siri to "open Word document," then tell Siri "format document for presentation." The user can then proceed to find information, copy information, rephrase, and put content into the presentation. Or tell Siri exactly what to put in the document, using word-for-word transcription. Either way, one of the biggest technological challenges for Siri is to develop Siri's AI to overlap with different software applications.
How Apple's WWDC will affect the stock
From personal experience, most of Apple's key conferences lead to a minor froth-up in valuation. Following that, the stock price tends to pull back by a modest 1%-3%. However, investors should focus on the longer-term implications of what's going to come out of the event, rather than worry about trading the event.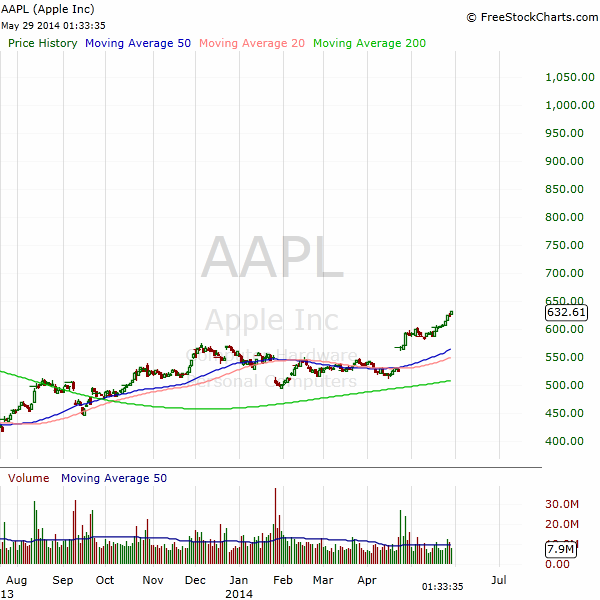 Source: FreeStockCharts
For example, if Apple does the unexpected and announces an iPad that's larger than the Surface Pro 3, investors may pile back onto the Apple trade. After all, Apple's tablet business hasn't been doing that great, and without further carrier distribution of the product, it remains unclear as to whether or not the device category can grow significantly in developed markets.

Source: Apple
Apple doesn't generate as much revenue from MacBook versus iPad, therefore Apple has far more incentive to disrupt the product category by designing a device that has a form factor that sits closer to the 13" to 14" range. If Microsoft's willing to cannibalize the laptop, what's to stop Apple from doing the same?
Investors shouldn't anticipate an iPad announcement. But if it does announce a new iPad, the screen size is the most important thing to look for. If Apple pushes for a larger screen, Apple's PC business will become cannibalized. The iPad is thought of as an entry-level luxury computer in many of the emerging markets, so pushing the product category to be a viable alternative to ultrabooks will allow Apple to gain market share against competitors, despite the relatively high price differential to comparable Android devices.
Apple's rumored mobile payment software, and car entertainment operating system if announced, may push the stock price even higher. As many of you are well aware, Apple has built an ecosystem-driven business. Whether the experience is through the car, on a smartphone, or even on a computer, the user experience transfers over, as data and personalized setting are shared by multiple devices by communicating with external servers. Furthermore, the content purchased in the iTunes Store is also backed up in the cloud, and is shared across all Apple devices owned by the specific user. The more Apple adds to its services and integrates iOS in unique use cases, the more competitive the moat becomes. This has investors excited about mobile payment software, which may make companies like Visa (NYSE:V) and MasterCard (NYSE:MA) a little less relevant, and allows for pre-existing iOS users to more easily purchase services via Apple's application stores.
Apple's mobile payment software may change retail even further. The showroom concept of buying products over the web is starting to materialize, and if Siri can be closely integrated, it's likely that Apple customers can simply snap a photo, tell Siri to search the product over the web, and tell Siri to purchase the product using Apple's proprietary mobile payment software. In a different case scenario, the same software can allow the consumer to simply pick the product up and leave the store, and have the product charged on Apple's mobile payment system. This may even prevent theft, as GPS technologies can detect a stolen item associated with a smartphone device.
Conclusion
Most of the announcements at Apple's upcoming WWDC will involve software rather than hardware. While there have been cases in the past where Apple has announced the next iPhone or iPad, it's even more likely that Apple will tell investors about new additions to its pre-existing software ecosystem and added innovation with regards to its operating systems.
The clear takeaway from the event is whether Apple can continue to build on its pre-existing software ecosystem. After all, Apple's greatest competitive advantage comes from its superior user experience.
Disclosure: I have no positions in any stocks mentioned, and no plans to initiate any positions within the next 72 hours. I wrote this article myself, and it expresses my own opinions. I am not receiving compensation for it (other than from Seeking Alpha). I have no business relationship with any company whose stock is mentioned in this article.