In March, I published an article on a couple of cash-rich, undervalued tech shares, Kulicke & Soffa (NASDAQ:KLIC) and OmniVision Technologies (NASDAQ:OVTI). It was entitled "Paying 60 Cents For A Dollar Of Value", and highlighted the wisdom of ensuring an investor finding underappreciated assets that a company might have on its balance sheets, such as net cash. These hidden assets can make a stock much cheaper than what the market is giving the equity credit for at the current time.
This piece turned out to be a prescient call. Both stocks have easily outperformed the market over the past three months (See Chart).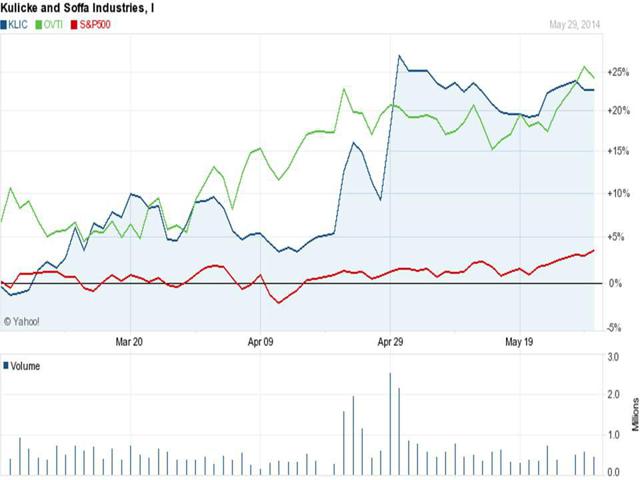 Given the nice run in these stocks, it seems an appropriate time to provide an update on these two relatively underfollowed tech equities. I am not going to spend much time on Kulicke & Soffa, as I recently sold out-of-the-money calls on these tech shares after the company revised guidance higher at the end of April and the stock shot higher. I still like the company, but I have a sanguine view on the market right now, and the equity seems like it has temporarily topped out at current levels.
At some point, I may initiate the same strategy on OmniVision, but right now, I am going to let the shares run. After the closing bell, the company reported results that just blew away the consensus, and should be up big in trading on Friday.
Quarterly earnings came in at 40 cents a share, a whopping 13 cents a share above consensus.
Revenues for the quarter came in at over $330mm, more than 10% above consensus.
The company gave forward revenue guidance for next quarter of $360mm-$400mm, far above the ~$305mm consensus.
Omnivision's EPS guidance of $0.29-$0.49 is nicely above a $0.29 consensus.
The image sensor company also stated it was making progress diversifying away from its main vendor [Apple (NASDAQ:AAPL)].
Obviously, this was a blow-out quarter, as well as encouraging guidance. However, even with its recent run, OmniVision is still relatively cheap compared with the market. It is priced at less than ten times trailing earnings. This does not take into account the some ~$380mm in net cash the company has on its balance sheet, which is more than 30% of its current market capitalization.
In addition, analysts continually underestimate OmniVision's earnings power. This was the sixth straight quarter the company has beat the consensus bottom line estimate by a minimum of 25%. I would expect to see a myriad analyst upgrades, as well as upward earnings and price target revisions on OmniVision in the weeks ahead on the back of this earnings report and company guidance for the next quarter.
Although not nearly the screaming buys they were when I penned the first article, these tech shares still have value. After all, paying "80 cents for a dollar of value" is not a bad proposition in a market that feels fairly or even slightly overvalued.
Disclosure: I am long KLIC, OVTI. I wrote this article myself, and it expresses my own opinions. I am not receiving compensation for it (other than from Seeking Alpha). I have no business relationship with any company whose stock is mentioned in this article.