I recently read this argument from a money manager: "Either a swift economic recovery or further dismal economic performance should bring new buyers into the gold market."
Arguments presented as win/ win situations -- better if the economy improves, better if the economy goes south -- are usually found closer to the peak of a move than the beginning. Are we very close to a major top in gold and gold miners?
The chart shows we are trading very close to major resistance, so it's "make it or break it", McKinsey style. (Click to enlarge)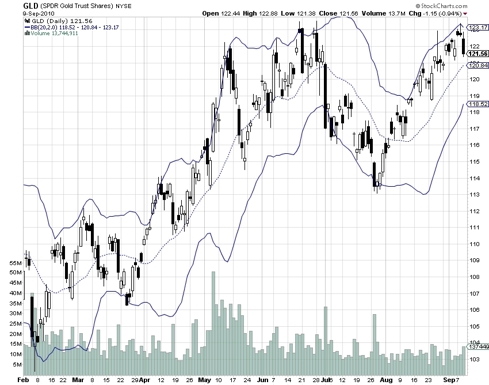 Another interesting analysis is comparing what gold has been doing versus other assets. This is an interesting chart I found in The Pragmatic Capitalism: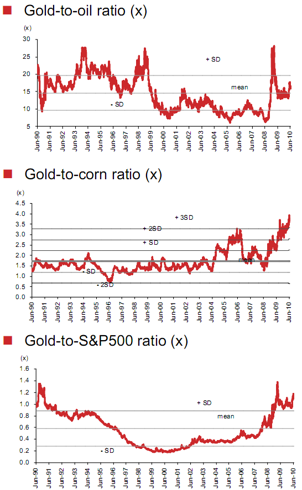 Gold looks expensive relative to stocks and to agriculture commodities on a historical basis. My view is that there is a great risk in opening new gold long positions at these price levels and the risk of a sudden, large market correction is quite high.
Gold stocks like Newmont Mining (NYSE:NEM), Goldcorp (NYSE:GG) and New Gold (NYSEMKT:NGD) have reversed close to resistance from the June highs and look poised to continue the downside movement. Gold Fields (NYSE:GFI) is way overbought and will probably correct meaningfully.
Disclosure: Short and shorting GLD