In 1989, two researchers with the University of Utah announced that they had created energy through a nuclear reaction at room temperature, "Cold Fusion." The possibility of an unlimited clean energy source generated a tremendous buzz in the media. The press release also sparked the interest of a number of scientists who tried to duplicate the results. After those researchers failed, cold fusion died an inglorious death. I predict that the stock price of Fusion Telecommunications, Inc. (OTCQB:FSNND) is about to suffer a similar fate.
Fusion Telecommunications (Fusion) is a New York City based provider of integrated cloud solutions. On May 14th, the company announced results for the quarter ended March 31. On the surface the results look very strong, a 42% increase in revenues and earnings of 13¢ per share. The day prior a 1 for 50 reverse split was effective. After initially trading down to $2.50, the stock closed at $5.90 for a two day change of +30%. Much like the cold fusion announcement, I think the euphoria won't last and that this stock will head back well below $3.00 and perhaps down to its pre-split price of around $0.10. My prediction is based on three factors; the historical performance of stocks completing reverse splits, the company's position within the competitive landscape of telecommunications and cloud services, and an analysis of financial metrics.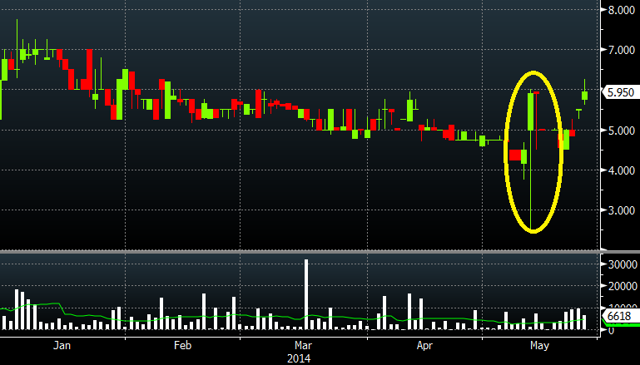 Be forewarned that shorting a thinly traded OTC stock with limited institutional ownership can be stress inducing and hazardous to your financial health etc. Intraday volatility can be wild. The historic 10 Day volatility of FSNND has been as high as 281.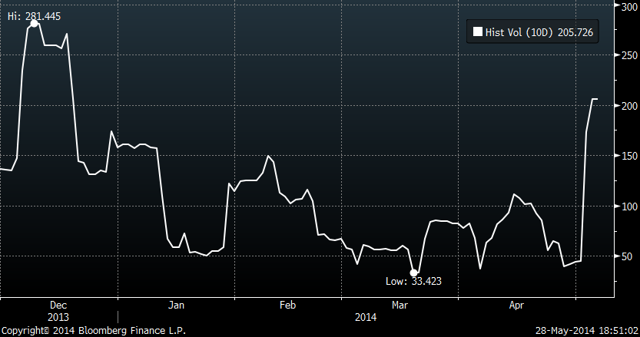 Source: Bloomberg
The availability of stock to borrow can fluctuate daily and the buy-in risk is higher than for widely owned larger capitalization stocks. If you can withstand the mark to market pain, I think that there is a tremendous amount of profit potential in shorting this stock at the current price of $5.95.
The primary basis for my prediction is the historical data on post-split stock performance. Fusion Telecommunications underwent a reverse split that went ex on May 13th. Instantly, a previously $0.08 penny stock was transformed into a semi-respectable $4.00 stock. A reverse split is a corporate action whereby a company reduces shares outstanding by issuing one share for a greater number of shares. In the case of Fusion, the company had a 1 for 50 reverse split and issued 1 share for every 50 held, e.g. a shareholder who held 5,000 shares trading at a price of $0.08 would own 100 shares worth $4.00. The action is merely cosmetic much like taking 50 $1 bills to the bank and getting one $50 bill. Reverse splits are generally seen as a desperate measure to boost the price of a stock without altering the underlying business fundamentals. Companies typically execute reverse splits to maintain a listing on a stock exchange or to keep the stock price in an investors' preferred price range. While many companies, like American International Group (NYSE:AIG) , that underwent reverse splits in the wake of the financial crisis have done well, the historical record shows that most perform poorly after the split. One of the most cited studies is:
Return Performance Surrounding Reverse Stock Splits: Can Investors Profit? Seoyoung Kim, April Klein and James Rosenfeld. "We examine the long-run return performance of over 1,600 firms with reverse stock splits. These stocks record statistically significant negative abnormal returns over the three-year period following the month of the reverse split. The sample firms experience poor operating performances over the four years that include and follow the year of the reverse split, which suggests informational inefficiencies."
The authors examined 40 years of data from 1962 to 2001 with a sample of 1,612 firms. The authors concluded that based on institutional restrictions on short selling and other transaction costs that the opportunities to reap abnormal returns from the information are limited. Since those impediments no longer exist for investors, I posit that the market inefficiency highlighted by the reverse split can be exploited profitably.
In order to determine if the performance of reverse splits in the aftermath of the financial crisis was an anomaly or a new paradigm, I examined the price performance of the companies that executed reverse splits in 2014. Of the 29 companies that executed a reverse split in 2014, 24 or 76% of them were down with an average decline of 39%.
| | | | |
| --- | --- | --- | --- |
| Symbol | Name | Split Date | Return |
| (OTCPK:ILIM) US Equity | IL2M INTERNATION | 01/08/2014 | 50% |
| (RESX) US Equity | RESTORGENEX CORP | 03/10/2014 | 17% |
| (NASDAQ:HRTX) US Equity | HERON THERAPEUTI | 01/13/2014 | 14% |
| (NASDAQ:LJPC) US Equity | LA JOLLA PHARM | 01/14/2014 | 8% |
| (OTCPK:ALKM) US Equity | ALKAME HOLDINGS | 01/08/2014 | 4% |
| FSNND US Equity | FUSION TELECOMMU | 05/13/2014 | 7% |
| (OTCPK:GHDC) US Equity | GOLDLAND HOLDING | 03/06/2014 | 0% |
| (NASDAQ:FRSH) US Equity | PAPA MURPHY'S HO | 05/01/2014 | -4% |
| (HECCD) US Equity | HYDROCARB ENERGY | 05/08/2014 | -5% |
| (NYSEMKT:AMZG) US Equity | AMERICAN EAGLE E | 03/19/2014 | -12% |
| (OTCPK:CCTC) US Equity | CLEAN COAL TECHN | 04/25/2014 | -16% |
| (PARRE) US Equity | PAR PETROLEUM CO | 01/29/2014 | -18% |
| (OTCQB:AMTXD) US Equity | AEMETIS INC | 05/15/2014 | -18% |
| (RDMP) US Equity | RED MOUNTAIN RES | 01/31/2014 | -18% |
| (OTCPK:UBIQ) US Equity | UBIQUITY INC | 04/24/2014 | -20% |
| (NASDAQ:OVRL) US Equity | OVERLAND STORAGE | 04/10/2014 | -22% |
| (NASDAQ:DCTH) US Equity | DELCATH SYSTEMS | 04/09/2014 | -22% |
| (OTCQB:STBR) US Equity | STRONGBOW RESOUR | 03/17/2014 | -25% |
| (NASDAQ:TOPS) US Equity | TOP SHIPS INC | 04/21/2014 | -30% |
| (OTCQB:AHRO) US Equity | ATHERONOVA INC | 04/22/2014 | -30% |
| (NASDAQ:TBIO) US Equity | TRANSGENOMIC INC | 01/28/2014 | -33% |
| (HELI) US Equity | CHC GROUP LTD | 01/16/2014 | -38% |
| (GMEC) US Equity | GREAT CHINA MANI | 01/07/2014 | -61% |
| (NYSEMKT:TRXC) US Equity | TRANSENTERIX INC | 04/02/2014 | -62% |
| (NASDAQ:BLFS) US Equity | BIOLIFE SOLUTION | 01/29/2014 | -73% |
| (NYSE:SNV) US Equity | SYNOVUS FINL | 05/19/2014 | -86% |
| (VGGL) US Equity | VIGGLE INC | 03/19/2014 | -87% |
| (OTCQB:BTCS) US Equity | BITCOIN SHOP INC | 02/05/2014 | -92% |
| (OTC:XBIO) US Equity | XENETIC BIOSCIEN | 01/14/2014 | -95% |
While Fusion's stock price is positive now, the performance of its cohorts doesn't bode well for the future.
Fusion Telecommunications operates in a very competitive industry. There are a multitude of competitors that offer identical products and services. The company's strategy within the marketplace is to grow through acquisitions. The main point with respect to Fusion's competitive position is that cloud communications and cloud storage are undifferentiated products. With that backdrop, one line in the 2013 annual report should be of particular concern to investors, "For the year ended December 31, 2013, one customer accounted for more than 10% of the Company's consolidated revenues." With just $8.3 million of cash and $11 million of property and equipment, they are inconsequential in an industry with companies like Avaya (Pending:AVYA), Vonage (NYSE:VG), Skype, Polycom (NASDAQ:PLCM), Microsoft (NASDAQ:MSFT) and Hewlett-Packard (NYSE:HPQ) to name a few.
I could expound on the competitive landscape but what is more relevant to the potential future stock price performance is an analysis of the financials. For the quarter ended March 31, 2014, Fusion reported ($ millions):
| | |
| --- | --- |
| Assets | $69.7 |
| Liabilities | 58.5 |
| Equity | 11.2 |
resulting in a book value of $1.81/share and a corresponding price-to-book ratio of 3.27. It is certainly not a value stock but not ridiculously expensive for a tech stock. But stripping out the goodwill and intangibles of $38.6 million, tangible book value is -$27.4 million or -$4.46 per share, which makes the stock very expensive. I am suspicious of companies with a high percentage of intangible assets on the balance sheet anyway, but decomposing the intangibles, I find that $7.4 million are non-compete agreements and $21.5 million are customer relationships. Only $5.6 million are proprietary technology, from where real earnings power might emanate. The bottom line is that the value of the real assets of $31.1 million and their earnings power don't justify an enterprise value of around $70 million.
| | |
| --- | --- |
| Equity market capitalization | $36.6 |
| Debt less net cash | 33.7 |
| Enterprise Value | $70.3 |
From my perspective this company is just extremely overvalued.
Looking at the income statement, Fusion has recorded an operating loss every quarter since 2005. The only reason the company reported positive earnings for the latest quarter was due to a change in the fair value of a derivative liability. The company issued warrants in conjunction with the sale of its Senior Notes. Because the price of the stock declined 29% in the first quarter, the value of the warrants, the derivative liability, declined so the company was able to record a mark to market gain. The much heralded dramatic increase in revenues last quarter was almost entirely due to the Broadvox acquisition. None of these metrics merits a $5.95 stock price and a corresponding equity market capitalization of $36.6 million. I hardly think that the company's strategy of growth through acquisition will reverse almost a decade of poor operating performance.
Disclosure: I have no positions in any stocks mentioned, and no plans to initiate any positions within the next 72 hours. I wrote this article myself, and it expresses my own opinions. I am not receiving compensation for it (other than from Seeking Alpha). I have no business relationship with any company whose stock is mentioned in this article.
Editor's Note: This article covers one or more stocks trading at less than $1 per share and/or with less than a $100 million market cap. Please be aware of the risks associated with these stocks.