The Labor Department reported Thursday morning that new claims for unemployment dropped a seasonally adjusted 27,000 to 451,000. Unexpected bullish news, right? The markets immediately gapped-up on this information as the bulls found good reason to buy. Unexpected positive news is almost always met with a bullish move north as it's rarely priced in. However, a useful tidbit of information about that shockingly large drop came out after the gap-up. Bloomberg reported that nine states didn't file claims data to the Labor Department in Washington because of the Labor Day holiday earlier this week. California and Virginia estimated their figures and the U.S. government estimated the other seven. Coincidence in the large drop or not? We will see when the next revision comes out but usually those revisions fail to make headlines as we are already focusing on future claims. This has been a great cover-up method for a long time.

In other important news Thursday, the Shanghai Composite lost 1.4% Wednesday night over concerns that China will take steps to tighten credit. Usually this is news that the markets would turn bearish on but, it was disregarded today. Are we going to ignore the bad news now and simply hold our nose and buy? Markets tend to trend in one direction longer than most everyone thinks it will so, we could see more low volume moves north before we start to remember the economy is not nearly as strong as we hoped it would be by now. If the Republicans can get in office, this can create a standoff between Republicans and Democrats that has been known to be bullish for the markets. John Boehner vs. Barack Obama could be the new Newt Gingrich vs. Bill Clinton and the markets are likely to have a more bullish sentiment from it. That potential setup might be the strongest case for the bulls at the moment.
Technically speaking, the markets are still in a trading range between the 200-day simple moving average and the 50-day simple moving average in the S&P 500. I was hopeful the markets would run up closer to the 1115 resistance level but, we barely broke the 1110 resistance. Due to this, I was unable to add to my short hedges at the favorable levels I wanted to. After the gap-up to open, we trended south until a final hour push brought us slightly up to end the day. (Click to enlarge)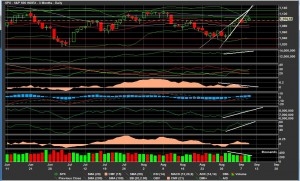 The key support levels right now are staying above the 50-day simple moving average of 1084 and the 1093 level that we built support at. The key resistance levels are the 1110 level which we broke today but closed below it. More importantly, the 1115 and 1130 levels will likely be tougher resistance. While we are uptrending in this trading range, we would be breaking out of the trading range and be considered an uptrending market above the 1130 level. Today could be considered a light volume consolidation day, which is healthy for the charts. However, we have to consider that the bulls might be losing steam after a nice rally. With that in mind, I will look to add to my shorts in ProShares UltraShort S&P 500 (NYSEARCA:SDS) and ProShares UltraPro Short S&P 500 (NYSEARCA:SPXU) at favorable levels as we now have more downside risk in the trading range than upside. SDS has an inverse relationship of 200% and SPXU has an inverse relationship of 300%.
One bullish chart I liked today was Santarus, Inc. (NASDAQ:SNTS). SNTS reported they obtained the exclusive U.S. license to commercialize the diabetes drug Cycloset for $5 million and closed up 21% on over 1000% higher-than-average volume. SNTS had a strong close on good news with few sellers so unless the markets sell-off tomorrow, I expect SNTS to show more strength to profit into. I will also be looking to reenter the Orexigen Therapeutics (NASDAQ:OREX) FDA trade next week. When the advisory board documents are released next week for Arena Pharmaceuticals, Inc. (NASDAQ:ARNA), they typically have a bearish tone to the questions so the stock sells-off. Since they have similar weight-loss drugs seeking approval, I will look for the same sell-off to happen to OREX. Also, OREX will not be halted for the FDA meeting unlike ARNA. This gives the OREX trade more time to trade the volatility with less risk. The trade will be to buy OREX on the sell-off and trade it into and during the FDA meeting. If this is anything like the Vivus, Inc. (NASDAQ:VVUS) meeting, we should expect much bullish volatility to profit into. They key is to make sure you take your profits before the decision is made and/or only play with the profits before the decision is made. A negative panel review will create a panic sell but the good news is OREX is likely to rebound before its December meeting.
If you already have plenty of risk on the long-side, I'd look into taking some profits after this run-up and hedging with some short positions. This could be just consolidation after a nice run or this could be the bulls losing steam. Instead of trying to predict one or the other, I try to prepare and quickly react to either outcome.
As always, do your own homework to see if you agree.
Disclosure: Long SDS, SPXU, and SNTS but positions may change at any time