By Jeff Bailey
Michael Kors (NYSE:KORS), which takes its sweet time reporting results, is scheduled to finally make its earnings season appearance May 28, reporting fiscal fourth-quarter figures, and there are few retail stocks with stronger momentum or a better story to tell.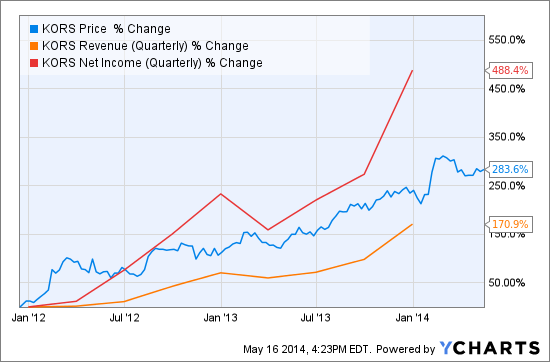 KORS data by YCharts
Trading at a forward PE ratio of 29 with revenue for the nine months ended December 28 up 51% and net income up 69%, the stock has a fashion discount built into it. Using the YCharts Stock Screener to identify consumer brands and retailers with forward PEs between 25 and 35, one quickly sees Keurig Green Mountain (NASDAQ:GMCR), Whole Foods (NASDAQ:WFM), Starbucks (NASDAQ:SBUX), Monster Beverage (NASDAQ:MNST).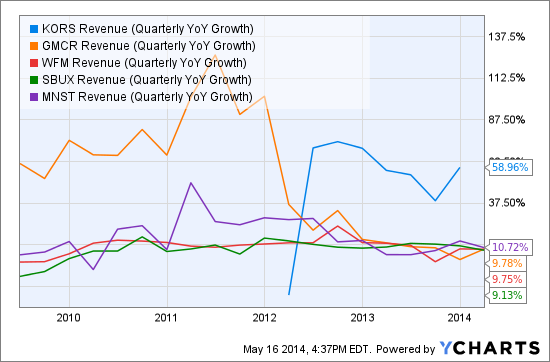 KORS Revenue (Quarterly YoY Growth) data by YCharts
These stocks get a higher relative multiple out of the perception of steadiness, although Monster Beverage could easily be disrupted by a new and improved Jolt Cola, Keurig Green Mountain is one of the latest in a long line of kitchen gadgets that could end up in the basement and Whole Foods is running into growth headwinds and increasing competition, forcing it to discount its superior vittles.
Starbucks, as we've written, has built an impressive and durable business with steadily improving operating metrics. And a recent pullback even put the shares on sale.
Kors may indeed pull up lame in future quarters, but for now at least it's a true growth company.
Disclosure: None