The upcoming IPO of Chinese e-commerce giant Alibaba has investors on the edge of their chairs to see what will develop on this notable entry into the market. Experts envision a number of problems, as well as favorable conditions that put the wind at Alibaba's back. The company's recent purchase of a sizeable stake in the Singapore Post (OTCPK:SPSTY) indicated its intention to begin a logistical framework that will be necessary for greater growth.
When Size Matters
Alibaba has garnered considerable attention since it filed its intention to issue an IPO in early May of 2014. Many investment experts feel Alibaba has the potential to take on Internet giant Amazon (NASDAQ:AMZN) in coming years. However, to do this, the company will have to find ways to set up the structure to accommodate the huge volumes and fast-paced shipping requirements that have become a feature of successful e-commerce ventures. The purchase of a stake in Singapore Post allows Alibaba to utilize some of the Post's existing logistics to prepare for future growth.
Alibaba's IPO
The company's Chairman Jack Ma, who founded the company, has been making aggressive inroads in the Internet market share, buying up small competitors and even founding a number of charitable foundations in advance of the company's entry onto the stock market. He took over in May of 2013, and since that time has been in avid preparation for the company's IPO this year. At the filing of its IPO in May, the company had year-end revenues of $6.5 billion and had a profit over the previous nine months of $2.8 billion.
The Singapore Post Move
The purchase of a 10.35 percent share in the Singapore Post cost $249 million.
One of the most significant impacts of the purchase is the extension of Alibaba's reach to an underserved market-Chinese who are overseas wishing to purchase on the domestic market and Chinese in the domestic market wishing to purchase goods on the international market.
The move also puts the Singapore Post's bonded warehouses, one at the Airport Transit Center at Singapore Airport and another under construction, in Malaysia. These outlets will allow Alibaba to avoid paying taxes on goods held or moved through these points, providing the company with significant savings.
Alibaba's Outlook
With the purchase, Alibaba will be the second largest shareholder in the Post after Singapore Telecommunications Ltd. (OTCPK:SGAPY).
The collaboration with Singapore Post promises better positioning to avoid the delays and shipment failures the company has experienced while serving its international market.
The Singapore Post partnership shows the company is taking proactive measures to correct known problems to increase their revenues in the near and longer term.
While some have voiced concerns that Alibaba is too big and inflexible to compete with Amazon post-IPO, this move, along with a partnership with Tesla (NASDAQ:TSLA), reflects Alibaba's quick, strategic movements in the run up to its New York debut.
With Chinese consumer spending on the rise, and several other successful Chinese e-commerce debuts lately, including Jumei International (NYSE:JMEI) and JD.com (NASDAQ:JD), the general environment seems to be favorable for Alibaba as well.
We recommend investors get a piece of this company, which is set to be the largest tech IPO in history and is showing strong signs of concrete ground logistics.
Great Outlook for Yahoo!
The side-story to Alibaba's IPO is Yahoo! (NASDAQ:YHOO) having over a 20% stake in the company. As YHOO could use the boost to better compete with increasingly forceful rivals Google (NASDAQ:GOOGL) and Facebook (NASDAQ:FB), the continued strength of Alibaba is a continued, positive indicator.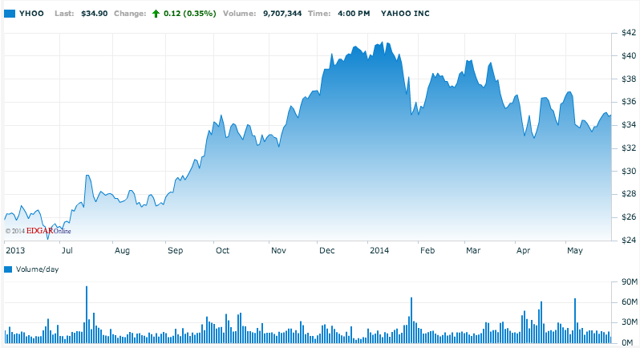 (Nasdaq.com)
Particularly if Yahoo! begins to clarify how it will better monetize mobile ads, we suggest investors buy into this company as well.
Readers wishing to join the discussion on Alibaba, Yahoo, and other e-commerce and tech giants should click the +FOLLOW button above the title of this article and follow @DRDInvestments on twitter.
Disclosure: I am long YHOO. I wrote this article myself, and it expresses my own opinions. I am not receiving compensation for it (other than from Seeking Alpha). I have no business relationship with any company whose stock is mentioned in this article.