Newell Rubbermaid (NYSE:NWL) has underperformed the S&P 500 over the long term since the late nineties. The underperformance likely resulted from erratic earnings and free cash flow growth. There were multiple year-over-year declines in earnings, operating cash flow and free cash flow during the 2009 - 2011 period when revenue was increasing. The stock has not yet returned to its highs of over $40 from the 90s due to its inconsistency. However, the company did achieve year-over-year increases in earnings and free cash flow since 2012 and the stock did outperform the S&P 500 when looking at the past two years. I typically like to see companies who consistently report steady increases in revenue, earnings, and cash flow over long periods of time. Such consistency leads to a steadily rising stock over the long term. Unfortunately, Newell Rubbermaid has not been a solid buy and hold over the past decade and a half. However, the company has a new game plan in place that could help its performance going forward.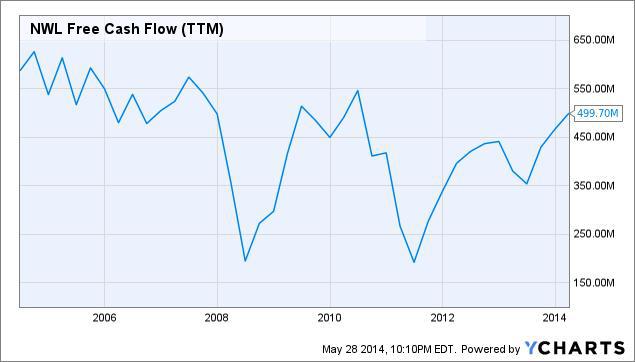 I highlighted the performance of the company's free cash flow because that is what's used in a discounted cash flow analysis. There has been an overall decline in free cash flow over the past 10 years. However, in the shorter term, Newell Rubbermaid has increased its free cash flow since 2011. The problem is that the cash flow seems to be stuck in a range, which can cause investors to look elsewhere. Tupperware (NYSE:TUP) has been a much better performer over the long term in terms of free cash flow growth. Tupperware has increased its free cash flow since about 2005. So it is no surprise that Tupperware's stock has outperformed Newell Rubbermaid over that time period.
My discounted cash flow analysis for Newell Rubbermaid using a 3% free cash flow growth rate and a 9% discount rate shows that the company is currently fairly valued. If the company can grow its free cash flow at a rate higher than 3%, then I think that the stock is undervalued. The company did achieve a 30% year-over-year increase in free cash flow for 2012 and a 6% year-over-year increase for 2013. So, Newell could be turning things around. If the company can achieve 6% annual free cash flow growth over the next ten years, using a discounted cash flow analysis, then the stock is worth about $36 today. That's a big if since Newell is expecting operating cash flow to be between $600 million and $650 billion for 2014. If the company spends the same amount on capex in 2014 as it did in 2013, there would be no year-over-year free cash flow growth.
Strategies for Future Growth
Newell Rubbermaid needs to improve its performance to make an investment in its stock worthwhile going forward. This includes top line revenue growth, bottom line EPS growth, and cash flow growth. For revenue growth, the company is implementing stronger advertising for key brands such as Graco, Irwin, Sharpie, Papermate Inkjoy, and Calphalon. The advertising for Sharpie and Papermate Inkjoy is in progress with strong plans for the back-to-school season. Advertising for Calphalon is expected to take place during this year's holiday selling season. The advertising for the other brands are also expected to air this year.
These advertising efforts should help the company achieve revenue growth of 3% to 4% for 2014. These efforts are also expected to allow for EPS growth of 6% to 9% and an operating cash flow between $600 million and $650 million for 2014. If the company achieves the high end of its expected EPS growth, it could be enough to beat the S&P 500's average expected EPS growth of 8.5% for 2014. So, the stock could edge higher than the market in the near future. There are some other factors that could also help boost the stock's performance.
Newell Rubbermaid opened a 40,000 square foot design center to help stimulate growth through new innovation. This facility will allow new products to be designed, built, and painted in an on-site model shop. The prototypes can then be evaluated through a new usability team that can interact with consumers to create better product experiences. The company is trying to get on the cutting edge of innovation as it can be a competitive advantage. The innovation effort could successfully create new products to stimulate higher revenue growth going forward. Working closely with customers on the innovation process can help create new products that consumers are demanding. These efforts show that Newell is striving to separate itself from the competition to gain market share. This facility should help the company for a long-term time frame. I think that this could be a game changer for Newell Rubbermaid if the company can connect with consumers with new innovative products. Such consumer connections can lead to significant improvements in revenue growth if the company is successful.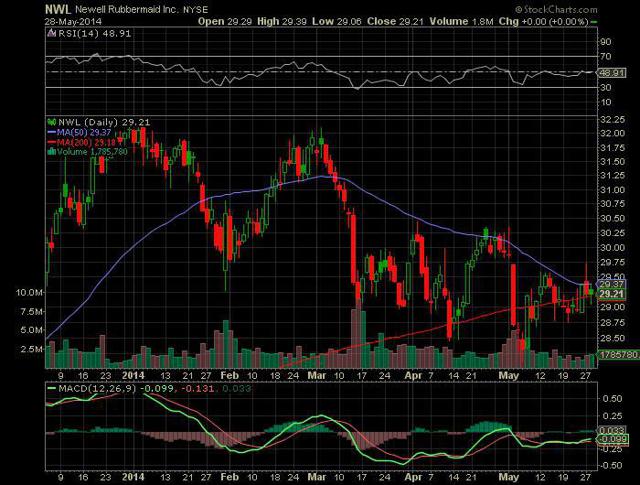 Dividends and Stock Repurchases
The company rewards shareholders with a 2.3% dividend and through stock buybacks. Newell Rubbermaid authorized a share repurchase program of $300 million from February 2014 through the end of 2016. At the end of Q1, the company still had over $255 million remaining on the authorization. The buybacks should help boost the company's EPS and make existing shares more valuable for investors as the shares outstanding become less diluted. Newell Rubbermaid is not a consistent annual dividend raiser like McDonald's (NYSE:MCD) or Coca-Cola (NYSE:KO). The company has gone multiple years without a dividend raise in the past. Dividend payments were lower than previous years on a few occasions. More recently, the company has raised its dividend payments every year since 2011. If Newell's innovations and advertising programs are successful, then the company will be in a good position with increasing cash flow to continue raising the dividends going forward.
Key Risk
Since Newell Rubbermaid produces safety-sensitive baby products such as car seats for its Graco brand, the company is at risk for product recalls. In February of this year, the company recalled 3.77 million Graco car seats because of defective belt harnesses that did not unlatch in some cases. This recall cost the company about $11 million. Hopefully, the company's new design center will help to reduce the chances of future costly recalls through more vigorous testing.
Conclusion
Newell Rubbermaid has a good plan to stimulate future growth through advertising and through innovation at its new design facility. This growth plan could be a game changer if the company can generate significantly higher revenue, EPS, and cash flow as a result of the program's success. However, there is no guarantee that the growth plan will be successful.
Thus far, the company has fallen short of being a dividend aristocrat (companies that have increased their dividend for 25 consecutive years). The reason Newell has fallen short is due to its inconsistent revenue and earnings growth over time. There are better opportunities for moderate growth, dividend paying stocks with more consistency, higher yields, and share repurchase plans. I think that the company's growth plan may only allow for continued moderate annual growth in the 6% to 9% EPS range. This range is likely to produce results that approximately match the performance of the S&P 500 going forward. From an opportunity cost perspective, I think that there are better investments to be had.
Disclosure: I am long MCD. I wrote this article myself, and it expresses my own opinions. I am not receiving compensation for it (other than from Seeking Alpha). I have no business relationship with any company whose stock is mentioned in this article.