Early in the trading day on May 29, 2014, shares of Cliffs Natural Resources (NYSE: CLF) were down 1.5%. By the end of the trading day, CLF was up nearly 3.5% (5% higher than its lows). This "pop" in share prices is probably due to two factors.
Casablanca's letter to shareholders
On May 29, Casablanca Capital LP, a Wall Street firm with a 5.2% stake in the iron-ore mining company, issued a letter to Cliffs' shareholders. Casablanca has been actively urging management to use its plan to turnaround CLF since early 2014. Cliffs' management has blatantly rejected Casablanca's plan and push to replenish the company's board of directors with candidates picked by Casablanca.
In the letter, Casablanca points out the many failures of Cliff's current management and board of directors. It also reiterates its plan to turn the company around.
Based on today's intense price action, one could assume the market is pro-Casablanca and its plan to fix Cliffs.
Increased cost-cutting
Another bullish factor that could have had something to do with today's rally is the proxy filing made by Cliffs on 05/28/2014. In the news release, the company announces its plans to cut an additional $100 million in costs.
The bottom line
Regardless of Casablanca's efforts to fix Cliffs, or management's efforts to cut costs, the company's fate is in the hands of the iron-ore markets.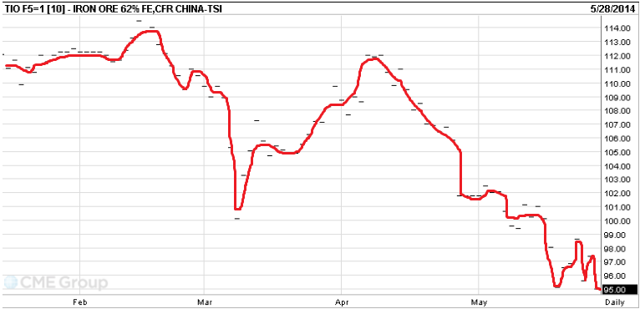 As you can see from the chart above of January 2015 IRON ORE 62% CFR CHINA-TSI futures, iron ore prices have plummeted since February of this year. The price per ton has fallen 17% from $114 per ton, to $95 per ton.
The intense drop in iron prices has largely been caused by the increased regulation of China's shadow lending industry. For years, borrowers were able to use iron-ore as collateral for non-bank loans. Now that the industry is getting cleaned up, many borrowers are being forced to liquidate their iron-ore holdings at lower and lower prices.
Cliffs Natural Resources is hugely reliant on iron-ore prices. My article published on March 25 outlines just how dependent Cliffs' bottom line is on the going rate for iron: Cliffs Natural Resources: 2014 Earnings Forecast Using Current Iron-Ore Futures Prices. When I wrote that article, iron-ore prices were significantly higher than their current levels. Even then, I forecasted a free cash flow of -$335 million.
Now that the price of iron-ore has fallen over 10% since then, the free cash flow loss for 2014 should be severe even with $100 million of costs savings recently implemented by management.
I am currently a shareholder with a stop-loss at $15 per share. If the iron-ore market bounces back, there could be some serious upside for CLF shareholders. But if it keeps declining, it could get really ugly.
Disclosure: I am long CLF. I wrote this article myself, and it expresses my own opinions. I am not receiving compensation for it (other than from Seeking Alpha). I have no business relationship with any company whose stock is mentioned in this article.