China's beauty-products industry has grown steadily in the last couple of years. The retail sales profits have increased from a 2010 total of $22.5 billion to a grand total of $36.5 billion in 2013, reports market analysis and research firm Frost & Sullivan. There are projections that beauty-product sales in 2018 could reach as high as $71.3 billion. These figures are good news for companies such as Jumei International (NYSE:JMEI) and Vipshop (NYSE:VIPS).
Jumei's Beautiful Debut
Jumei is a company which sells apparel, beauty products and a variety of lifestyle products on its website.

Source: Jumei
It has claimed 10.5 million active users on its website in 2013, a large leap from a reported 4.8 million active users in 2012.
"Chinese consumers are becoming increasingly conscious about their appearance, especially China's young generation, and are willing to spend more to enhance their appearance," Jumei states in its IPO prospectus. "As a result, a lot of beauty products have become an irreplaceable part of Chinese customers' daily routines."
The company launched its IPO in the early part of 2014 to general success. Jumei International Holding Ltd priced its IPO shares of 11.14 million at $22 per share on the NYSE, raising $245.1 million and giving the company an estimated value of $3.3 billion.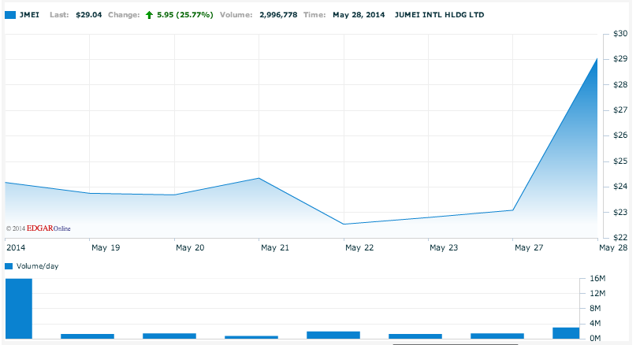 Source: Nasdaq.com
Vipshop Doubles In Price
Another company that is benefiting from the recent boom is Vipshop which has a doubled its share price this year.
Vipshop is a NYSE-listed company that is now operating as China's largest flash sales website. Flash sale websites often specialize in generously discounted merchandise. With a successful mixture of discounts and overstock clearance of inventory, Vipshop often sells low and high price items side-by-side.

Source: Vipshop
At the start of the year, the company's stock price quintupled to $80 per share, exceeding analysts' estimated prices repeatedly and making it presently the top valued Chinese e-commerce stock.
Source: Nasdaq.com
"Vipshop is the largest 'special offers' e-commerce platform. They have 90% of the market share in the 'special offers' category," says a Hangzhou-based supplier whose largest sale on the site took in $1 million.
In the future, cosmetics e-commerce could be one of Vipshop's largest revenue generators, according to Deutsche. In February, Vipshop purchased Lefeng, an online discount cosmetics retailer, for a sum of $133 million. The new influence and power Chinese women are wielding in e-commerce could have been the strategy behind this acquisition.
China's Changing Social Structure
China's middle class is rapidly growing, with an increasing concern for personal grooming. This in turn has set off a rapid expansion in the beauty and personal care sales industry. Euromonitor International, a research firm, states that China also has a younger middle-class consumer base than most developed markets.
The increasing number of women in China's workforce is making this group an effective shopping force for beauty products, mainly owing to increased financial independence.
The Internet boom also has a heavy influence on the distribution of beauty and personal-care product purchases. China now holds the world's largest Internet community, holding an estimated 617.6 million users, which is more than double the U.S. Internet community.
Over 2010-2015, Euromonitor International has expectations that China will become one of the most valuable and practical markets for beauty and personal care, with an absolute value growth that could exceed US$10 billion, which would account for about one fifth of the global value for the beauty and personal care market's world growth. The value of beauty and personal care could easily reach US$34 billion by the year 2015.
We suggest investors consider joining this glamorous new trend in 2014 - the face of which appears to be JMEI and VIPS.
We invite readers wishing to join the discussion on the growing Chinese consumer sector to click the +FOLLOW button above the title of this article and follow @DRDInvestments on twitter.
Disclosure: I am long JMEI. I wrote this article myself, and it expresses my own opinions. I am not receiving compensation for it (other than from Seeking Alpha). I have no business relationship with any company whose stock is mentioned in this article.