A first look at the DryShips (NASDAQ:DRYS) quarterly report can be enough to scare investors off if they fail to dig deeper into the numbers. DryShips is an owner of dry bulk carriers and tankers that operate worldwide, with a majority ownership in Ocean Rig (NASDAQ:ORIG), an international offshore drilling contractor specializing in the ultra-deep water and harsh environment segment of the offshore drilling industry. While both companies are listed separately on the Nasdaq, DRYS insists on consolidating both books when reporting earnings. In order to truly understand DRYS, investors need to be able to separate the numbers on both companies.
DryShips' ownership in Ocean Rig
The ownership of ORIG has been a savior for DRYS. During the shipping downturn, DRYS was able to both sell shares and use shares of ORIG as collateral for loans. From the annual filing:
As of February 14, 2014, we had 453,492,059 common shares outstanding and we owned 78,301,755 shares, or 59.4%, of Ocean Rig UDW's outstanding common shares.
On May 28th, ORIG closed at $17.82, representing a value of $1.4 billion for the company. While there was speculation that George Economou would use the relationship to create a dividend from ORIG earnings to the benefit of DRYS, it didn't materialize until this last quarter:
On May 8, 2014, Ocean Rig declared a quarterly cash dividend with respect to the quarter ended March 31, 2014, of $0.19 per common share.
This will come to a payment of just under $15 million to DRYS.
Untangling the books
During the ORIG and DRYS presentations, both companies posted their debt: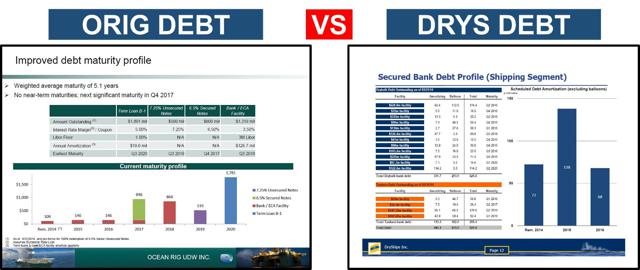 (Source: 1Q14 presentation from ORIG and DRYS)
DRYS includes both the ORIG and DRYS debt as part of the presentation. In total, DRYS has total debt of $920.9 million and ORIG has total debt of $4.51 billion. Additionally, there are approximately $700 million in convertible senior notes that will begin to come due this year.
(Source: DRYS presentation)
Financial standings
After the first quarter, the company reported revenues of $96.7 million, with a dry bulk utilization of 97.6% and tanker utilization of 100%. In the remainder of 2014, the company will be responsible for $72 million in debt payments, and will then incur $138 million in 2015 and $68 million in 2016.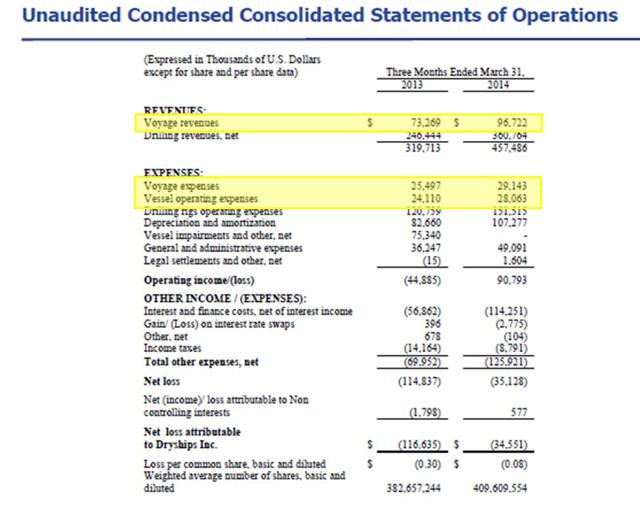 (Source: DRYS presentation)
When looking at the income statement, it's important to be able to separate the DRYS and ORIG income and expenses out. For the first quarter, DRYS had voyage revenues of $96 million, and voyage and vessel expenses of $57 million.
It will be tough to properly forecast future revenues, since the Baltic Dry Index will fluctuate. However, revenues for the shipping sector have been hovering between $90-100 million per quarter. For the sake of simplicity, if we round up to $100 million per quarter, this would be $400 million in revenue for the year. With a market cap of $1.26 billion, this implies the market is placing a valuation at 3X revenue.
Since many of the assets are intertwined, looking at tanker and dry bulk ship value will help to simplify what assets the company has.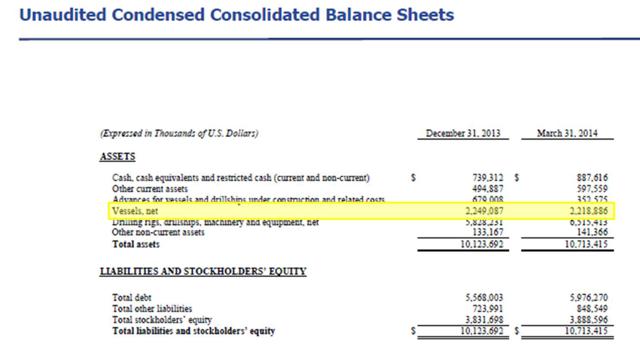 (Source: DRYS presentation)
The company states the value of the vessels at $2.2 billion. With debt of $920 million, that means without considering cash, the company has $1.28 billion in positive assets. Again, with a market cap of $1.26 billion, this implies the market is valuing the company for the physical assets the company owns, and is not taking into consideration the cash flow or ownership of ORIG shares.
Going forward, the company is looking to "age off" the fixed charters it currently has in favor of the more volatile, and at times much more profitable, daily rate. DRYS has made this strategy known for some time, and through 2014, it will have 36% of the fleet on a fixed contract, with 21% in 2015 and 15% in 2016.
There has been a lot of talk in the industry about the improving outlook for the shipping industry. Falling iron prices will likely present a buying opportunity for China, increasing the amount of higher-grade iron being shipped from Australia to China, and increasing the Baltic Dry Index price.
Conclusion
Consolidating the DRYS and ORIG balance sheets makes it difficult to properly value each company without digging deeper into the quarterly reports. Once the balance sheets and income statements are separated, it becomes clearer that DRYS is not in as dire straits as some may state. An improving Baltic Dry Index and increase in shipping rates, coupled with the ORIG dividend being paid should make this a solid play in the shipping sector.
Disclosure: I am long DRYS. I wrote this article myself, and it expresses my own opinions. I am not receiving compensation for it (other than from Seeking Alpha). I have no business relationship with any company whose stock is mentioned in this article.