Is institutional investor interest shifting to Defense & Aerospace?
That may be what is indicated in our latest market-maker rankings of most-attractively positioned equity investments currently.
Here is how that list is distilled: We take over 3300 equity-based securities, stocks and ETFs, that have listed options traded on them. Our proprietary analysis determines where sufficient prices and activity exist to imply credible forecasts of coming prices. Today that includes 2,455 issues.
That forecast population is reduced to 1500+ where we have daily forecasts for at least the prior 3 years. From them then we cut to the 200 or so that both offer an 8% upside price change (or more) prospect, and have averaged at least +8% gains in the next 3 months following all prior forecasts with upside-to-downside balances similar to today's.
A final cut is made to 55 issues (this time) where at least 8 out of every 10 of such forecasts produced gains. The top 10 of those 55 are based on their Reward-to-Risk ratios, where reward is the upside price change offered by today's forecast, and the risk is measured by the maximum worst case price drawdowns average of all the similar prior forecasts.

Click to enlarge
Our Defense & Aerospace interest here is on Rockwell Automation (NYSE:ROK), the Boeing Company (NYSE:BA), Lockheed martin Corporation (NYSE:LMT), and United Technologies (NYSE:UTX). These have all long been institutional objects of attention but have rarely been seen by market-makers with so disproportionate upside to downside prospects as are currently pictured I column (7). The Range Index measures what proportion of the forecast range between (2) and (3) lies below the Price Now in (4).
As an example of the advantage of the active investment approach advocated by this approach, instead of the buy & hold style of investing, let's look at perhaps one of the best B&H equivalents of the Dow Jones 30 Index, LMT. Both have long-term average price growths of +20% per year.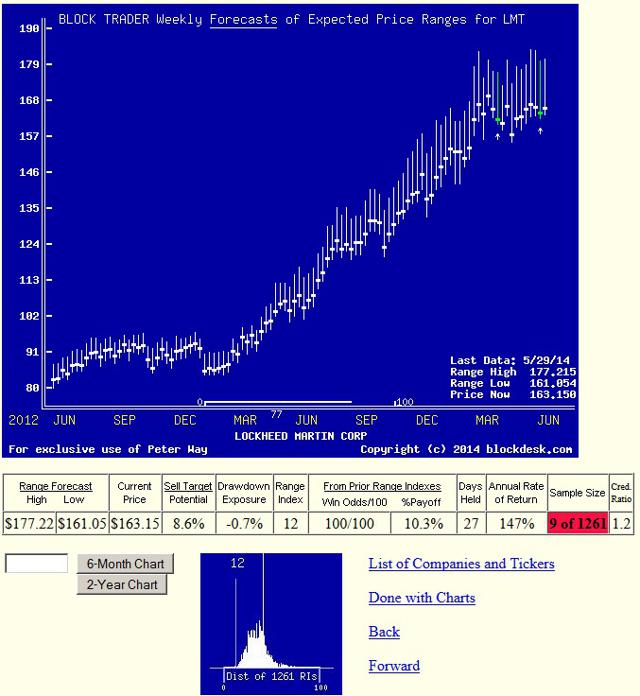 Click to enlarge
(used with permission)
LMT's prior experiences following Range Indexes of 12 have (all 9, or a win odds of 100/100) produced average gains of +10.3% in holding periods of 27 market days, or 5½ calendar weeks. Such short-term capital commitments permit compounding the capital's employment in other opportunities when they can be found at an annual rate of 147%, or seven times the productivity of a buy & hold strategy.
Moreover, during the 27-day holding periods the worst-case drawdowns averaged less than -1%, compared to -6% for the a buy and hold of LMT, or a -5% in the DJIA.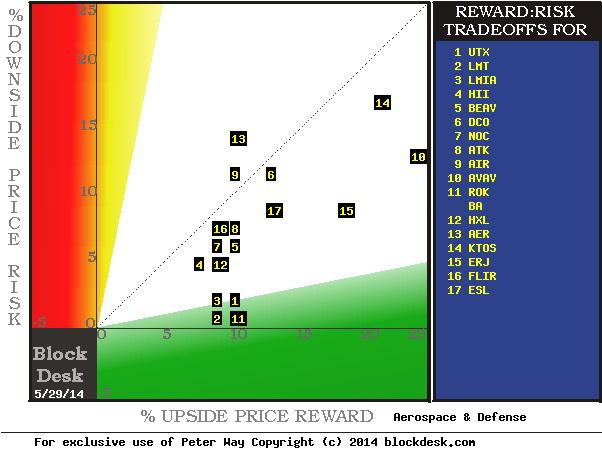 A number of other Aerospace & Defense issues do not share the price appeal currently being afforded to these well-known issues, so it is not apparent that there is any broad-scale group attention movement afoot.
Another dramatic comparison can be found in Alliance Data Systems (NYSE:ADS), a marketing information provider, where prior Range Index experiences this uncommon has caused 10% gains in 28 days to generate +136% annual rates, with only -2.2% worst-case average price drawdowns.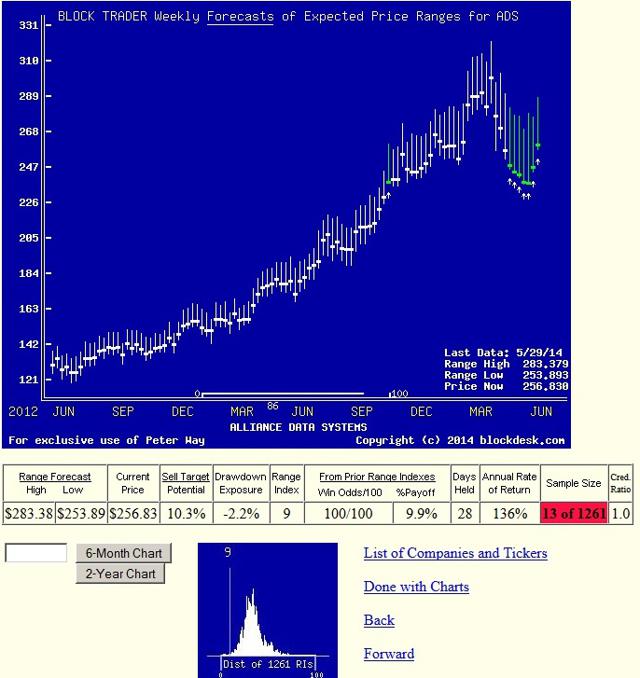 Click to enlarge
These examples may be indicative of other institutional favorites getting priced up to a point where so little upside is seen in them by either the market-makers or their clients that other alternatives become more competitive.
But that is far from all bad. In all but the worst markets there usually are many very productive alternatives to the spotlight-seeking stocks or ETFs. Being able to screen a large population on a highly comparable basis provides a continuing parade of attractive investment candidates for further inspection.
Now just because these issues have performed well in the past does not provide any guarantee they will repeat this time. Several qualify on the basis of small samples, but they are drawn from five years of forecasts, so that speaks to the selectivity present.
The investor is reminded of his self-obligation to perform the due diligence required to live with his/her internal remonstrations when capital cost bases are under water.
The knowledge that in the preponderance of cases such discomforts have turned into satisfactions hopefully will suitably strengthen investor resolve when it is most needed.
Disclosure: I have no positions in any stocks mentioned, and no plans to initiate any positions within the next 72 hours. I wrote this article myself, and it expresses my own opinions. I am not receiving compensation for it (other than from Seeking Alpha). I have no business relationship with any company whose stock is mentioned in this article.