As the developed economies of the world remain mired in economic quagmires complete with persistently high unemployment, widening budget deficits, and sagging consumer confidence levels, interest in emerging markets continues to soar. Most investors looking to gain exposure to developing markets focus in on the BRIC bloc of Brazil, Russia, India, and China–a group of countries that is expected to see its presence on the global economic stage skyrocket in coming decades. But investors are also looking beyond these "big four" in search of smaller emerging markets that may offer potential for growth not available in the U.S. and western Europe.
Mark Mobius, one of the most successful and well-known emerging markets experts, is among those who has ventured beyond the BRIC in search of exposure with potential to generate impressive returns. Mobius, who has won countless fund manager awards and earned the nickname "the Pied Piper of emerging markets," is executive chairman of Templeton Asset Management and manages several emerging markets funds there. He is considered one of the leaders in the global investment industry, as he has had over 40 years of experience and plenty of success to accompany those many years in the financial world.
Mobius appears to be quite bullish on Thailand as a long-term investment destination, and is reportedly putting his money where his mouth is. ""Everybody thought Thailand would go down with the riots," said Mobius in a recent interview. "Having lived here and having experienced the change in government in the past we have seen the improvement that is taking place."
In a recent address to journalists in Thailand, Mobius specifically noted optimism on three major Thai companies: energy giant PTT, third-largest lender Kasikornbank, and Siam Cement, the country's biggest industrial conglomerate. And Mobius isn't just talking big about Thailand; the country reportedly held the second highest weighting in Templeton's Asia Growth fund, behind only China and ahead of India.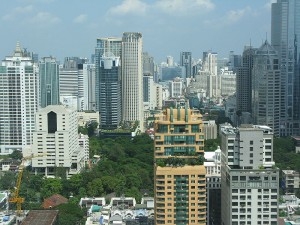 It isn't difficult to understand Mobius' interest in Thailand. The Thai benchmark has surged over the last year, making it one of the best performing equity markets in the world. Thailand exports over $105 billion worth of goods and services annually, with its major exports being rice, textiles, jewelry, and computers. Rice is the main export, as the Asian country is the largest producer on the globe. As a major trade partner to rapidly-expanding Asian economies, Thailand is poised to benefit from a continued boom in emerging markets.
Though Thailand may have a strong economy and tremendous growth potential, its political structure casts a wave of uncertainty over the nation. Thailand is riddled with political instability, which could wreak havoc on its economic output if the problems persist. Currently, the country is experiencing a two year political crisis that has included violent riots that have occasionally disrupted market activity. After a judicial coup in late 2007, it was unclear who held political majority, which many point to as the cause of the vulnerability and citizen unrest that persists today.
For investors with the stomach for the ups and downs that come with a politically unstable environment and a rapidly-expanding emerging economy, there is an intriguing ETF option out there that offers exposure to one of Mobius' favorite markets:
iShares MSCI Thailand Index Fund (NYSEARCA:THD)
This ETF follows the MSCI Thailand Investable Market Index, which measures the performance of the Thai equity market. The fund's top ten holdings include significant allocations to PTT (11.1%), Kasikornbank (8.4%), and Siam Cement (4.3%), three of the large cap stocks Mobius reportedly likes as buys in the Thai market. Though many market sectors are represented, financials (34%) and energy (31%) make up the large majority of this ETF. A glance at THD's fundamentals will have even the most skeptical investor impressed. The fund has gained more than 35% this year and nearly 15% in the last month. (Click to enlarge)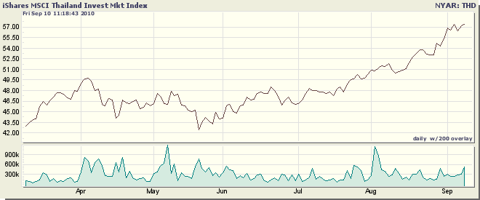 Disclosure: No positions at time of writing.
Disclaimer: ETF Database is not an investment advisor, and any content published by ETF Database does not constitute individual investment advice. The opinions offered herein are not personalized recommendations to buy, sell or hold securities. From time to time, issuers of exchange-traded products mentioned herein may place paid advertisements with ETF Database. All content on ETF Database is produced independently of any advertising relationships.