With the general market indices moving higher and hitting fresh all-time highs in recent sessions we are left wondering whether this initial move has enough strength left to allow the next wave of momentum to carry us higher. At this point it is difficult to say, however we do find ourselves erring on the side of being bullish rather than being bearish or even neutral.
To this point our bullishness has kept us investing in quality names and the index funds but as we watch some of the commodity stocks we follow regain their momentum trade status we find ourselves looking at some of the other past momentum stocks in the market.
Chart of the Day:
We were pretty spot on with our call on the Nasdaq and its bottom both times. The call was not precisely correct, but they hardly ever are. Looking at the recovery in general markets, as well as the tech sector, it is obvious that the large-caps and value stocks have led us higher. If history is any indication then the momentum stocks shall join this rally if it can continue for a while longer.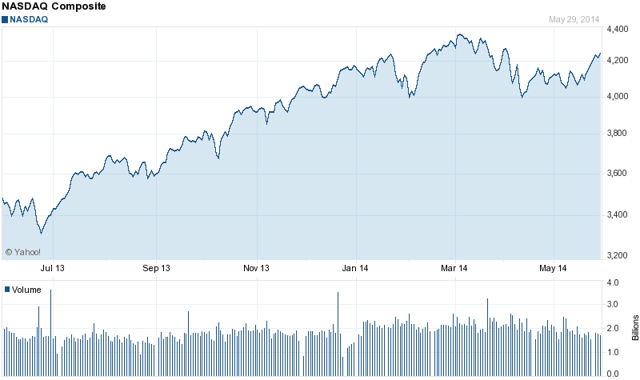 Click to enlarge
Source: Yahoo Finance
We have economic news today, and it is as follows:
Personal Income (8:30 a.m. EST): Est: 0.3% Act: 0.3%
Personal Spending (8:30 a.m. EST): Est: 0.2% Act: -0.1%
PCE Prices - Core (8:30 a.m. EST): Est: 0.2% Act: 0.2%
Chicago PMI (9:45 a.m. EST): Est: 60.3 Act: 65.5
Michigan Sent - Final (9:55 a.m. EST): Est: 81.4 Act: 81.9
Asian markets are lower today:
All Ordinaries -- down 0.49%
Shanghai Composite -- down 0.07%
Nikkei 225 -- down 0.34%
NZSE 50 -- down 0.09%
Seoul Composite -- down 0.86%
In Europe, markets are mixed this morning:
CAC 40 -- down 0.32%
DAX -- up 0.02%
FTSE 100 -- down 0.27%
OSE -- up 0.62%
Generally Speaking
As we look at the larger market, and some of those sectors which were heavily populated with momentum stocks, it is our opinion that the market has done a good job separating the pretenders from the contenders. We were lucky enough to have made our move into stocks in these sectors which had value, such as Apple (NASDAQ:AAPL), but now we are pondering whether the risk/reward now justifies venturing into names which have been pummeled over the past few months.
Where We Are Looking
We want to be clear that at this time we have not yet made any decisions as to whether to pull the trigger but we thought we would at least share the idea at this time. As the general market has recovered we have watched as many former momentum stocks have stagnated, including Twitter (NYSE:TWTR), Salesforce.com (NYSE:CRM), Yelp (NYSE:YELP) and Pandora (NYSE:P). With the analysts now coming around to some of these names and taking a more optimistic outlook on the companies after the big pullbacks we think there might be some decent plays. The old saying goes that one should not throw the baby out with the bath water, but as is often the case investors tend to throw good companies out with the bad when rotating their capital to new areas.
Investors got far too excited about the potential of Twitter after the IPO, but now it appears that they have become far too pessimistic about the company's future.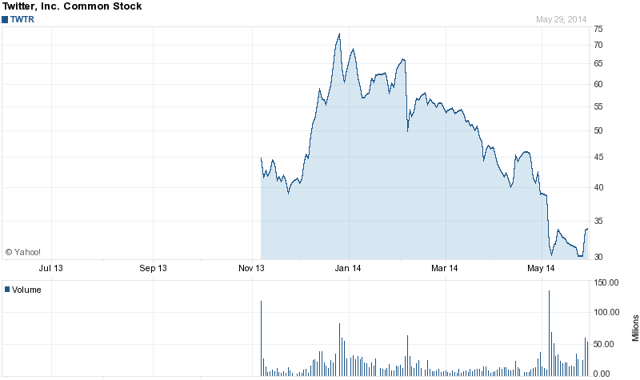 Click to enlarge
Source: Yahoo Finance
Not all of these names will make our list, in fact maybe none of them will, but we do see promise in Twitter's shares right now and think there is a strong case to be made that investors dropped the ball there. Expectations did get over inflated there but as we overshot to the upside it seems quite likely that we have also overshot to the downside.
Due to the nature of these stocks, we think that no more than 5% of any portfolio should be allocated to the momentum names which are currently in the gutter; whether they are any of the names we listed above or others that also fit the same description. Our game plan is to wait until the first week of June is over before deciding whether this is a prudent move to take as the beginning of the month is a period when a lot of market noise tends to disappear.
Disclosure: I have no positions in any stocks mentioned, and no plans to initiate any positions within the next 72 hours. I wrote this article myself, and it expresses my own opinions. I am not receiving compensation for it (other than from Seeking Alpha). I have no business relationship with any company whose stock is mentioned in this article. AAPL has previously been recommended.