US banks are finding it much more difficult to make the easy profits that they have been accustomed to earning in past decades. Regulators are now much stricter and far more empowered to follow through on banking violations with much stricter penalties.
Overall, the economy is not doing as well as analysts had hoped and the financial media had harped on. The US economy continues to sputter despite wave after wave of QE's from the Feds.
A sluggish economy also means that financial markets are no longer as robust as they used to be.
These macroeconomic factors, commingled with internal scandal and bad practices, add up to a grim picture for Bank of America (NYSE:BAC). It could be tough for investors to figure out a winning strategy with this mega-bank.
Mortgage Slump
According to the quarterly annual report issued by the Federal Deposit Insurance Corp, mortgages have dropped, as have securities trading. All this adds up to a net income drop of 7.6 percent in the first quarter for the country's 6,730 financial institutions compared to the same period in 2013.
Last year, commercial banks and savings institutions averaged about $40 billion, now, in the same period in 2014, they average around $37.2 billion. Much of this underperformance is due to a perceptible drop in trading activity.
These numbers represent a fall in profits from one year to the next, the second time this has happened in 19 quarters.
Slashing Expenses in 2014
Lenders of all sizes, both large and small, expect the second half of the year will be one of cutting costs. Unless there is a sudden economic surge, which appears unlikely, the banking service industry will continue to be in the doldrums.
The mortgage business has been the hardest hit. Despite historically low interest rates, buyers are reluctant to purchase homes. Ironically, although interest rates are now at an almost all-time low, it has not been low enough to stimulate the refinance market. The low demand has resulted in a decline in mortgage originations and consequently a sharp drop in mortgage revenue.
Correlated Declines
This dip in profits from lending, in turn, is affecting profits made in trading. With these two primary sources of income drying up-mortgages and trades-banks will have to further tighten their belts.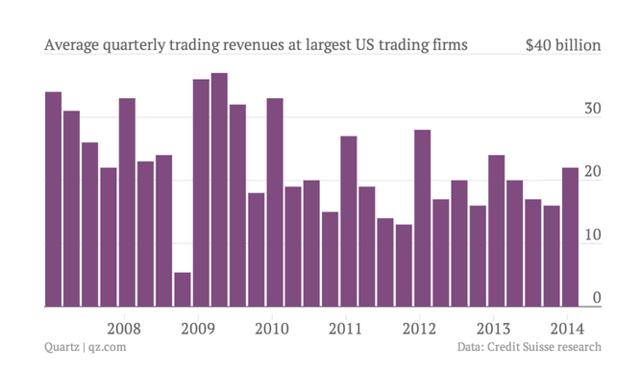 Click to enlarge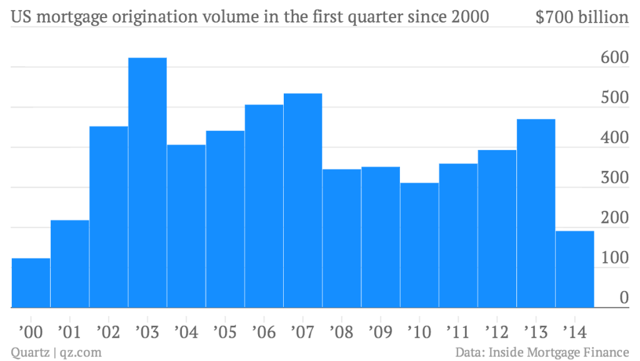 Click to enlarge
Last year, thousands of mortgage officers, specialists in providing home loans, were laid off; and this year, banks may have to cut expenses still again. A conservative hiring trend is now in place, with senior bank executives afraid of adding to their current headcount. Decision makers are concerned that over-hiring might result in layoffs in six months.
Strategies Besides Hiring Freezes
Besides considering hiring freezes, banks are also looking for ways to streamline banking practices. For instance, Bank of America has a "Simplify and Improve" program in place to make it easier for customers to bank with fewer employees reviewing specific tasks. Along the same line, PNC Financial Services Group (NYSE:PNC) has introduced new technology to reduce employee workload with a self-service system for branch customers to do their own banking transactions without the help of a teller. Another move to slash overheads has been replacing large branches with smaller versions. Efficiency is the new buzzword in banking circles. It is a defensive move to avoid another recurrence of the 2009-2010 banking crisis, which put hundreds of banks out of business.
2014 Outlook
While senior banking executives anticipate that the mortgage business will make a slow comeback as the economy improves, resulting in a renewed interest in buying homes, they are less optimistic about the trading business.
Revenue from trades has dropped to $6.1 billion. Since this 18 percent decline in the first quarter is the lowest first-quarter in 5 years, banks are finding it harder to envision a rebound in trading activities in the near future.
Even the nation's largest banks, like Bank of America , cannot find a way to increase their profit margins in the current economic climate where mortgage demand is low and trading profits slim.
Additional Negatives For Our Bank of America
In addition to the tough environment outlined above, Bank of America has shown several other troubling signs in 2014:
· Paying a joint $25billion National Mortgage Settlement.
· A $4billion accounting error, which cost shareholders a dividend increase and share buyback.
· Lack of clarity from top leadership regarding the bank's way forward in 2014.
· Pressuring customers to accept credit-card add-ons and paying $800million in fines.
· Rigging foreign exchange rates.
BAC has not increased its dividend for shareholders since 2009. Payout has remained at one penny for over 20 quarters.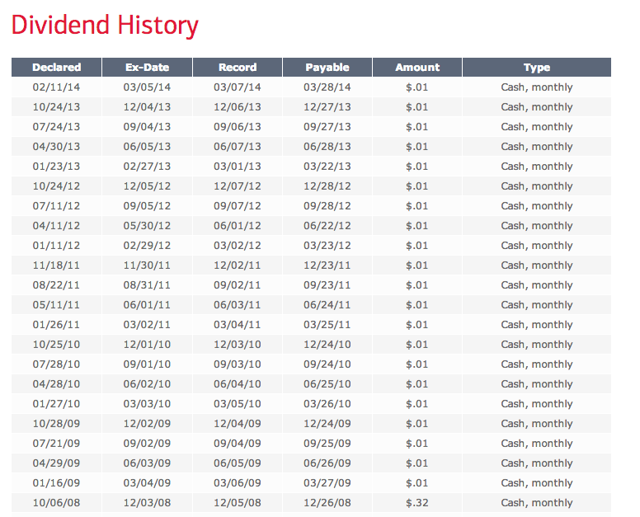 Click to enlarge
(source)
While (noted above) PNC bank is facing a similarly difficult environment, the institution has a far better public image than its counterpart BAC and has shown strong Q1 results-an anomaly among its peers in 2014. PNC has also increased dividends consistently over a similar time period.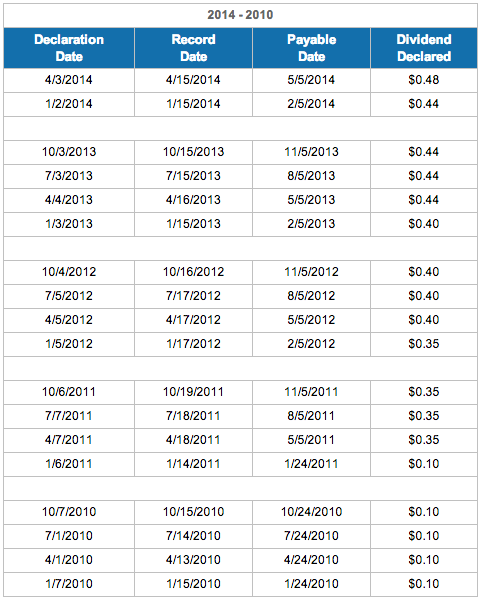 (source)
Although BAC might not have much further to fall, we do not view BAC as a buy yet-certainly not until BAC shows veritable signs of cleaning up its act for investors.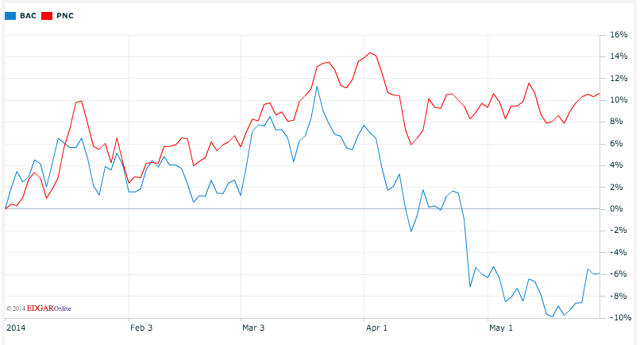 Click to enlarge
(Nasdaq.com)
We invite readers wishing to join the discussion on Bank of America to click the +FOLLOW button above the title of this article and follow @DRDInvestments on twitter.
Disclosure: I have no positions in any stocks mentioned, and no plans to initiate any positions within the next 72 hours. I wrote this article myself, and it expresses my own opinions. I am not receiving compensation for it (other than from Seeking Alpha). I have no business relationship with any company whose stock is mentioned in this article.