Ford Motor (NYSE:F), known among customers for delivering high quality automobiles around the world and among investors for delivering solid business results, might be up for a rude awakening. Reuters yesterday reported that Ford Motor is about to join recall king General Motors (NYSE:GM) and recall 1.39 million SUVs and sedans due to possible steering issues. As Reuters reported:
(Reuters) - Ford Motor Co said on Thursday it is recalling 1.39 million SUVs and sedans in North America, most for the possible loss of power steering.

About 1.186 million of the vehicles Ford said it is recalling are in the United States. That figure is only 2,200 shy of the total number of vehicles that Ford recalled in the United States during all of last year.

So far this year, GM has recalled 15.8 million vehicles worldwide.

Ford said it will recall 195,527 Explorer SUVs in North America from the 2011 to 2013 model years and 915,216 Ford Escape and Mercury Mariner SUVs from model years 2008 to 2011 on power steering issues.

In addition, it will recall nearly 200,000 Taurus sedans in North America from the 2010 to 2014 model years on a corrosion issue.

Finally, Ford is also recalling 82,576 sedans with floor mats that may interfere with the operation of accelerator pedals. The floor mats were put in 2006 to 2011 model year Ford Fusion and Mercury Milan and Lincoln Zephyr and MKZ sedans.
Recalls certainly do not only affect Ford Motor. General Motors recalled close to 16 million vehicles this year and overall industry recalls are skyrocketing. As the following chart indicates, recall volumes in 2014 have already surpassed total recalls in all of 2013: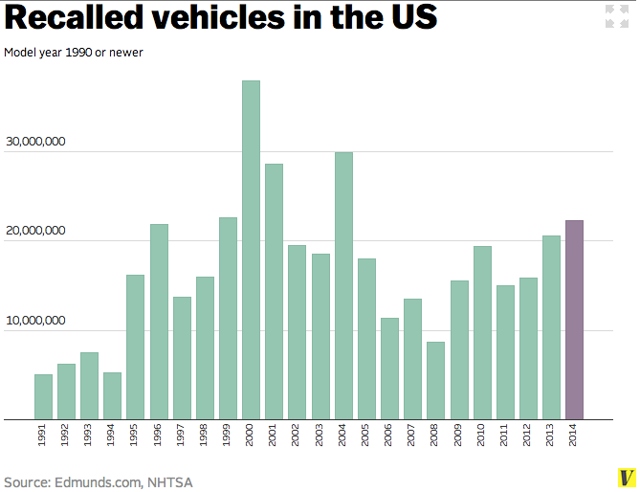 Click to enlarge
(Source: www.vox.com)
What is the reason for the increasing number of recalls?
Actually, two events can be singled out for the increased awareness about quality and safety issues: First, General Motors' much publicized public relations disaster relating to its seemingly unending series of recalls. While General Motors only got a slap on the wrist with a $35 million fine for its slow response regarding defective ignition switches, the real price tag will be much larger than that: So far, GM has set aside $1.7 billion to deal with the recall costs and shareholders clearly aren't happy.
Secondly, Toyota's (NYSE:TM) $1.2 billion penalty relating to misleading safety statements made to U.S. customers and Toyota's subsequent public shaming by U.S. Attorney General Holder. Public officials were eager to draw attention to the amount of the penalty, but also to throw the company publicly under the bus (Source: CBS):
Under the agreement, announced Wednesday by U.S. Attorney General Eric Holder, the company will admit that it misled U.S. consumers by making deceptive statements about two safety issues affecting its vehicles. As a result, Toyota will pay a $1.2 billion financial penalty under a "deferred prosecution agreement."

"Put simply, Toyota's conduct was shameful," Holder told reporters at a press conference Wednesday.

It is the largest penalty of its kind imposed on an automotive company by the U.S., Holder said.

"Toyota put sales over safety and profit over principle," said FBI Assistant Director George Venizelos, in a statement. "The disregard Toyota had for the safety of the public was outrageous. Not only did Toyota fail to recall cars with problem parts, they continued to manufacture new cars with the same parts they knew were deadly."
Investors can be sure, that both the outcome of the investigation and the language used by public officials were well scrutinized in General Motors' and Ford Motor's board rooms. The increase in recall volumes can therefore be seen as a cautious maneuver to take safety issues more seriously and potentially avoid multi-billion dollar fines (plus recall costs).
Nonetheless, Ford Motor's share price has been fairly resilient in light of the irritating news. In fact, Ford Motor's stock price movements lately don't really reflect common sense. The stock goes down on good or no news, and is resilient when the company indeed announces worrisome news.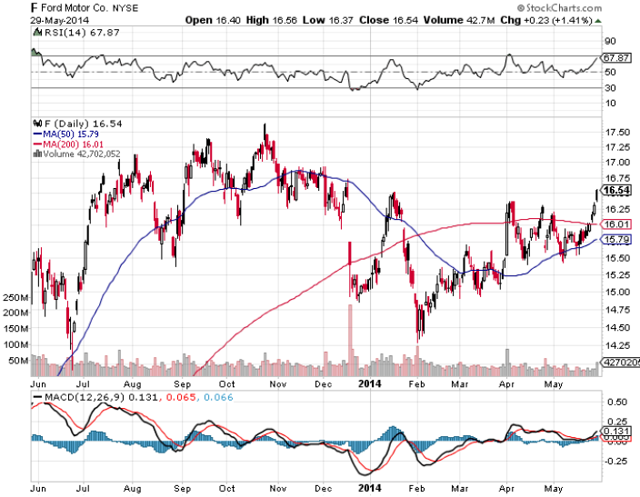 Click to enlarge
(Source: StockCharts.com)
Final assessment
For all it's worth, Ford Motor has fared the best of all large car manufacturers in light of the recent surge in reputation-damaging, expensive recalls. Of course, high recall volumes bear significant bottom line risks for shareholders and every recall is one too many. With General Motors recalling almost 16 million vehicles globally, Ford Motor at least appears to be less exposed to quality and safety issues. In any case, further recalls will increase investor scrutiny and will likely put short-term pressure on Ford Motor's share price. While that may be undesirable, recall issues are not affecting the long-term earnings prospects of either Ford Motor or General Motors. Ford Motor is a Strong Buy on Dips should the market react more emotionally to the ongoing recall saga.
Disclosure: I am long F. I wrote this article myself, and it expresses my own opinions. I am not receiving compensation for it (other than from Seeking Alpha). I have no business relationship with any company whose stock is mentioned in this article.