A day does not go by that China, India and gold are not mentioned in the same sentence, and while the cultures do have a love affair with the metal, there's a lot there that isn't actually there. As a reminder, the World Gold Council is the entity that provides the most dependable information regarding gold, only because it represents the miners, and its job is to promote their goods, much like Don King promotes boxing. The WGC is fairly reliable, describes itself as "the market development organization for the gold industry," and its members "are some of the world's most forward-thinking gold mining companies." Here's one of its "infographics" covering 2013.
The graphic above is extremely effective and a true representation of facts, but there's some information that is not included for obvious reasons. Nothing wrong with putting your wares in the best light without resorting to misrepresentation, and it's up to the buyer to figure out what is missing from the picture. After all Coca-Cola's slogan in 2006 was "The Coke Side of Life," not "The Obesity Side of Life."
It goes without saying that gold has declined in value about 35% since the peak in 2011, while gold commercials on TV have shifted from hyperinflation scare tactics to the more visible and current public debt, stock market bubbles and instability. But unlike those who push gold because their livelihood depends on it, the approach here is unbiased and unfettered, and I've been long gold through ProShares Ultra Gold ETF (NYSEARCA:UGL) as outlined in "Quantitative Extravaganza Fiddle-Faddle, Up The River Without A Paddle." It is a large bet, currently nursing a 15.6% loss due to the leveraged nature of the ETF, attenuated by a 2.5% return from call writing.
Over the last three years the pervasive keyword has become "China" - China this, China that - regardless of the topic, much like Japanese management style was the holy grail in the 1980s, until it wasn't. The concept has permeated the culture to such depth that when I ask my daughter to clean her room she tells me not to worry because China will do it.
Unbeknownst to most people, I consulted for an American developer on a project in Nanjing in the early 1990s, a time when most people couldn't locate Chicago on a map, much less China, and the law firm that I worked for pursued cheaters in China for intellectual property infringement, among other things, a task far more difficult than pulling your own teeth with pliers. In addition, a childhood friend of mine has business interests in Macau and mainland China, and it's not as if I stumbled upon the country last week.
First and foremost, let's take a quick look at the gold market and how it was transformed over the last 10 years, while keeping in mind that the WGC introduced the SPDR Gold ETF (NYSEARCA:GLD) in 2004, a clever marketing maneuver.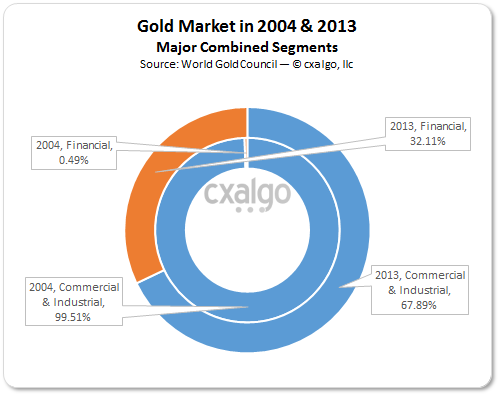 Where the financial segment (ETF, bar and coin, central banks) was a paltry 0.49% of the market in 2004, because the ETF and bar and coin segments virtually cancelled out central bank sales, the commercial and industrial segment (jewelry and technology) took the cake. Fast forward and last year the financial segment had a 32.11% market share, and that was already down from 47.06% in 2011.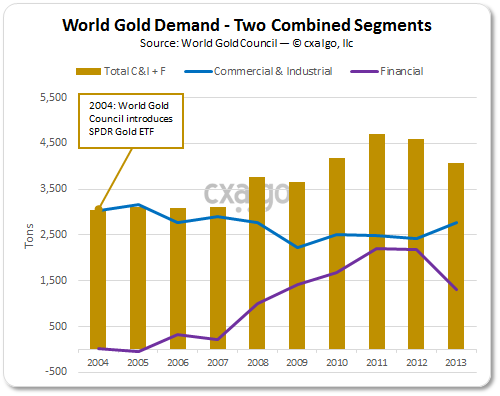 While the combined commercial and industrial segment declined 8.8% over the last 10 years, the combined financial segment grew by 8,633%. But that is not the full story, because while the commercial and industrial segment grew 11% between 2011 and 2013, the financial segment declined 41% during the same period, even with central banks filling their vaults.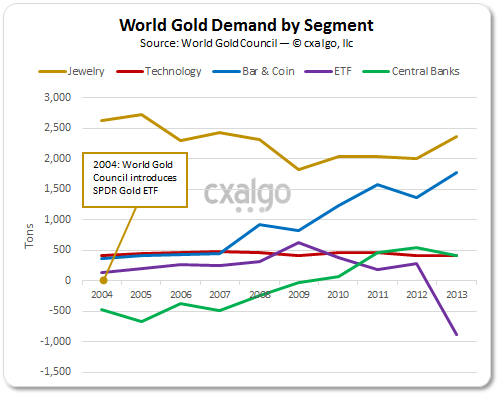 The individual market segments are shown in the chart above, and even with the growth in bar and coin, or so called "physical," the ETF dumping has taken its toll. The reality is that most investors do not want to hold "physical," and the WGC knows that, just like investors want to invest in crude oil but not hold barrels in their Public Storage unit.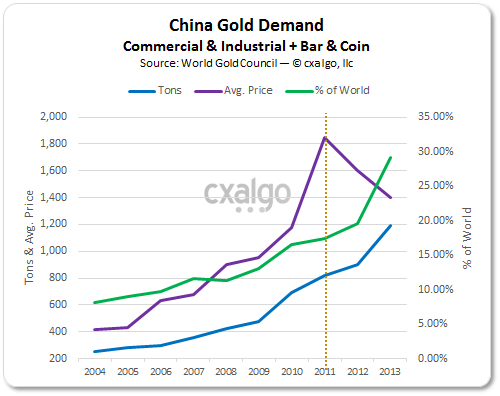 So where's China in all of this? The chart above does show that Chinese demand for commercial, industrial and bar and coin has risen considerably, representing 30% of total world consumption as of 2013. However, higher Chinese demand has not stopped the price from eroding and staying close to the lowest level in three years, a hard to discredit indication that the magic dragon only blows smoke. In addition, the macro conclusion can only be that as the Chinese came to market while the price declined, it did not reverse the trend. Furthermore the gold rush is strictly a common citizen affair, and on the central bank front (pdf), "China's official monetary gold reserves, according to data supplied to the IMF, totaled 1,054t at the end of 2013," and that figure is the same as it was in 2009.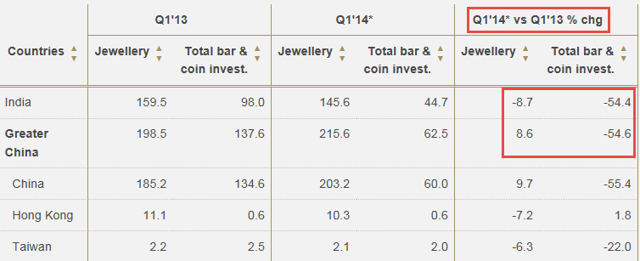 Although a quarter does not a trend make, here's an interesting snapshot comparing Q1-2014 consumption with one year ago figures, and it's safe to say that the lives of the Chinese do not revolve around gold, especially when real estate is so appealing and foolproof. Or is it that gold and housing within the Chinese market are contracting for economic reasons beyond their control? The decline shown was due mostly to bar and coin investment, not jewelry, and the latter, a major segment in China and India, is not an investment by any stretch of the imagination. Try buying a gold bracelet and then selling it, assuming that you're knowledgeable enough to know what the purity (carat) is, and not different from what the vendor claims. Ironically, paper gold is the driver, not gold trinkets.
Another opinion is that low interest rates are good for gold, but that hasn't worked either, and the observation here is that gold responds to either superb marketing or geopolitical instability. Then there's that despised greenback which has rallied almost 2% since early May, and is pushing on a string mostly driven by the European condition, which is between rocky negative rates and hard capital flows, while sovereign debt keeps expanding. Oh, the mess we're in without the acknowledgment that central banks are impotent.
But since we're on the China topic, a couple of points must be made that address the big picture. The first is about oil, that other commodity that China continues to consume exponentially, although the price has been somewhat stable for the last three years. One would assume that anything related to oil and China would be a no-brainer, and the news that Nanjing Tanker Corp. is literally sinking is enlightening when viewed within its own context. While there's always plenty of what appears to be informed conjecture, the economic puzzle pieces don't fit.
Backed by a national mandate to serve crude imports, Nanjing Tanker leapfrogged to the top ranks among the world's tanker players in less than a decade.

Some US$1.3 billion in loans were funneled into Nanjing Tanker by 19 banks in 11 countries to fund the Chinese carrier's fleet expansion during the shipping market boom. Commitment to the borrowing, which financed 10 very large crude carriers (VLCC) and 10 medium-range product tankers, is one of the major reasons the company is facing insolvency.
Yes, we know all about national mandates and how well they work, and in this case - the simplicity of buying oil and transporting it using its tankers - China couldn't do it. Then there's the trust issue, never mind financial statements, but if one is inclined to believe in fairy tales, please don't let anything hold you back and proceed full steam ahead.
The other often overlooked aspect of the Chinese economy is the addictive power of land sales and government dependency on that revenue, just like the broader economy depends on exports, and "while housing transactions drop, land transactions continue to sizzle."
A real estate study showed that land transactions in 10 cities, including Beijing, Shanghai, Guangzhou and Shenzhen totaled 340.3 billion yuan (US$54.64 billion) during the first four months, up 81.1% from the same period last year or up 330.6% from the same period in 2012 and setting a new high.

Local governments are considered one of the factors contributing towards high land prices, a consulting firm manager in Beijing said. "Land transactions account for a lot of financial revenue for local governments and is a major channel for ensuring local government investment in GDP growth," Jin Yongxiang said.
Yes, that GDP must be fed at any cost, regardless of how it's done and the eventual unintended consequences. Then comes the conflicting information, considering that central planners are purportedly trying to rein in housing speculation, while "many industry insiders said the central bank's decision will give much-needed short-term confidence to the housing market."
Central bank and local governments take measures to spur home sales following a first quarter slowdown in the real estate industry.
Yes, we're familiar with hardcore addicts that simply cannot kick the habit. On the domestic sociopolitical front, the terrorist attack in Xinjiang will only spread and will find its way into the major centers, much like the event in Beijing on October 28, 2013, and that's only one side of the story. Wait until general popular discontentment starts to bite, and considering the economic condition, the last thing the Chinese will be thinking about is gold, as their brick and mortar savings start to disintegrate.
At the core of the upcoming conflict(s) and on a global scale, the major difference remains that one side fights to preserve the ability to build for the 27th century, while the other fights to preserve the ability to destroy and take everyone back to the 7th century. Much like WWII, it won't be easy, but one side will be blown to smidiríní.
In closing and from a broader investment perspective, please read the article about Dr. Andrew Lo because it addresses the very basic notion that only the tangible and measurable end result, or return on investment, truly matters, regardless of all the college degrees, persuasive talk, and captivating but abstruse sounding words.
Disclosure: I am long UGL. I wrote this article myself, and it expresses my own opinions. I am not receiving compensation for it. I have no business relationship with any company whose stock is mentioned in this article.