The French government has assumed a role similar to an investment banker in General Electric's (NYSE:GE) bid for Alstom, one of the top companies in France. The government is looking deeply into the $17 billion takeover offer, expressing concern that the acquisition might affect jobs at home or meddle with the economy.
French Government Rolls Out Strict Terms of Agreement
French President François Hollande and his minister of the economy, Arnaud Montebourg, have said that they remain open to GE, which has already made a very generous bid while Siemens (OTCPK:SIEGY) has not yet formulated one, but they have a number of stipulations that they want General Electric to meet first.
The top three conditions for the deal the French government wants GE to agree to are the following:
· First, the headquarters should remain in France, which would allow the government to step in if there were job cuts or the work was outsourced to other countries.
· Second, the train manufacturing operations remain independent and the government suggested a swap where Alstom acquires GE's locomotive business.
· Third, the nuclear power business and industrial turbine business remain, at least partially, under French control.
Although the board at Alstom has already approved a $13.5 billion for the transmission and power generation business, the French government has asked Siemens to prepare a counter-offer.
French Economy Minister Wary of GE's Bid
Arnaud Montebourg has been critical of GE's bid and has the power to block the bid under a French law that allows the government to deny a foreign company acquiring a strategically important French company. While he has not vetoed the deal, he has openly referred to the deal as a threat to national sovereignty and a threat to the French economy.
Besides his expressed concern that GE's acquisition will affect the power company's famous nuclear reactor technology - because it might be moved out of the country - he is also wary that Alstom will have a smaller locomotive business. Currently, Alstom is renowned for its highly sophisticated, cutting-edge technology related to its nuclear reactor business and its French TGV bullet train.
However, in an effort to improve the terms of the agreement for Alstom, he has wooed Siemens to show an interest in acquiring the power engineering divisions of Alstom. Currently, Siemens has not formulated an offer, but the German engineering company said that it was considering making one by the first week of June.
GE Provides Assurances
In the latest rounds of talks, GE has assured the French government that GE has no intentions of adversely affecting French jobs or draining away its nuclear-equipment technology. Both jobs and sensitive technology would remain in France.
Clara Gaymard, a GE executive in France, deflected criticism leveled by the French government over the acquisition. The government had said that it was "unacceptable" that GE wanted to acquire Alstom's power equipment, since this represented most of the company's revenue and was also strategic to the growth of the French economy.
She offered two assurances over the proposed acquisition: one, the nuclear business would remain in France; and, two, the intellectual property rights to the sensitive equipment would remain with France.
Constructive Discussion
Speaking on behalf of GE, Ms Gaymard has said that the discussion between GE and the French government remains constructive. She said that GE was looking into an asset swap that would support Alstom's train business, in particular its rail track signaling division. GE has also allowed the French government more time to discuss the deal with rival Siemens by extending the deadline until June 23.
Outlook for GE Investors
With or without Alstom, GE looks very strong heading into the second half of 2014. We continue to rate General electric a buy for growth investors.
The company's international presence is still very solid and growing, particularly in emerging markets.
As GE continues to focus on its core industrial business, spinning off less profitable and harder-to-manage divisions, such as GE Capital, it is able to align with the recovering economy.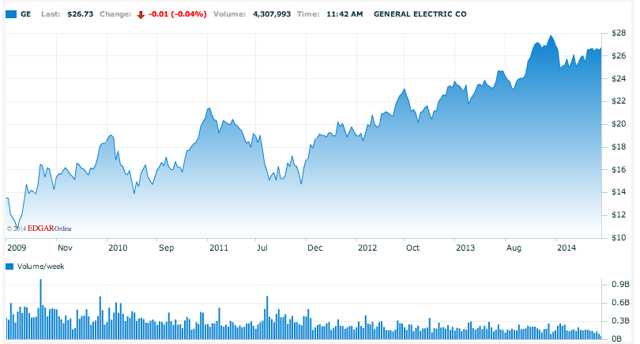 (Nasdaq.com)
GE has shown very solid and consistent growth since 2009, beating earnings estimates in mid-April. GE has a solid history of beating earnings estimates for nearly five consistent quarters.
While the Alstom deal would certainly boost and diversify GE's portfolio for shareholders, solidifying a dominant position in a recovering Europe, GE won't likely falter if the acquisitions falls through.
GE recovered well from a failed merger with Honeywell in 2001; there's no reason GE won't move forward in this case as well.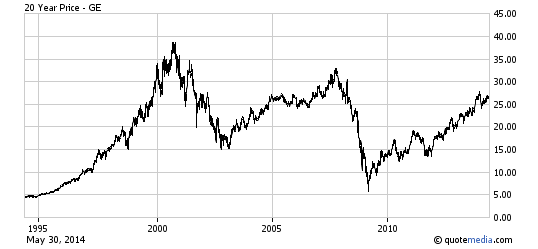 ge.com/investor-relations/stock-information-charts
Given France's softening stance, and GE's persistence, however, it appears as though a boost for the industrial giant is on the horizon.
We invite readers wishing to join the discussion on GE to click the +FOLLOW button above the title of this article and follow @DRDInvestments on twitter.
Disclosure: I have no positions in any stocks mentioned, and no plans to initiate any positions within the next 72 hours. I wrote this article myself, and it expresses my own opinions. I am not receiving compensation for it (other than from Seeking Alpha). I have no business relationship with any company whose stock is mentioned in this article.
Editor's Note: This article discusses one or more securities that do not trade on a major U.S. exchange. Please be aware of the risks associated with these stocks.