Sales of the anti-obesity drug, Belviq, are still climbing for Arena Pharmaceuticals (NASDAQ:ARNA) and marketing partner Eisai (OTCPK:ESALY). This week, IMS Health reported a week-over-week gain of about 4.9%, while Symphony Health data showed a week-over-week gain of about 4.1%. The bulk of the growth is coming from new prescriptions, an indication that the television advertising campaign is helping the front-end growth of sales. The refills remain pretty steady. It will be interesting to monitor refills as time passes, to see how "sticky" the patients are that come to Belviq through the advertising campaign.
Eisai has been running a television ad for about six weeks now. Eisai bears the costs of advertising in its deal with Arena. We now have 5 weeks of sales data in hand that would include possible influence by the television ads. In those 5 weeks, sales have risen by about 20%. While Arena investors seem to be excited about the ad campaign, the effectiveness of it now seems to be a subject of debate and discussion. In studying the data, the Belviq ad has run just over 1,500 times, with an estimated spend of $1.44 million. These numbers may seem impressive, but we should begin to look at when the ads are run, the frequency, and the saturation. Industry tracker iSpot.tv is a great resource that provides data on television advertising. Subscribers to iSpot.tv can really drill down into great detail.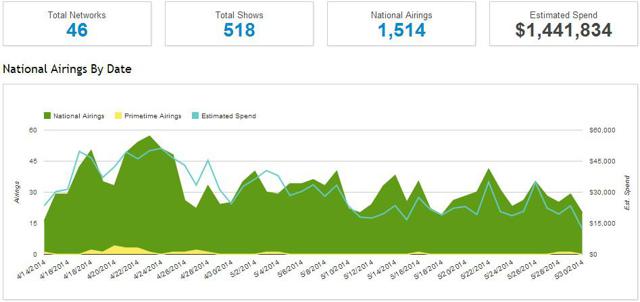 Chart Source - iSpot.tv
The Belviq ad has been aired on 46 networks and 518 shows. This would imply that, on average, a single show has now received 2.9 airings of the ad. Advertising is a process. The more times a person sees an ad, the more likely they become to engage with the product advertised. Now here is something interesting for Arena investors to consider. It is no secret that Weight Watchers has a pretty good handle on the obesity market. The company has been in business for years, and really has had a lot of time to assess and perfect its marketing strategy. This is not to say that Weight Watchers is perfect. Every company has its issues. What I will say is that Weight Watchers probably has an extremely good handle on how to market to that are overweight or obese. Perhaps Eisai could note what Weight Watchers is doing, and become more efficient with ad spending. The chart below shows how Weight Watchers advertises.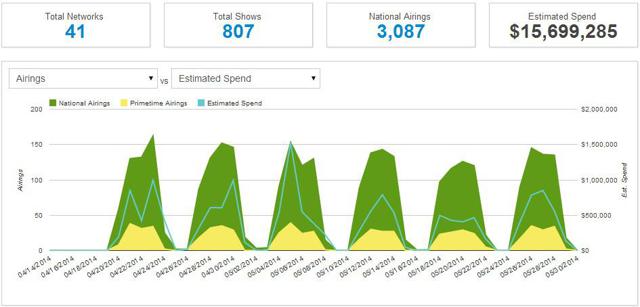 Chart Source - Weight Watchers
If you look at what Weight Watchers does, you will see that it essentially skips television on Friday and Saturday. The company also uses about 25% of its airings in prime time (yellow on the chart). In contrast, Eisai is airing Belviq ads every day and utilizing prime time in a very minimalist fashion. Weight Watchers is concentrating its ads to about 3.8 per show. Weight Watchers is spending a lot more money that Eisai, but the traction and sales of Weight Watchers is also substantially higher. In fairness, Eisai has a budget to work within. The company cannot go out and go crazy with its advertising dollars. Perhaps Eisai could take a page from what Weight Watchers seems to have clearly learned. Friday and Saturday are not good advertising days in this sector, and that perhaps more prime time would help. Again, Arena is not spending these ad dollars, but I can assure you that Eisai is basing its spend in part on anticipated results. If Eisai can maximize its dollars, it will be better for Arena and its investors. Another weight loss company, Jenny Craig, also seems to use the strategy of skipping Saturday, and dedicates about 20% of airings to prime time.
Moving on to the sales figures. Let's face it, a 4% to 5% week-over-week gain is not as impressive as it seems. If you recall, the numbers last week were slight down. In essence, the sales are up about 5 % from last week, but only 3% from the numbers we were at just two weeks ago. Yes, the progress is faring better than competitor Qsymia, but the last few weeks have not set the world on fire. That being said, the sales pace (using the appropriate IMS Health data) is still in line with (actually very slightly below) the $100 million in gross sales for 2014. In my opinion, $100 million in gross sales is baked into the current equity pricing. The sales pace of $150 million, which I believe would be the pace that can make this equity get to $10, is still possible, but what we really need to see is a shift in sales to a steeper trajectory. Advertising can help that. Smart advertising may make it even more possible. As it happens, the $150 million in sales is also what the current Jefferies model shows in the $12 price target Thomas Wei established a year ago and reiterated last Fall. It is my opinion that Wei will be adjusting his estimates downward after the Jefferies Healthcare Conference next week.
In looking at the sales charts, the important thing to remember is that the idea here is to assess revenue to Arena that results in sales. The ever-tiring IMS Health vs. Symphony Health debate can go on ad nauseum, but at the end of the day, simply remember that Eisai and Arena use IMS numbers. If you choose to use Symphony numbers, you must adjust the average revenue per script downward.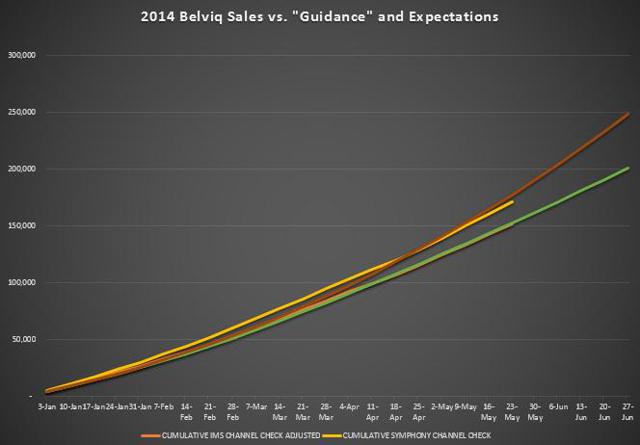 Chart Source - Spencer Osborne
The chart above indicates the pace for $150 million in sales and the pace for $100 million in sales. The key line to watch is the orange line that is tracking just below the $100 million sales pace. The yellow line is the Symphony line, and is provided as a courtesy for readers that like to use Symphony. Remember, if you want to use Symphony, you need to make some adjustments in the revenue per bottle. If you want to know why I use IMS Health, you can refer to my explanation in my Instablog. Shifting to the quarter-over-quarter dynamic we can note that Q2 sales are pacing 49% above Q1 sales. This bodes well for demonstrating growth. If the company can increase scripts at 50% each quarter, it would certainly be something that the street would pay attention to. Before getting too excited, bear in mind that the quarter-over-quarter growth percentage has been edging downward. Four weeks ago, the Q-o-Q growth was at 57%. This week, the number is 41%.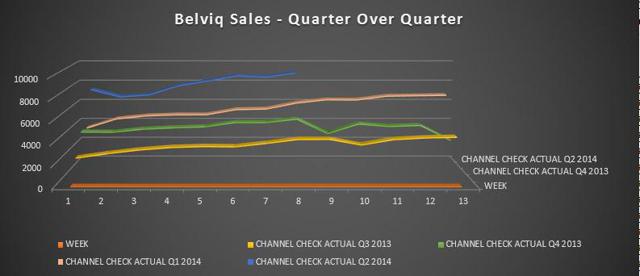 Chart Source - Spencer Osborne
In looking at the pace, we can see that next week may present a challenge to the flow of the chart. The numbers next week will include the Memorial Day holiday. This will obviously be a shortened week. My chart shows that the desire is to get an IMS adjusted number of 9,430 scripts. My adjusted number this week was 9,438. Typically, holiday weeks have taken a toll on the sales figures. Investors should be prepared for a 4% to 6% decline in the numbers next week. I do not see this as threatening the $100 million in sales trend line, but it can carry short-term implications for the stock. To-date, Belviq sales have not been able to hold the line or show an improvement on a holiday-impacted week.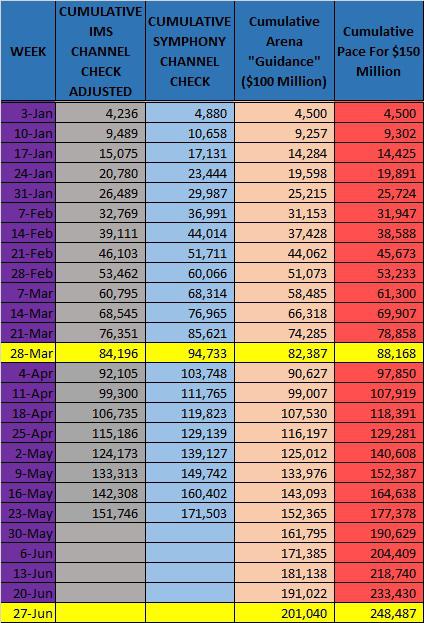 Chart Source - Spencer Osborne
Getting into the all-important revenue, we can see a couple of milestones hit. My estimated gross sales for the year has gone over the $30 million mark, and Arena's estimated share has eclipsed $5 million. In essence, it is my opinion that Belviq sales need to ramp up a bit from current levels to keep the projections realistic. Those that have been invested for quite some time understand that Thanksgiving, Christmas, etc. take a toll on the sales. We want to see sales ahead of the curve to build a cushion.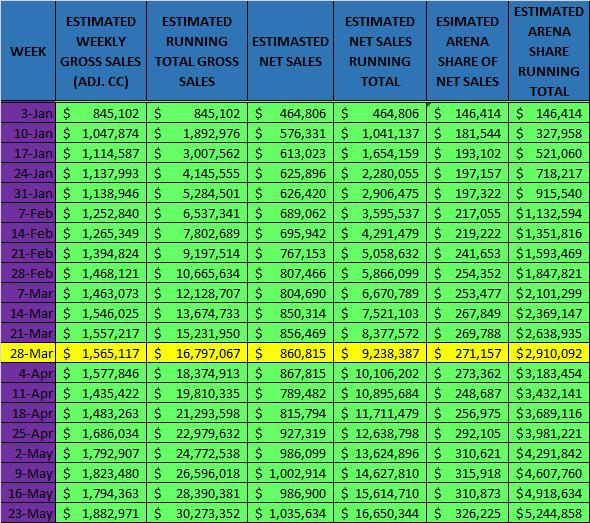 Chart Source - Spencer Osborne
Summary
Sales in 2014 are pacing for $100 million at this point. Television advertising continues, and it would appear that there are ways in which the ad campaign can be more efficient. Belviq sales remain ahead of competitor Qsymia from Vivus (NASDAQ:VVUS), while a new competitor in Orexigen's (NASDAQ:OREX) Contrave may enter the market soon. Next week's script numbers will likely be negative, and that could cause near-term pressure to the equity. With summer now officially here, the prime time of "weight loss season" is fading away. What we want to see is next week's numbers perform admirably, despite the holiday and a continued climb in script sales after that. In my opinion, an analyst that has been bullish on Arena will likely move his sales targets down after the Jefferies targets, and this could apply even more pressure. I see active traders having the advantage with Arena volatility that will present itself in the next week. The longer-term story remains intact, though the pace of getting to massive sales numbers will be slower than many long-term holders want to see. Look for a new Belviq television ad in the next 4 to 6 weeks, in my opinion. Stay Tuned!
Disclosure: I am long ARNA. I wrote this article myself, and it expresses my own opinions. I am not receiving compensation for it (other than from Seeking Alpha). I have no business relationship with any company whose stock is mentioned in this article.
Additional disclosure: I have no position in Eisai, Orexigen, or Vivus.
Editor's Note: This article discusses one or more securities that do not trade on a major U.S. exchange. Please be aware of the risks associated with these stocks.