Molycorp, Inc's (MCP) financial results and business prospects have been exacerbated by falling prices for rare earth minerals. For 1Q 2014 its volume was up 10% versus 1Q 2013. However, its average sales price declined approximately 26% over that same period. The company recorded another quarterly loss and will probably need to raise more capital within the next year in order to stay afloat. However, the company's intangibles of $559.6 million of intangibles acquired during its $1.2 billion acquisition of Neo Material Technologies do not reflect Molycorp's dire straits.
One commenter on the article, Molycorp: The Pain ... The Pain, thinks Neo still has some value:
Ultimately someone, probably a Chinese company, will buy it, certainly the Neo part of it, and take it private. The present administration will be no more moved to preserve it as the only rare earth processor in the US than they were to preserve the only lead smelter that was forced to close recently by the EPA.
The following table illustrates the company's intangible assets and goodwill. At March 31, 2014, Molycorp had intangibles of $330.9 million and goodwill of $228.8 million.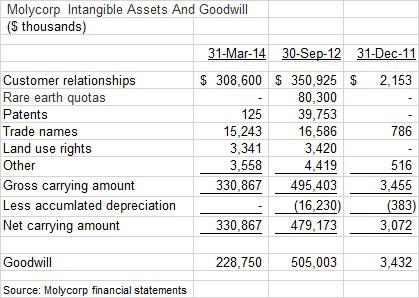 The $228.8 million in goodwill has been allocated across three segments - Chemical and Oxides ($125.2 million), Magnetic Materials and Alloys ($102.8 million) and Rare Metals ($0.7 million). Magnetic Materials is the only segment that was profitable during the quarter, earning pretax operating income of $9.4 million. However, the positive results were prior to intercompany revenue eliminations of $17.3 million and interest expense of $35.6 million.
Below are the company's historical operating results reflecting consistent operating losses.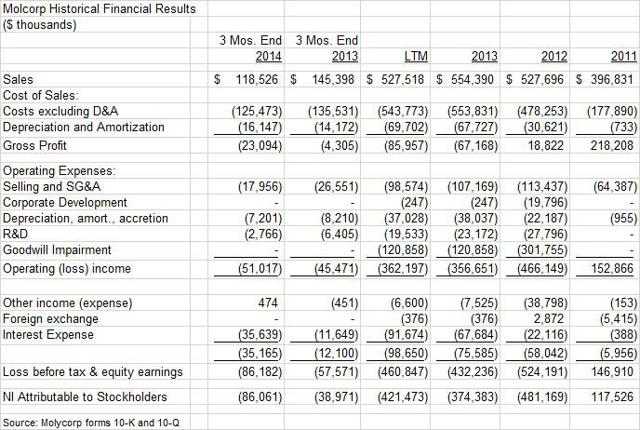 According to 'Are Molycorp's $1B Intangibles Impaired?', the three step impairment test is as follows:
Determine Neo's "recoverable amount" or the higher of its (i) net selling price (sale price minus the cost to sell) and (ii) the present value of its future cash flows.
If the "recoverable amount" is greater than Neo's current carrying value, then there is no goodwill impairment.
Otherwise, the recoverable amount is allocated to the unit's assets (including intangibles) and liabilities. If the estimated goodwill from this calculation is less than the carrying amount of goodwill, then the difference is "impaired goodwill" and must be charged to expense.
Conclusion
Molycorp's consistent operating losses call into question the carrying value of its $559.6 million intangible assets. The fact that the company will most likely need to raise additional capital to avoid bankruptcy implies that it and its operating segments are impaired. I advise investors to avoid the stock based on future goodwill impairment charges and another dilutive event.
Disclosure: I am short MCP. I wrote this article myself, and it expresses my own opinions. I am not receiving compensation for it (other than from Seeking Alpha). I have no business relationship with any company whose stock is mentioned in this article.
Additional disclosure: I own June puts on the stock