Old Dominion Freight Lines (NASDAQ:ODFL) is a leading name in the trucking group. The company was founded in 1934 and is headquartered in Thomasville, North Carolina. The company is a non-union provider of less-than-truckload (LTL) super regional and national service. LTL involves the shipment of relatively small freight as opposed to parcel carriers or full truckload carriers. LTL carriers collect freight from various shippers and consolidate it onto one trailer for transport. In addition, Old Dominion Freight Line also offers a broad range of value-added services such as international freight forwarding, ground and air expedited transportation, container delivery, truckload brokerage, supply chain consulting, warehousing and consumer household pickup and delivery.
Financial Results
Despite the negative impact of severe winter weather and more restrictive hours-of-service regulations during the quarter, Old Dominion Freight Lines reported strong earnings results on April 24th. Its Q1 earnings results came in at $0.53 share which was $.03 better than the Capital IQ consensus estimate. Results also beat revenue estimates, posting record revenue growth of 15.2%. The company's operating ratio also improved to a new first quarter record level of 87.1%, an improvement of 70 basis points. A combination of yield improvement and increased freight density helped operating efficiency. Old Dominion Freight's operating ratio remains the best in the industry.
Premium Service Driving Market Share Gains
One of the key contributors to Old Dominion Freight's success has been its superior level of service. While many other carriers' performance was marred by severe winter weather, Old Dominion provided 99% on-time service in Q1, with a claims level of only 0.26%. These high service levels helped the company further differentiate itself from its competition and gain market share over the quarter. Even under difficult operating conditions, Old Dominion Freight was able to provide on-time, claims-free service at a competitive price.
In the first quarter Old Dominion Freight generated an increase of 13.9% in LTL tons per day, exceeding increased guidance expectations of 11-11.5%, including an 11.9% increase in shipments and a 1.8% increase in weights per shipment. In the second quarter, the company expects LTD tons per day to increase further to a range of 14-14.5% compared to the second quarter of last year.
While geography-wise it probably did not hurt that Old Dominion Freight is headquartered in North Carolina, its trucks still faced the same inclement conditions as other nationwide carriers. Old Dominion Freight managed to carefully balance operating costs and pricing, optimizing profitability without sacrificing premium service.
Competition
In 2013, the top 25 carriers account for almost 90% of total LTL trucking revenue, generating combined revenues of $29.5 billion. Last year, Old Dominion Freight climbed to the No. 5 position among top LTL carriers with a 7% share of the market.
2013
CARRIER NAME
2013 REVENUE
YEAR-OVER-YEAR PERCENT CHANGE
RANK
(In millions)
1
FedEx Freight
$5,095
1.70%
2
Con-way Freight
$3,466
2.20%
3
YRC Freight
$3,127
-1.90%
4
UPS Freight
$2,502
5.20%
5
Old Dominion Freight Line
$2,126
9.50%
6
Estes Express Lines
$1,835
4.80%
7
YRC Regional
$1,730
5.40%
8
ABF Freight System
$1,721
3.10%
9
R+L Carriers*
$1,298
3.80%
10
Saia Motor Freight Line
$1,139
3.70%
11
Southeastern Freight Lines*
$914
4.50%
12
Averitt Express
$606
4.60%
13
Roadrunner Transportation
$559
9.40%
14
AAA Cooper
$500
7.50%
15
Central Transport Intl.
$488
28.40%
16
Dayton Freight Lines*
$386
9.40%
17
Pitt Ohio Express
$362
10.90%
18
New England Motor Freight
$358
2.00%
19
A. Duie Pyle*
$293
2.40%
20
Central Freight Lines*
$208
3.00%
21
Daylight Transport
$183
8.60%
22
Oak Harbor Freight Lines
$168
7.90%
23
Wilson Trucking
$156
3.60%
24
New Century Transportation
$145
-4.50%
25
Ward Trucking
$140
9.80%
TOTAL TOP 25 LTL CARRIERS
$29,504
3.90%
ALL OTHER LTL CARRIERS
$3,463
-3.20%
TOTAL LTL MARKET
$32,967
3.10%
Note: Revenue for LTL operations only, unless otherwise indicated and include Canadian operations.
*Revenue primarily LTL and includes less than 10 percent for truckload and other services.
Source: Company reports and SJ Consulting Group estimates
Increased Capital Investment
Old Dominion Freight Lines spent $79.8 million in Q1 opening terminals in Newburgh, New York and Bend, Oregon, and relocating and expanding its facility in Albany, New York. After posting such a strong first quarter, the company increased its 2014 capital spending budget by $25 million to $367 million for additional tractors and trailers, including $132 million for real estate, $188 million for tractors, trailers and other equipment, and $47 million for technology and other assets. The company expects these expenditures to be funded by operating cash flow and/or available borrowing capacity. Such capital investments are critical if the company intends to compete on the basis of service. Old Dominion Freight's industry high operating efficiency levels also help them provide this premium service at a competitive price.
Favorable Pricing Environment
Many LTL carriers raised prices in the first quarter. In March, Ann Arbor, Michigan, based Con-Way Freight (NYSE:CNW) announced a 5.4% GRI (general rate increase) for non-contractual freight which went into effect March 31st. Also in March, UPS Freight, ABF Freight System and FedEx Freight introduced GRIs of 4.4 percent, 5.4 percent and 3.9 percent, respectively. Weather-related tightness and improving volume trends have spurred these price increases.
On April 14th, Old Dominion Freight Line announced it was increasing its base rate by 4.3% effective May 1, 2014, which is in line with those of its industry competitors. In its press release Old Dominion Freight affirmed its commitment to deliver a "superior value proposition that promises excellent transit service, award winning technology and best-in-class claims free delivery at a fair and reasonable price."
Equity research firm Stifel Nicholas is modeling a 1-3% increase in LTL pricing in 2014. But according to its note, "if the economy were to truly accelerate and/or if the onslaught of federally mandated safety rules sufficiently shrinks effective capacity, these pricing estimates could easily prove too conservative."
Risks/Concerns
The trucking sector is highly economically sensitive and subject to demand fluctuations. Fuel costs are also a major consideration which can either help or hurt company results. Tight capacity was the major theme of the most recent Trucking Conditions Index (TCI) reading issued by the freight transportation consultancy FTR. The TCI reflects tightening conditions for hauling capacity and is comprised of various metrics, including capacity, fuel, bankruptcies, cost of capital and freight. These metrics are all industry risk considerations.
For February, the most recent month for which data is available, the TCI was 7.54 due to weather related weakness. However, adjusted for weather, the TCI would have been above a reading of 10, making it the tightest truck market on record. Old Dominion Freight Lines indicated on its earnings conference call that it was seeing considerable strength in the month of April.
Our Best Stocks Now! Analysis
One of the industry groups that has been rising in my sector rankings this year is transportation and in particular trucking stocks. A better pricing environment and strong demand trends for intermodal truck service has resulted in improved fundamentals for this group. This year's harsh winter weather has resulted in pent-up demand for intermodal truckers.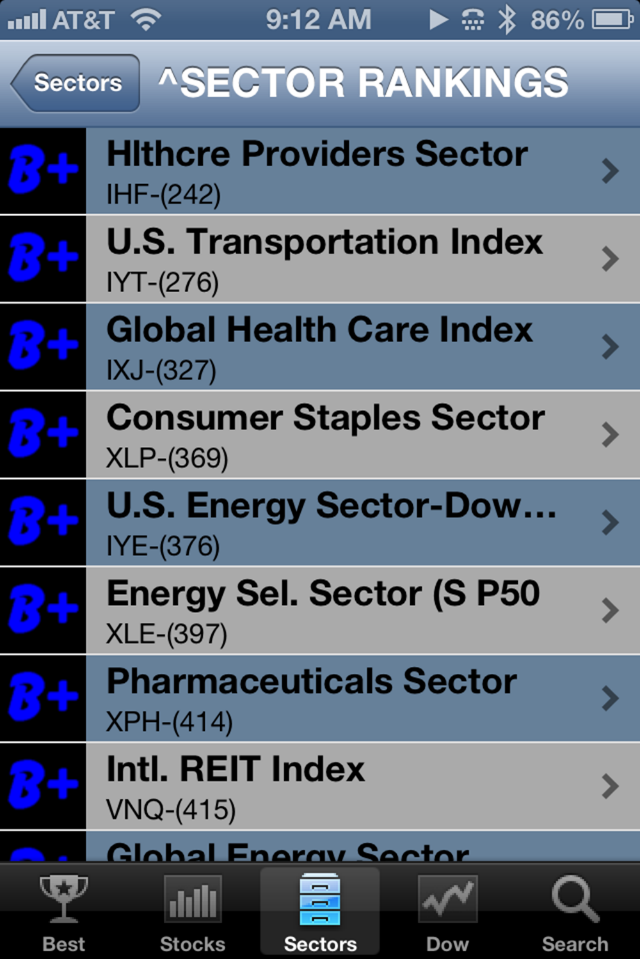 Data from Best Stocks Now App
Old Dominion Freight Lines is a Mid-Cap stock with a market capitalization of $5.2 billion and a Moderate Growth risk profile.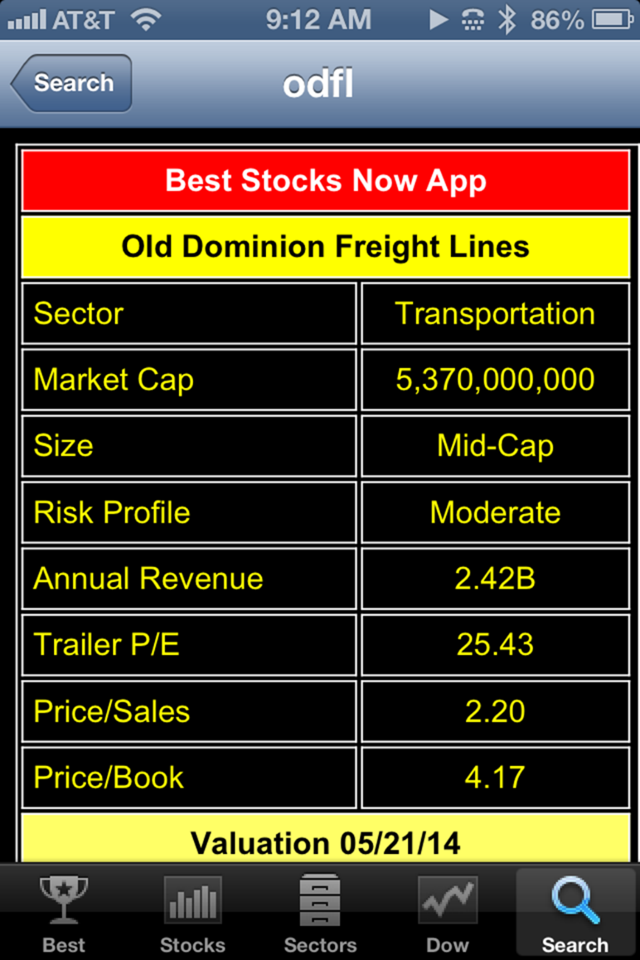 Data from Best Stocks Now App
Old Dominion Freight Lines is one of the top performing stocks in the entire market.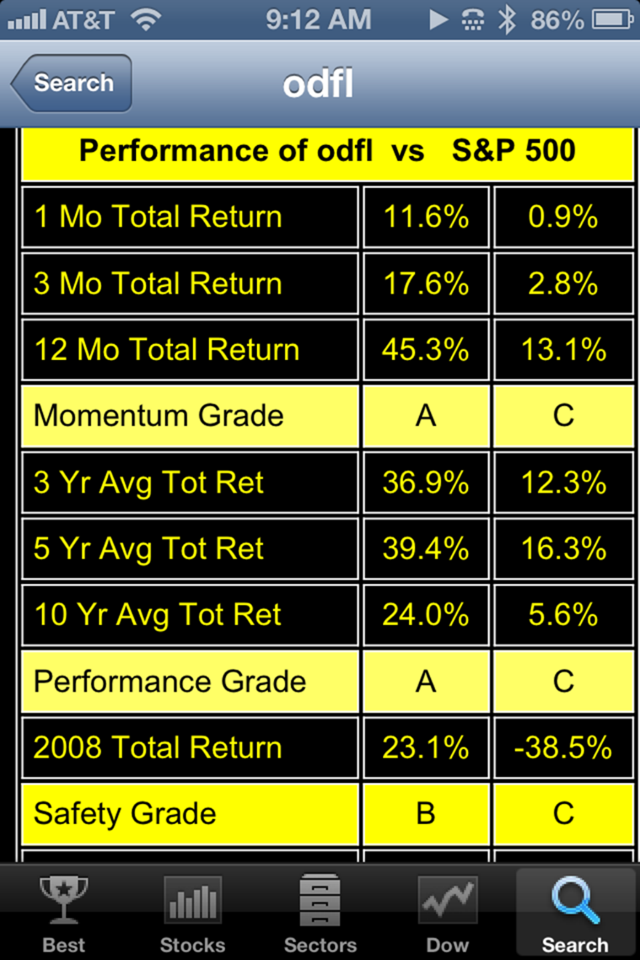 Data from Best Stocks Now App
Over the last 10 years the stock has delivered an average annual return of 24.0% per year. This compares to the market which has returned an average of just 5.6%. You can also see how the stock has far outperformed the market over the last three and five years.
It is also important to note that the stock was actually up 23.1% during the 2008 bear market.
Year-to-date, the stock is up 14.4%, far surpassing the YTD return of the S&P 500 Index at 1.9% and the Russell Midcap Index (NYSEARCA:IWR) up 2.6%.
It is also outperforming the Transportation Index (NYSEARCA:IYT) which is up only 4.8%. Coming off of a strong year in 2013, up almost 55%, the stock has continued to react well and is maintaining investor interest after its strong earnings and revenue beat last week. The stock gets a Momentum Grade of A and a Performance Grade of A.
Let's next look at the current valuation for the stock.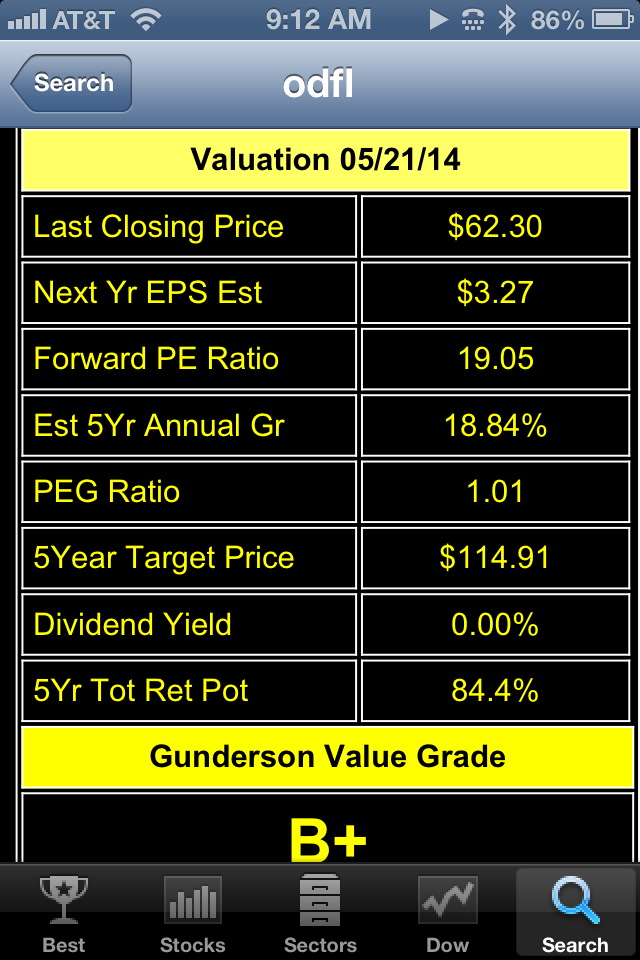 The stock is not currently trading at 19X forward earnings. This compares with an expected five year growth rate of about 18.8% per year. This makes for a very reasonable PEG ratio of 1.01.
Furthermore, when I extrapolate next year's EPS estimate of $3.27 per share by 18.8% per year over the next five years, I come up with a five-year target price of about $115 per share.
This gives the stock about 84% upside potential over the next five years. I give the stock a Value Grade is B+.
I addition to being a top performing stock and still possessing good value, ODFL also has a very strong stock chart.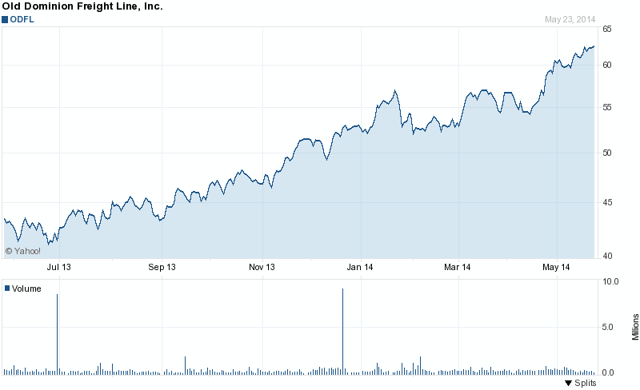 Conclusion
Old Dominion Freight Lines has gained market share among LTL carriers due to its superior on-time performance and industry low claim rate. It is the "Nordstrom" of LTL carriers. Industry-leading operating efficiency has allowed the company to deliver better service at a competitive price. It is a preeminent player with strong fundamentals in a strengthening industry making it a prime example of a Best Stock for right now
Old Dominion Freight Lines is currently ranked No. 2 in out Best Stocks Now! Universe of 3,841 stocks and it receives a Stock Grade of A+. The stock is reasonably valued, has demonstrated great performance, with a great-looking stock chart breaking out to new highs post its strong quarterly earnings results.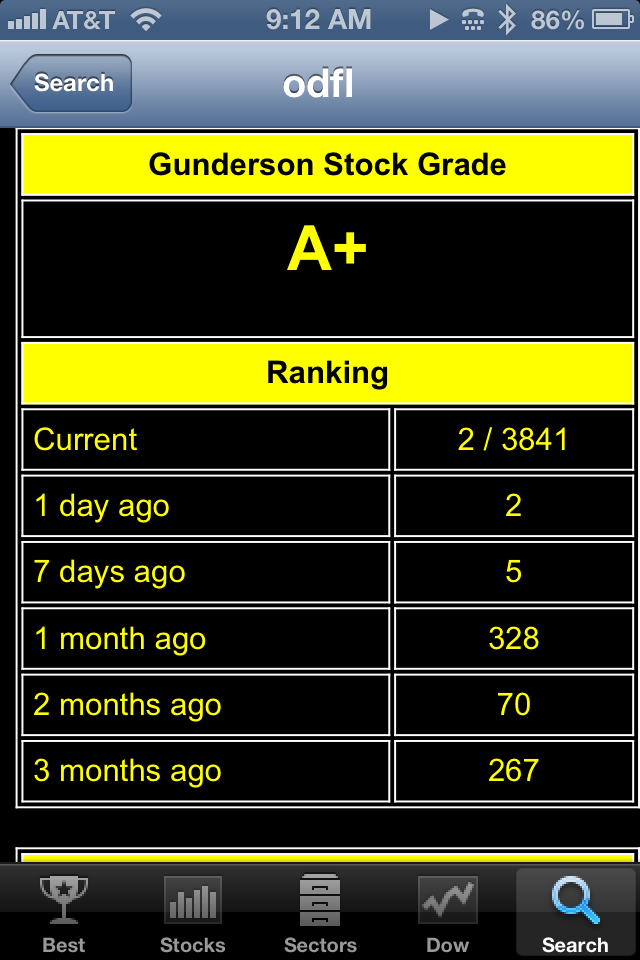 Disclosure: I am long ODFL. I wrote this article myself, and it expresses my own opinions. I am not receiving compensation for it (other than from Seeking Alpha). I have no business relationship with any company whose stock is mentioned in this article.