The Nasdaq has had a choppy performance over the past few months after an incredible bull run (which appears poised to continue). Companies operating on the software-as-a-service (SaaS) model felt the brunt of this downturn, and now may be a good entry point for holdings in some of these companies, specifically Marin Software (NYSE:MRIN). With its low debt, increasing customer base and lifetime value of customers, and expectation of being at breakeven EBITDA in the second half of 2015, Marin Software has strong upside potential.
Business Background
Marin Software plays in the digital marketing space, focused on revenue acquisition management for companies via the cloud, providing analytics and optimization across display, social media or mobile ads on the likes of Facebook and Google, among others. They have a business model similar to other SaaS firms, with customers signing a contract for X amount of months, and then billed on usage of the platform. MRIN does have a unique clause in their contracts where they set a minimum they will bill their customers each month (~50% expect average monthly invoice amount), which gives them a good cushion on expected billings.
Financials and SaaS Metrics
Click to enlarge images.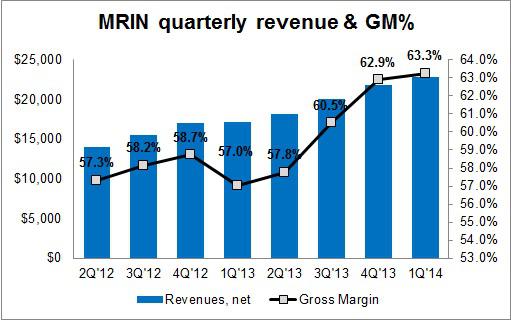 Sources: MRIN's Q1 2014 10Q filing, 2013 10K filing; the graph is my own creation.
MRIN's revenue growth has continued to excite, with Q1 2014 reported at $22.8M, up 33% from previous year. That's coupled with a corresponding increase in their "active customer base" of up 30% (to 704, up from 584 in Q1 2014), while increasing their gross margin to 63%, up 6.2 points from the previous year with steady, incremental margin expansion in the intervening quarters.
However, like many young companies in their sector, they have large operating cost hurdles, posting an $8.1M net loss in Q1, but this too has a strong bright spot when one looks at their customer acquisition cost (CAC) and the lifetime value (LTV) of their customers. MRIN has had to steadily spend less and less on acquiring new customers on a per customer basis, with CAC on a rolling one-year outlook going from ~$278K in Q2 2013 to ~$192K in Q1 2014, down 31% (assuming 70% of sales and marketing spend is on acquiring new customers). Conversely, the LTV of each customer has been increasing over this same time period, from ~$645K in Q2 2013 to ~$697K in Q1 2014, up 8%.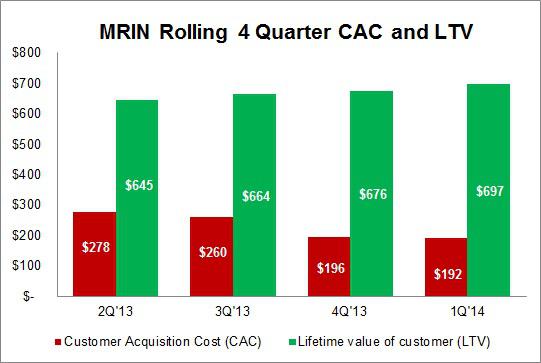 Sources: MRIN's 10K, 10Q filings, and previous earnings transcripts; graph is my own creation.
So the company is spending $192K to acquire new customers, and receiving over 3x that value in gross margin over its discounted lifetime -- a fantastic ratio for an SaaS company. And it is still trending upward (calculations assuming a 3% yearly churn rate and discount rate at 8.35%).
Though it's certainly difficult to tamp down on these types of numbers with the information publicly available, the fundamental growth in customers and revenue, coupled with the increasing gross margins and decreasing growth of operating costs all implies a higher upside than the current price. Customers are clearly happy, as MRIN disclosed their revenue retention rate was above 100% in Q1 of this year (net of churn), while it has historical clocked in at the high 90% area. All this good news, plus the added bonus of steadily increasing the length of their average contract, up from ~12 months in early 2013 to 14 months as of Q1 2014. The company has also reiterated their expectation to be net zero on the EBITDA line in the back half of 2015, which their financials' trends agree with.
The positive outlook continues when looking at the balance sheet. MRIN currently holds $96M in cash and only $5.3M in interest-bearing debt as of Q1 2014, thus providing plenty of liquidity for years to come. Deferred revenue is not a huge metric for MRIN in comparison to other SaaS companies, but it still showed healthy growth in Q1 2014, up 27% to $2.1M from Q1 2013.
Valuation
You might being thinking, "All these SaaS-y metrics are sound well and good, but what about classic valuation? Forget this mumbo-jumbo hand waving!" And one should be delighted to see Marin Software shows substantial valuation upside discounted cash flow analysis, somewhere to the tune of 50%-plus.
Making some key assumptions, such as:
continued revenue growth of 25% for the next five years;
management makes it to breakeven EBITDA in second half of 2015;
continued growth in operating margins akin to their competitors, ending up somewhere in the low 20s; and
regression of the sales-to-capital ratio to the industry average of 1.26 from the current level of 4.7 over the next five years,
a price of $14.50-$15.50 is where you end up when discounting the cash flows you'd see, significantly above the low $10s the stock is currently trading at.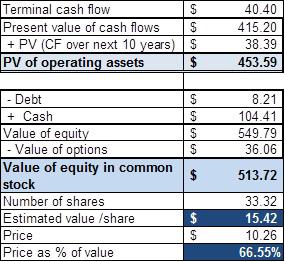 Source: My model -- for the full model, click here.
Risks
You may also be thinking, "This sounds like a risk-less investment! Where's the fun in investing in emerging cloud-based companies without the risk?" However, there are certainly items that could be flies in the ointment.
My assumption of 25% revenue growth over the next five years is below the 30% they did in 2013, and below the 33% growth they showed in Q1 2014, but they could run into some roadblocks down the road or stronger competition. However, their current roster of customers just broke the mark for $6B of advertising spend under management, up from $4.7B in 2012, so there is certainly plenty of money in the market for MRIN to continue to take on, with only their existing customer base.
MRIN could also fail to attain management's commitment to breaking even on EBITDA in the second half of 2015. I don't think this is a huge risk, as gross profit quarter-over-quarter growth has been converging with operating cost quarter-over-quarter growth, but has not consistently overtaken it yet to balance the scales on the operating profit level.

Source: MRIN's Q1 2014 10Q filing and 2013 10K filing; graph is my own creation.
Management will need to continue this improvement to get themselves back to even on the bottom line in their time frame. However, this cost profile is consistent with what you'd expect to see in a young SaaS company. SaaS companies do not have the luxury of recognizing a huge slog of revenue in the same quarter they spend money to woo their customers, but instead recognize this revenue over the ensuing years the customer is under contract. Thus, they have a delightful backlog of revenue that comes cascading in over the years, with associated costs that are significantly lower as MRIN only needs to maintain the relationship and continue their roll-out of new versions of the platform. With MRIN's continued increase in the value of each acquired customer, and decreasing acquisition costs (as shown above), the risk of MRIN never turning the corner and becoming profitable seems less and less likely.
Wrap-Up
Marin Software significantly underperformed in 2013 against the major indices, and lost a lot of its value in the Nasdaq sell-off earlier this year, but they have continued to string together robust growth, customer retention and margin expansion while making headway toward becoming a profitable business. This company's financials stack up to a strong upward trend.
Disclosure: I am long MRIN. I wrote this article myself, and it expresses my own opinions. I am not receiving compensation for it (other than from Seeking Alpha). I have no business relationship with any company whose stock is mentioned in this article.