The two largest triple net REITs by means of market cap, Realty Income (NYSE:O) and American Realty Capital Properties (ARCP), have become a study in comparisons. O continues to slug along, meticulously buying properties, maintaining an attractive balance sheet, delivering fairly predictable mid-single-digit growth and 5%ish yield for its investors, affording a fairly simple analysis. ARCP, on the other hand, has become a deal machine, gobbling up companies and properties left and right, convoluting its balance sheet, confusing investors and analysts, while currently offering a lofty 8% yield point.
This contrast between two companies engaging in a similar business and buying similar types of property, yet doing it in two demonstrably different ways provides an unmistakable choice for investors. Stick with a tried and true model that provides a conservative source income at a more lofty valuation, or invest on the cheap with a somewhat manic management that seems keen on quickly aggregating assets and/or changing gears when the price is right or the situation dictates.
While I've sniveled at Realty Income's valuation for the better part of the last year, this is a company where investors are not likely to be in for any surprises. If you invest in ARCP today, you should expect the unexpected. Frankly, the company's latest move to sell off - instead of spin off - its strip mall assets and buy Red Lobster assets had me somewhat shaking my head. I had eerie visions of Nick Schorsch waving a microphone around as host of "Let's Make a Deal."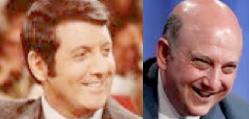 Monty Hall and Nick Schorsch
And then we have the equity offering, all 138 Million shares of it at $12 a share, just about two weeks after Schorsch had the following exchange with an equity analyst on the Q1 earnings call:
Paul Adornato - BMO Capital Markets

Nick, earlier I guess a couple of months ago, you talked about the equity markets and the fact that you would not issue equity below I think you mentioned 14.50 or so. And so I was wondering given the opportunity set that you see before you, given current market conditions, can you give us an update on what you think an appropriate share price is to tap the equity markets, just to hear your thoughts?

Nicholas Schorsch

Sure. Paul, as I said before, we are not happy with where our stock price is trading right now. We think that there is a lot of value that will be unlocked in the next 30 to 45 days with the Spinco of our multitenant assets which will certainly drive value and the other side of it is, we are seeing some very interesting opportunities in the marketplace per transactions where cap rates are starting to back up.

So we do take the stock price into consideration with any acquisitions. But to be clear, we are not anxious to issue stock at $12 or wherever it is at the moment or $13 or $13.5 a share, we think we are way undervalued and we think our currency is not being fairly viewed.
Of course a free-wheeling, opportunistic real estate strategy does not necessarily mean that there's something wrong with ARCP. Indeed, while Realty Income management may be watching what is going on at ARCP like the quiet kid in the corner staring at the class clown, I'm sure they're wondering like everyone else how big of an empire Schorsch et. al. may be intent on building and what the long-term success will be.
And even if the company sees success long-term, this rapid fire property aggregation has come at a large near-term cost for ARCP. With the stock meandering at a 52-week low, 20% off recent levels, as opposed to Realty Income which sits almost 20% above its 2013 low point, investors are treating each stock as disparate entities. On a 2014 expected AFFO basis, if the market valued each company similarly, ARCP would be trading in the upper teens at O's valuation or O would be trading in the upper twenties at ARCP's valuation.
Meanwhile, with news that Schorsch's compensation will be somewhere in the $25 Million range this year, and an incentive pool that could net him many times that over the next several years, it seems, for now, that management is the only one profiting in a meaningful way from the buy blitz.
Which Is The Real REIT?
I suppose beauty is in the eye of the beholder when it comes to a REIT. For some, the comfort of a conservatively managed cash flow generator, even if it comes at an elevated multiple, may infinitely trump a wheeler-dealer platform selling on the cheap. Part of the problem the market is having with ARCP is that no REIT in recent memory has assembled so many assets in such short a time frame. While ARCP continues to see AFFO in a $1.15 a share area for 2014, it would certainly be more comforting for the market to see the company "settle out" and establish a multiple quarter run rate, without another bulk asset churn skewing operational output assumptions and balance sheet characteristics.
But part of the way that REITs are able to build value for shareholders is through savvy asset disposition and additions. Assuming solid management, a more active property buy/sell platform can increase capital over the long term, creating better total return for investors. Time will tell if ARCP's rapid fire moves will build shareholder value or not.
I continue to stick with ARCP and personally don't have a problem with the aggressive platform, although with the stock in the tank and drastically underperforming the broader REIT space, it has been a tough hold. And though Schorsch said in the last conference call that the market is dramatically undervaluing the company, his latest actions are not instilling any more confidence.
Given all the deals and potential for a misstep, there is heightened risk in owning ARCP versus O - but also heightened potential rewards - assuming management's moves do prove accretive and over time the valuation spread between it and Realty Income narrows.
Strategy Session
From a pure valuation perspective, ARCP gets the clear nod, but with the baggage it continues to drag along with it - an inferior balance sheet compared to Realty Income and a less visible forward outlook, it may not necessarily be appropriate for more conservative investors. And though I give Realty Income a higher grade for its "safer" business model and income stream, I don't think it's particularly attractive here in the mid 40s.
From a macroeconomic perspective, although interest rates have eased over the near term, the prospect for a Fed tightening spree beginning as early as next year bodes somewhat negatively for triple nets like O and ARCP that are locked into long-term leases with only modest step up rent rises. A higher cost of capital could hit them hard and then there's always general real estate pricing to worry about.
In the end, with such variability in what is currently going on in both companies, I could see both as an acceptable add to an income portfolio, with ARCP being a total return idea for an investor with a tad more appetite for risk.
While I already own ARCP in my own income portfolio, I recently sold some July $12.50 in-the-money puts at what I considered an attractive premium. My expectation is that the stock will rise modestly over the next month or two and that those puts will expire unexercised. Unless something were to materially change at the company, I wouldn't mind being assigned those puts either. Despite my willingness to accumulate shares at this level, I do not consider the stock a table pounding buy.
As to Realty Income, while I came oh so close to adding it to my portfolio late last year, I would probably revisit the idea if and when the stock drops below $40 a share. Given all the controversy and stock volatility at ARCP over the near term, investors holding O should have a smug look on their face as their quiet stock continues to post respectable results - without all the controversy.
To conclude, for those of you old enough to remember the show "To Tell The Truth," there's a lot of questions to contemplate before allocating capital to either of these two renowned REITs. So, "Will The Real REIT Please Stand Up!"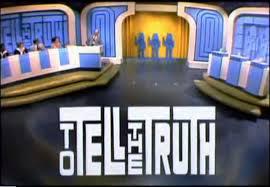 Disclosure: I am long ARCP. I wrote this article myself, and it expresses my own opinions. I am not receiving compensation for it (other than from Seeking Alpha). I have no business relationship with any company whose stock is mentioned in this article.
Additional disclosure: Disclaimer: The above should not be considered or construed as individualized or specific investment advice. Do your own research and consult a professional, if necessary, before making investment decisions. I am also short ARCP puts.