One of the key benefits of using a discounted cash-flow model is that it allows the user to adequately price a variety of businesses, irrespective of where they are in the economic or product cycle, or whether they are engaged in a turnaround or reaching peak levels of operating performance. Unlike a forward price-to-earnings (PE) ratio or even a price-earnings-to-growth (PEG) ratio, where near-term performance can cause mis-valuations at times, the DCF allows the user to forecast fundamentals through the course of the business cycle or through the course of the product cycle in order to arrive at mid-cycle profit projections, which remain critical within the framework of intrinsic value estimation. Though Big Pharma continues to steal headlines, one such stock that doesn't get a lot of headlines is generics pharmaceutical giant Teva Pharma (NYSE:TEVA).
Capturing the Bend in the Earnings Curve
Teva is a prime example of how the DCF can help the investor better exploit valuation mispricings. Teva Pharma has recently become one of our favorite ideas in the generics pharma space, and it remains a holding in the Best Ideas portfolio (as of July last year). We think the firm is worth more than $60 per share on the basis of mid-cycle operating assumptions, offering material upside from current levels. The market, in our view, is unfairly punishing the firm due to the patent expiration of a key profit driver, but it is overlooking other key and growing aspects of the company's business model. The DCF model helps capture what we'd describe to be a 'bend' in the earnings curve.
Long-term Generics Opportunity Remains Bright
On a fundamental level, the long-term opportunity for lower-cost generics in an environment where governments across the globe are looking to cut expenses and become more efficient is just too great to pass up. Generics companies in the US are legally rewarded with a 180-day period of marketing exclusivity for being the first generic applicant to successfully challenge drug patents (this is called "a first-to-file position"). The advantages of attaining such exclusivity are large, as the generic provider would need to only offer its drug at a modest discount to the price of the branded drug, instead of dealing with an otherwise intensely-competitive market (the firm would be the only generic on the market for that particular drug). At last count, Teva has more than 60 first-to-file positions in the US, more than any other generics provider, including Actavis (ACT) and Mylan (NASDAQ:MYL). Opportunities for generics in non-US markets may be equally as promising over the long haul.
Though Teva's generics opportunity may not be as well understood given "patent cliff" talk, the company's NTE pipeline (new therapeutic entities) - or new formulations or combinations of older drugs (i.e. combining a antipsychotic with a weight-loss drug, for example) - may offer a better opportunity. The firm is uniquely positioned to capture the NTE opportunity because of its ability to combine its generic and branded-drug expertise across indications. We're expecting NTEs to be a multi-billion dollar revenue stream at Teva in coming years, and we don't think the market is giving the company sufficient credit.
The Market Has the Wrong Focus
Instead, the market is focusing too much on the lost near-term profits related to the patent expiration of Copaxone this month, May 2014. Though lost exclusivity will hurt the company's performance in 2014-2016, as profits related to the multiple sclerosis therapy wind down, Teva's global generics and NTE potential should help mitigate the damage over our discrete five-year forecast period, putting Teva's mid-cycle earnings (~2018-20) in the ballpark with where they are today. Here's the "bend" in the earnings curve we expect from Teva in coming years. The declines through 2016 represent the transition away from Copaxone, while the recovery represents opportunities via generics proliferation and NTEs. This type of earnings trajectory isn't easily captured with multiple analysis - a DCF is the recommended method to use when firms are expected to have this earnings trajectory.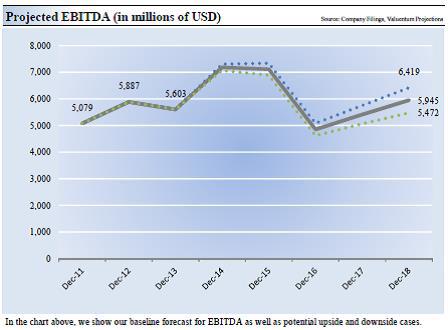 Image Source: Teva's 16-page report (page 3).
Recent Performance Shows Core Strength
On May 1, Teva posted decent first-quarter results. Revenues advanced 2% in the period, while non-GAAP net income jumped 8%. Non-GAAP diluted earnings-per-share of $1.22 was 9% higher than last year's quarter. US generic medicine revenues leapt 17%, while its generic segment's profitability advanced 31%. The firm generated more than $1.1 billion in cash from operations during the quarter. Teva offered the markets guidance with respect to the ongoing uncertainty with respect to Copaxone revenues. Under the worst-case scenario, Teva expects to earn $4.20 per share during 2014; shares are trading at about 12 times this year's earnings at current prices. Under a more optimistic 2014 that retains Copaxone exclusivity, shares are trading closer to 10 times this year's earnings.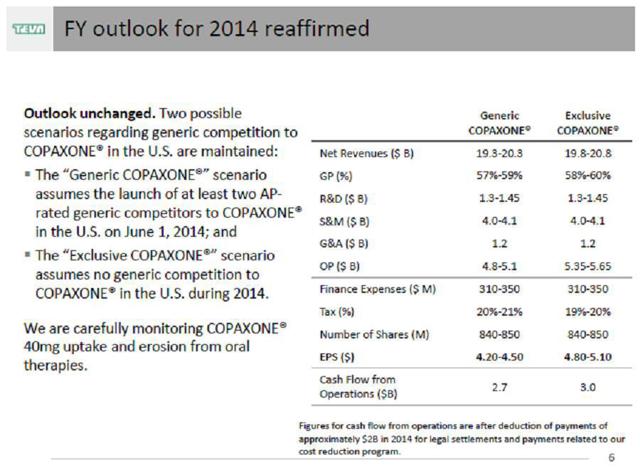 Image Source: Teva Pharma
Given the company's opportunities in the generics and NTE markets coupled with efficiency initiatives, which themselves could translate into hundreds of millions of savings, 2014 earnings could very well approximate mid-cycle earnings numbers. The company currently has 15 products in Phase 3 through approval, 4 products in Phase 2, and 18 NTEs currently in development. Said differently, we think Teva will be able to replace a large portion of lost profits from Copaxone in the next few years, making this year's earnings a good proxy for mid-cycle earnings and (by extension) making shares a bargain at current levels. Instead of focusing on declining near-term profits (which we have baked into the valuation), the market should be looking beyond 2016 at the company's earnings and growth profile.
The Huge Potential Upside Catalyst
Here's the kicker.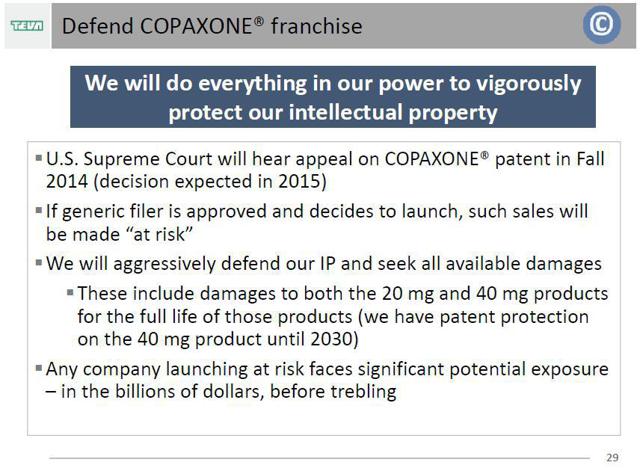 Image Source: Teva
At this juncture, our thesis assumes that Teva will lose exclusivity of Copaxone. However, the company is "doing everything in its power" to protect its intellectual property on the therapy. If Teva is able to do so successfully (and exclusivity is extended for Copaxone), the upside to Teva's stock would be absolutely phenomenal. We believe Teva to be an asymmetrical risk-reward opportunity, heavily in favor of investors. Shares do not reflect the inevitable earnings recovery toward the latter end of this decade (in the event the firm loses exclusivity of Copaxone), nor do they consider the possibility of Teva retaining exclusivity of the Copaxone franchise via the legal process.
Putting the Upside Into Perspective
The company remains a position in the Best Ideas portfolio, and the Valuentum Buying Index has helped significantly in timing the entry point of shares in the past. Our fair value estimate of $61 anchors the upside of the projected range, as shown in the image below. We think Teva offers investors an interesting risk-reward proposition.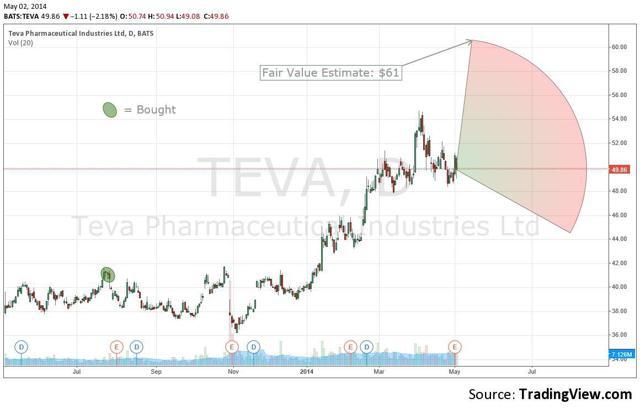 Disclosure: I have no positions in any stocks mentioned, and no plans to initiate any positions within the next 72 hours. I wrote this article myself, and it expresses my own opinions. I am not receiving compensation for it (other than from Seeking Alpha). I have no business relationship with any company whose stock is mentioned in this article.
Additional disclosure: TEVA is included in the Best Ideas portfolio.