The Chubb Corporation (NYSE:CB), headquartered in Warren, NJ, has been providing insurance to consumers for over 130 years. In that time, it has grown to be one of the largest property and casualty insurers in the world. It is also not much of a secret among dividend focused investors, with a long history of paying and increasing dividends.
So why Chubb now?
Chubb stock has positioned itself as a Buy now for several fundamental and technical reasons:
As noted in my previous article, "Time to Hunker Down", the market is such that nervous investors might want to reposition into more consistent and stable dividend payers. CB fits that description perfectly:
CB has a dividend yield of 2.16%
CB has increased its dividend for 48 years in a row
Five year avg. annual dividend growth rate: 7.39%
Dividend Coverage: 4.6
Dividend payout % last qtr.: 24.50%
Chubb stock also has a long history of low volatility and minimal drawdowns: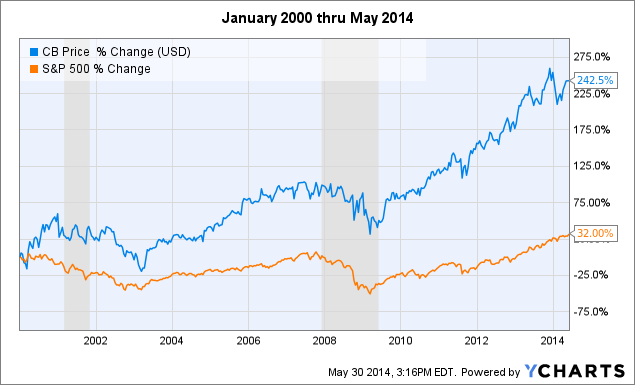 CB stock price has a Beta (10 year Annualized) of 0.54 and a standard deviation (10 year Annualized) of 15%, ranking it in the lowest 20% of the market.
Low volatility, stability, nice consistent and growing dividend. How about growth? As shown below, over the past 10 years, CB stock price has increased 175%, but its Earnings per Share have increased by over 200%. Additionally, analysts are forecasting 3-5 year long-term EPS growth of 7.42% (source: Fidelity.com)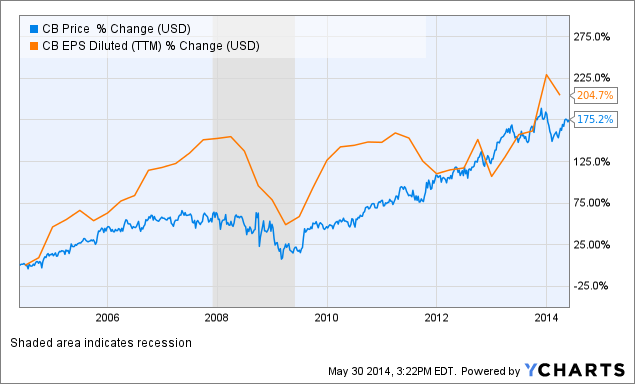 Valuation:
P/E (trailing twelve): 11.1 (market median is 20.6)
P/S: 1.67 (market median is 1.83)
P/B: 1.46 (market median is 1.91)
P/CF: 10.59 (market median is 13.19)
Before we get too excited about these very attractive valuations, insurance companies in general typically trade at lower valuations. For example, current P/E for insurance companies is 11.48 and price/book is 1.54.
What you get with CB is an undervalued stock relative to the overall stock market, and a fairly valued stock relative to its insurance peers. And its consistency and stability we believe should demand a premium to other insurance companies. Either way, these valuations provide a cushion if the market decides to revert back to the mean with overall valuation metrics.
Other standout metrics:
Return on Investment over the past 5 years is over 10%, its total debt to equity is 20.8%, and it's sitting on $4.1B cash.
Notable recent events:
Earnings released April 24 stated that net income for Q1 2014 was $449M versus $656M for Q1 2013. According to Chubb, $199M worth of losses in Q1 2014 were related to the severe winter weather in the U.S. If you take that out, earnings were essentially flat. But, they are an insurance company, so you can't really take things out like catastrophic losses attributable to weather. With 130 years of providing insurance coverage, we are comfortable in its ability to withstand future weather events.
Premiums written year over year were also essentially flat.
Chubb in Q1 2014 repurchased approximately 4.7M shares of stock at an average price of $86.73, and another $1.2B was available in cash for future share repurchases.
Technical analysis: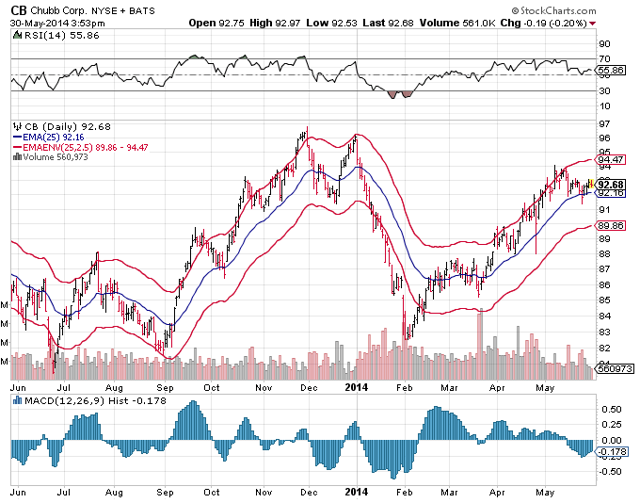 Over the past year, CB has moved higher. It currently has good relative strength. It is now in an obvious uptrend and has moved back towards its 25 day EMA with an upward slope. This has many times been a good entry point for shorter term trades.
For these purposes, we would use it as a good entry point to buy a 130 year old company with the intention of holding it long term and collecting a dividend that has been increased for 48 years in a row. Chubb has been shareholder friendly, has a lot of cash, and low debt. It has good margins and good operational metrics. A little boring, maybe. Boring often gets rewarded.
These are types of companies investors want to own before the market volatility occurs.
Disclosure: I have no positions in any stocks mentioned, but may initiate a long position in CB over the next 72 hours. I wrote this article myself, and it expresses my own opinions. I am not receiving compensation for it (other than from Seeking Alpha). I have no business relationship with any company whose stock is mentioned in this article.