Although JPMorgan (NYSE:JPM) has become a punching bag in the financial media over the past few years for reasons both fair and unfair, one statistic for the bank remains largely underreported: this company is resilient when it comes to creating shareholder profits every year. Even in 2008-2009, at the worst of the economic crisis, JPMorgan still managed to create $3.7 billion in net profits on behalf of shareholders.
Even amidst the London Whale and a non-stop stream of lawsuits alleging predatory lending, JPMorgan's ability to generate a profit grinds forward. During every year post-crisis (that is, starting year 2010), JPMorgan has managed to create somewhere between $17.3 and $21.2 billion in annual profit for shareholders. Not only have the profits recovered nicely in that time frame, but JPMorgan has managed to help shareholders out a bit by reducing the share count from 3.91 billion in 2010 to 3.78 billion today, for a total decline of 3.32% (the point there is that JPMorgan avoided the share count dilution during the financial crisis that befell its peers like Citigroup (NYSE:C) and Bank of America (NYSE:BAC)).
To get a full appreciation for the post-crisis rebound in JPMorgan's profitability figures, it could be worthwhile to check out this F.A.S.T. Graph chart that compares JPMorgan's annual performance against the S&P 500 Index since December 31, 2007, the year that preceded the financial crisis.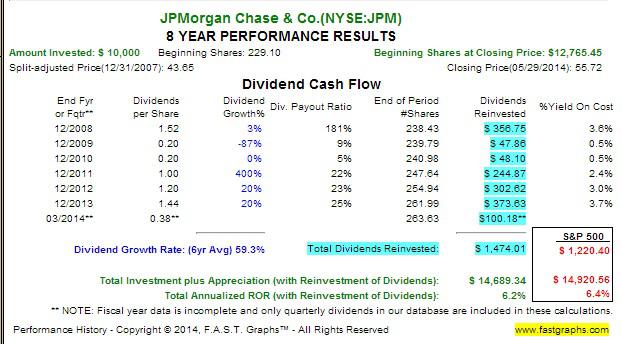 As you can see, the total returns of JPMorgan have been roughly identical to the S&P 500, with the S&P 500 getting the nod of 0.2% annually since then. Despite the fact that JPMorgan's profits plunged from $15 billion in 2007 to $3.7 billion at the end of 2008, the company's return to $21 billion in annual profitability has been significant enough to give 2007 investors returns almost equal to the S&P 500 over the course of that time frame. You wouldn't know that by following the endless stream of negative articles that are written about JPMorgan, but the supersized bank has been delivering meaningful profits while simultaneously addressing its lawsuits.
If you're approaching JPMorgan from the perspective of a dividend investor, there are three things that would probably get you interested in the stock: a decent valuation, satisfactory future growth prospects, and room to raise the dividend payout ratio.
In the case of JPMorgan's valuation, the company traded at a little above $55 per share on Friday, May 30th. Depending on whether you use trailing or current calculations of book value, the firm's book value is somewhere between $53.50 and $56.50 per share right now. Broadly speaking, JPMorgan is trading at book value. What is the implication of this for investors? Usually, when a bank is trading at its book value, it means that future investors will reap returns in line with the growth of the firm; that is, they are neither getting a good deal on the stock nor overpaying for the stock. If you pay $55 per share for JPMorgan, you're essentially paying what the company is worth.
The second matter that dividend investors would want to consider is this: Does JPMorgan offer satisfactory growth prospects? Here, we can see that JPMorgan is gradually improving its metrics of core profitability, while setting aside large amounts of capital to meet the stress tests. The bank's return on assets have improved to 0.90%, which is the highest the bank has seen since financial crisis (2006 and 2007 were the only two years in the past fifteen in which JPMorgan had a higher return on assets). Also, JPMorgan is showing a willingness to increase the size of its loan portfolio-in other words, it's growing the old-fashioned way again. In 2012, JPMorgan had $711 billion in loans outstanding issued to private and corporate customers. By the end of this year, JPMorgan is expected to increase its loan portfolio to around $750 billion. Presumably, this should help the bank increase its bottom line $0.5-$1.5 billion above last year.
And lastly, there is the question of payout ratio. Before the financial crisis, it was not unusual to see JPMorgan return 60% of its profits to shareholders in the form of a dividend. Because JPMorgan needs to maintain a higher Tier 1 Capital Ratio as a result of the post-financial crisis regulations, it is unlikely that we will see JPMorgan's new permanent dividend payout ratio rise much above 50% or so of net profits.
Right now, however, JPMorgan's $1.60 per share annual dividend would only amount to a payout ratio of 30% if JPMorgan meets its expectations of generating between $5.25 and $5.35 in net profits over the course of 2014. In other words, JPMorgan has the capacity to pay out $2.65 per share in dividends, even though it is now only paying $1.60 in annual dividends. This gap is useful for long-term dividend investors holding JPMorgan, as it represents the bank's long-term ability to raise its dividend by a higher percentage than its earnings per share growth rate over the next five to ten years.
For dividend investors looking for an opportunity in a market that's hard to find many fair shakes left, JPMorgan wouldn't be a bad place to research. The company is trading in line with its book value, which suggests that current investors would not be overpaying. Because the bank is increasing its loan portfolio and delivering impressive return on assets, the ability to increase earnings per share seems likely in the coming years. And because the dividend payout ratio is only around 30%, it seems reasonable that JPMorgan shareholders will receive future dividend hikes above the earnings per share growth rate for the next 5-10 years. For those reasons, the dividend growth prospects for JPMorgan appear bright.
Disclosure: I am long BAC. I wrote this article myself, and it expresses my own opinions. I am not receiving compensation for it (other than from Seeking Alpha). I have no business relationship with any company whose stock is mentioned in this article.