Buy the SPDR Gold Trust (NYSEARCA:GLD), friends, because the gold bears are overlooking something significant about the Ukraine, Russia and Vladimir Putin. All appears sanguine and improving over there, but the situation remains on a hair trigger. Important risks remain and are likely to reemerge in the next month or so that could reverse this week's slide overnight. While there is admittedly little reason for gold to move significantly higher at present, there is also little reason for it to drop further. And while the geopolitical catalyst is not the only one in play for gold, it remains the most potent and fresh.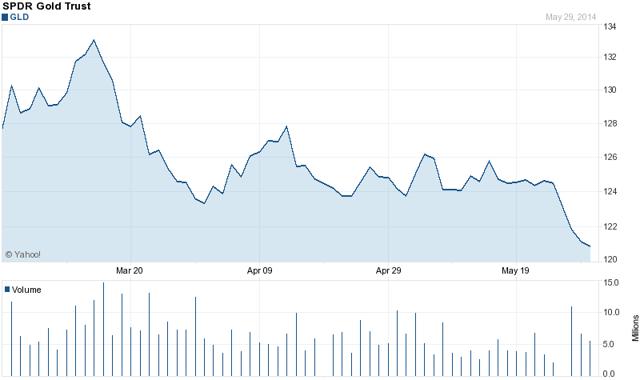 The chart of the SPDR Gold Trust above here tells a long story. The spike to the extreme left reflects the birth of overt Russian actions in Ukraine. Some argue that there was no Ukraine impact on gold, but I clearly showed there was in my articles authored in March. Since then, some on Wall Street conceded and even made excuses for Putin's annexation of Crimea and traded past it, but very real and relative risks remain and need to be considered. While there may be no near-term driver for gold to go higher, there is neither good reason for the clear and still present danger to be discounted as nonexistent. For this reason, I believe the latest declines seen to the right of the chart here will be recovered in short time and suggest investors add the SPDR Gold Trust to holdings here.
Risks Remaining
Russia remains poised to enact actions against the West should it take further actions against it. While Russia has not acted as yet to counter the West's sanctions against it, it appears a line has been drawn in the sand and that a plan has been laid out should further sanctions bind Russia. What those actions may include, in my opinion, is a deadline on Ukraine to pay up on its outstanding energy debts to its Eastern master. I do not see a cutoff of fuel to Ukraine as out of the realm of possibility either. Russia may go a step further and stop the flow of energy to Germany and the West, at least temporarily, to remind its neighbors of its importance to them. Therefore, significant threat overhangs fiat currency in Europe, and that's excellent for gold holders.
Secondly, the newly elected Ukrainian leader, Petro Poroshenko, has apparently set forth an aggressive reunification campaign for Ukraine. When rebels took control of the airport in Donetsk just after the election, an important counter action was launched against the rebels immediately. After the shooting down of a helicopter, killing a general, Poroshenko positioned the perpetrators as traitors, which they are, even if by propaganda and mistaken righteousness (in my view). The Russian speaking population in the East is easily influenced by Russian media and propaganda telling them that the new government in Kiev is their enemy. Elected justly and popularly by his nation, Poroshenko is having none of that and is poised to face Putin's lies head on - obviously, this is my strong opinion. I fear for his life as a result. After all, let's recall what happened to the last guy who opposed Russia. All these interesting bits of information I found courtesy of my favorite news aggregating website.
So because of Russia's troop pullback from the Ukrainian border, a gesture more than anything else, traders think Russia has accepted the line drawn in the sand by a stronger sounding West. But like a demon confronted, Putin will not go away; he'll simply alter his strategy to lead Ukraine to self-destruction and Russian possession.
The Risk Not Yet Considered by Gold Bears
The risks don't end with Putin though. There's one issue the gold bears have not considered at all. What if the newly elected leadership in Kiev determines to also bring back Crimea under its rule? After all, it was stolen away illegally from Ukrainian sovereignty through aggressive provocation by the Russians. What if Ukrainian troops start to build at the border with Crimea? It's possible; especially as this situation progresses and Eastern Ukraine instability is settled. Gold will be in play once again, because Russia will not give up easily what it now sees as its own. I think that much we can all agree on. While this is not currently a hot issue, it should warm as Ukraine's control over the East is assured.
| | | | |
| --- | --- | --- | --- |
| Security | Since May 23nd | YTD | TTM |
| SPDR Gold Trust | -3.3% | +3.7% | -11.9% |
| iShares Silver Trust (NYSEARCA:SLV) | -3.1% | -3.4% | -17.7% |
| Market Vectors Gold Miners (NYSEARCA:GDX) | -3.5% | +6.5% | -25.1% |
| Direxion Daily Gold Miners Bull 3X Shares (NYSEARCA:NUGT) | -11.1% | +5.9% | -75.5% |
| GoldCorp (NYSE:GG) | -4.5% | +7.8% | -20.2% |
With all of these things in mind, the selloff in the precious metals and relative shares is certainly looking premature. You can see in the table above that each of these gold relative securities has sold off since May 23nd, or over the last week. Just because the snake in our garden says he will not bite again does not mean he will not; it is in his nature to strike, which we should know well enough by now. So, while I agree there is little reason currently to expect the GLD to rise, there is neither catalyst for its demise. Thus, I suggest buying on the dips, especially while gunfire still echoes in Ukraine.
Disclosure: I have no positions in any stocks mentioned, and no plans to initiate any positions within the next 72 hours. I wrote this article myself, and it expresses my own opinions. I am not receiving compensation for it (other than from Seeking Alpha). I have no business relationship with any company whose stock is mentioned in this article.