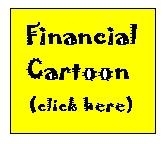 Outlook: The ISM Non-Manufacturing Backlog of Orders Diffusion Index ("ISM NMI") is an important forward looking economic indicator. It is comprised of 10 non-manufacturing indicators such as business activity, employment, new orders, prices and suppliers' deliveries.
Importance of Non-Manufacturing: Input for this index is collected through a survey of 370 purchasing and supply executives in 62 different industries. It is considered an important leading indicator as the non-manufacturing economy represents 76% of the U.S. GDP. The service sector represents 68% of economic activity—despite its quality.
The table below (click to enlarge) is a comparison of the ISM Non-Manufacturing Index versus the S&P 500 stock index which represents a broad swath of large-cap publically-traded companies.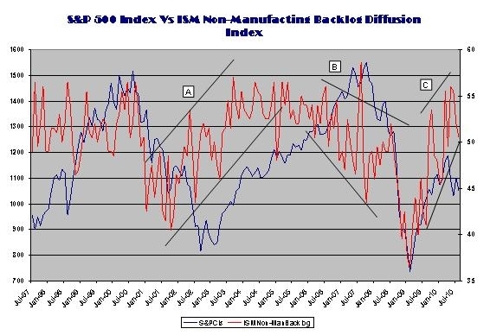 Click to enlargeThe ISM NMI reputation as a leading business indicator appears deserved.
The ISM Non-Man Index established an upward bias prior to the 2002 stock market trough (A) and was more pronounced in its downward bias prior to the 2007 stock market peak and 2009 trough (B).
The most recent up-trend in the index (C) is encouraging as its climbs from its intermediate low point in March of '09 generating a series of higher lows and most recently a series of higher highs.
While the "trend's your friend", the wide swings in the ISM MNI since its February trough has contributed to investors' uneasiness and an obsession with the most recent data release.
Feeling Lucky? For those investors with a slightly longer time frame and who are looking to place a bet on the service sector recovery, there is the iShares DJ US Consumer Service Sector Index ETF (NYSEARCA:IYC). For those less adventurous, there is our old favorite, SPDR S&P Dividend ETF (NYSEARCA:SDY). SDY continues to play into this slightly optimistic bias as a middle-of-the-road equity investment with downside yield protection.
CEF Weekly Review: The 13 closed-end fund (CEF) types on average posted a 0.7% increase for the week ending 9/10/10. The high-low spread was +1.3% versus +3.2% the previous week with an average price change of 0.7% and 1.1%, respectively. On an aggregate, unweighted basis the weekly average price change for the 500 plus CEFs was up 0.6%.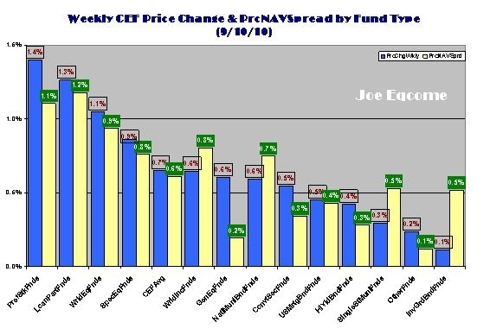 Click to enlargeThe PowerShares CEF Income Composite (NYSEARCA:PCEF), an ETF that invests in taxable income CEFs, was up 1.1% for the week. The S&P 500 was up 0.5% for the week and its YTD loss narrowed to 0.5%.
(Click here for YTD CEF Performance. The table is based on a smaller CEF sample size as all the data fields are not available for the CEF universe.)
The Eqcome CEF Fear Index eased. The average price was up 0.6% while NAV was flat. The CBOE Volatility Index (VIX), which typically moves inversely with the stock market—but is mostly a measurement of volatility based on stock options' premiums—rose 3.2% for the week but masked its extreme volatility. The VIX is 50% off its May's high.
The S&P's recent advances lack conviction. Already low volume continues to deteriorate. Weekly average daily trading volume continues to register below the 4.0 billion shares threshold. The holiday laden week registered a 14.1% drop in average daily trading volume from the previous week to 3.195 billion shares.
Investor Absenteeism: The problem is: where is this additional volume going to come from? Retail investors are still licking their wounds from the last stock swoon and appear not primed to be participating in the stock market soon. Withdrawal from equity mutual funds attest to that.
CEF Weekly Fund Type Performance: Funds' type performance again took on the aspects of investor confusion. Equity and fixed-income fund types were defused across this week's appreciation spectrum. The whiff of rising bond interest rates are an object of curiosity as to their durability (see chart above). InvGrdFnds responded by polling last.
The PrcNAVSprds [*] typically move in the direction of stock prices. In fact, this week they did.
Weekly CEF Winners and Losers: One of the CEFs with the greatest positive spread was Gabelli Utility Trust (NYSE:GUT). GUT share price increased 7.7% while its NAV declined 0.4% generating a positive spread of 8.1%. GUT share price has experience a "dead cat bounce" from its sharp 26% drop related to its announcement on August 19th that its distribution policy was under review—"read" distribution cut.
One of the CEFs having the greatest negative PrcNAVSprd for the week was RENN Global Entrepreneurs Fund (NYSEMKT:RCG). RCG, a small CEF that invests in emerging growth company securities, convertible preferred and convertible debentures, price declined 6.5% while its NAV was flat generating a 6.5% negative PrcNAVSprd. RCG trades at $1.94 per share at a 25% discount to its NAV. It trades on average 5,000 shares.
Economic & Earnings Outlook: (Click here for next week's economic calendar; click here for earnings' announcements and estimates.)
ETFs: For a more detailed EFT performance by sectors, click here.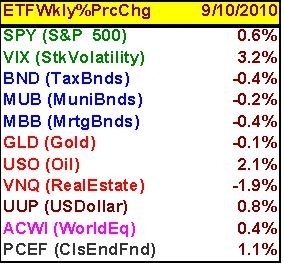 Insider Trading: Insider trading continues into September at a slow pace. Jack L. Rivkin, a director of Neuberger Berman Real Estate Securities Income Fund (NYSEMKT:NRO), re-established an initial position of 25,296 shares at a $3.64 per share. Mr. Rivkin is an "Interested Person" and formerly an executive of Neuberger Berman Holdings LLC. NRO is subject to a semi-annual tender offer program over a two year period based upon its discount of over 10% during a measuring period. The most recent tender offer expired on July 9, 2010.
The Horejsi Group added 730 shares to its Boulder Growth & Income Fund (NYSE:BIF) at $5.88 per share.
MACC Private Equities (OTCPK:MACC) saw one of its directors, Gordon J. Roth, acquire 13,700 shares at $.89 per share. This brings his holdings to 50,901 shares. What is interesting regarding this purchase is that MACC received a Nasdaq Delinquency Notification Letter on August 30th. Mr. Roth made his purchases on August 31st. MACC has only $6 million in assets and $2 million in market cap.
(Click here for a hyperlink to the Joe Eqcome's CEF Weekly Insider Report.)

CEF Distribution Announcements This Week: The following is a link to a table of CEF distribution announcements this week as well as the previous week's with yet expired ex-dividend dates. The list is not intended to be inclusive. (Click here for Joe Eqcome's Weekly CEF Distribution Announcements)
Significant CEF Corporate Events: In connection with the liquidation of BlackRock California Investment Quality Municipal Trust (RAA), its common shares will continue to trade the "regular way" on the NYSE/Amex through September 10, 2010 and will be suspended from trading before the opening of trading on September 13, 2010. The Fund has entered into a "plan of liquidation" such that it anticipates making its final liquidating distribution on or about September 30, 2010.
CEF Focus Stock(s) for the Week: Early this week I published an article entitled, "Why CEF Managed Distribution Programs Should be Eliminated or Modified" (9/8/10).
The main thesis is: CEFs that employ Managed Distribution Programs ("MDP") trade on average at a 23% higher valuation than those comparable CEFs that don't. The likely reason for this difference is that retail investors don't understand that a portion—in some cases all—of these MDP distributions are a return-of-capital (ROC) and do not reflect a return-on-investment and overvalue the stocks.
The cause for this mispricing is that CEFs with MDPs are allowed to aggregate into a single nominal yield the portion of their distribution that is supported by investment returns (net investment income and capital gains) with that portion which is consider a return-of-capital. This nominal yield is published by financial services without a public disclosure of the composition of the distribution. As a result, prospective investors and some existing investors may not realize that a portion of that yield is just a return-of-capital.
Easy Solution to Mis-Valuation: The solution to this dilemma is quite simple: the SEC should not allow any return-of-capital component of a CEF's distribution to be calculated as part of its published yield nor as a nominal yield in their financial statements without separating it into its component parts.
Test It: I'm going to make it even easier for the SEC to enact this provision. As opposed to changing the regulations as recommended above, why doesn't the SEC require a "test period" of a year for publication of only the investment income portion of the distribution yield.
The SEC, with its keen analytical staff, could compare CEFs valuation pre and post a year of financial reporting services reporting of investment only yields. At the end of the year, if there is no material difference between the prior and post valuations, then the investment yield only policy would not be adopted. This way they'd have some data to make a substantive decision.
The Cornerstone Conundrum: The most overvaluation fund type of MDP CEFs was the GenEqFnds. Driving that massive overvaluation was the three Cornerstone Funds: Cornerstone Strategic Value Fund (NYSEMKT:CLM), Cornerstone Total Return Fund (NYSEMKT:CRF) and Cornerstone Progressive Return Fund (NYSEMKT:CFP) which average a 47% premium. When the Cornerstone CEFs were moved from the calculation the GenEqFnds' 3.1% premium dropped to a 6.3% discount.
Based upon the financial metrics of the Cornerstone funds, the odds of three small CEFs of one small advisor, generating mediocre investment performance, can trade at statistically impossible valuations would appear to have the same odds as finding $50,000 stuffed in your couch.
So, What's the Reason for these Valuations? If it's not the financial performance it would seem it would have to be something else. Maybe it's the composition of their stock holdings (the inability to borrow stock to short), or the trading of their stocks and support of their "market makers".
I have no financial interest in any of the Cornerstone funds, have never met the people, nor do I have any reason to be anything but analytical with regards to these CEFs. If anyone has any ideas why the Cornerstone funds trade at the valuation they do, let me know. I am curious and perplexed. Maybe I'm missing something.
Disclosure: Author owns a diversified portfolio of CEFs and ETFs and has no interest in any of the Cornerstone funds.
---
[*] All things being equal, price and NAV should move in tandem. A price movement greater than the NAV generates a positive PrcNAVSprd and may be interpreted as negative on a near-term basis and indicate that the stock is overvalued relative to its NAV which in theory is the stock's intrinsic value. The opposite would be true for a negative PrcNAVSprd.