Spooky. That's how I would describe the current market internals and intermarkets.
Like I have said in previous articles, there are powerful reasons that have provided fuel to this rally (like the leading indicators), but lately, it is undoubtedly very "interesting" to see a rabid bull market right in the face of consistent risk-off behavior almost everywhere. So are we just watching a continuation of the honey badger market or is it April Fools' day again? Either way it looks like Halloween to me, with all those risk-off trends roaming around.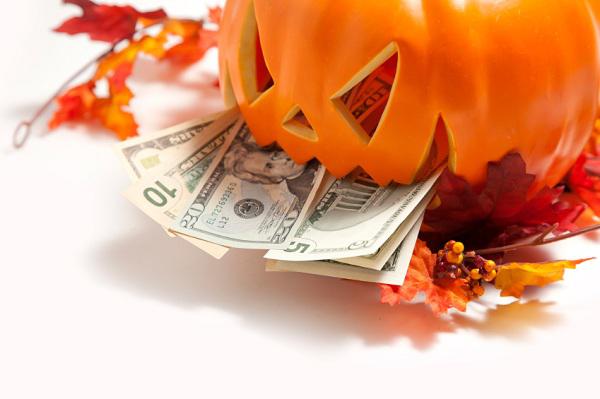 image from: creditsesame.com
"I'm not saying go short, I'm just saying don't be too fricking long right now..."

"...there's times to make money and there's times not to lose money. This is probably (a time when) you're supposed to think about preserving some of your money. If you're 120 percent invested, it's probably too much. You can still be long, but you probably should have some cash."

David Tepper, May 14 2014, SkyBridge Capital's SALT 2014 conference in Las Vegas
Tepper also told CNBC that he has reduced his equity exposure to about 60 percent from 100 percent six months ago.
He couldn't have said it better in my opinion. It still looks like a bullish environment for equities on the long run, but it's getting "trickier". There is a lot more happening than the crash in small caps. The following images show some of the risk-off trends that have made me cautious on my purchases since April.
Consumer Discretionary vs. Staples
Cyclicals are clearly lagging staples since the start of March.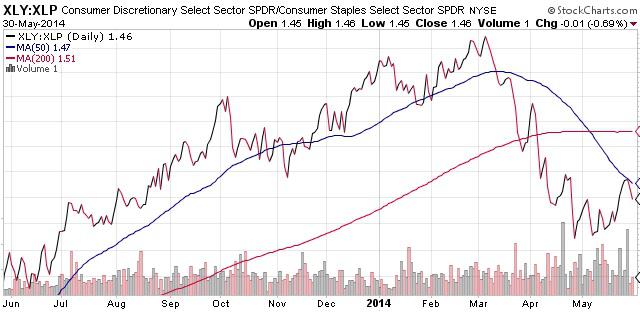 Financials vs. Utilities
Financials continue to underperform when compared with utilities since the start of 2014. As this ratio goes down, the overall market (NYSEARCA:SPY) is going up, with a YTD performance of +5.0% for the S&P 500. It's a substantial divergence that reflects the opposite of the typical correlation.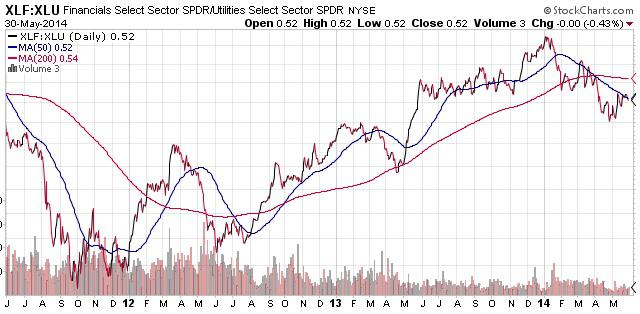 Yield curve
The rate spreads are getting compressed, as shown here by this yield curve proxy.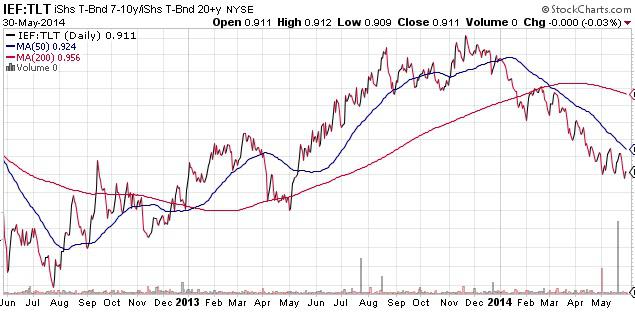 Home Builders vs. the Market
Looking at the individual performances here doesn't provide the visual help to really appreciate the big disconnect between the market push to the upside and the homebuilders index stagnation. This bearish trend is better illustrated by the ratio, and it has been going down for one year. Yes, 1 year. Also, pending sales of existing homes went up just 0.4% in April.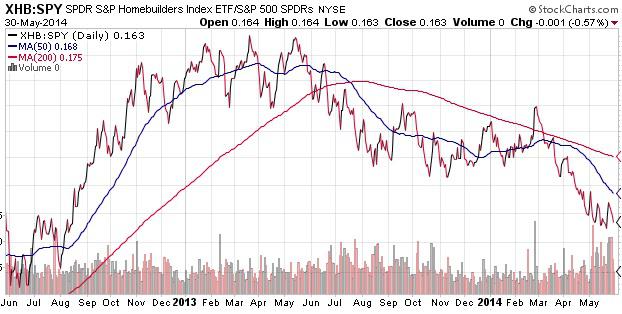 The Risk Appetite of the Corporate Bond Market
When high-yield corporate bonds underperform investment-grade corporate bonds for a while, it's like a wake-up call for me. The 50dMA crossed the 200dMA in May. It hasn't been under the 200dMA since December 2012.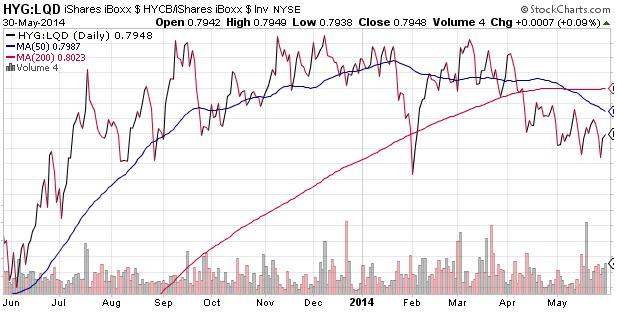 Recent positives for the bull case
The four-week average for the initial jobless claims declined to the lowest level since August 2007, before the last recession began.
ECB's president Mario Draghi said this month he's "comfortable" to act in June. Rate cut coming?
With very low levels in the (VIX) and central banks meetings coming, volatility is almost assured to spike. Their actions (if any) could spark the next move in what appears to be a crucial moment. Stay tuned.
Disclosure: I have no positions in any stocks mentioned, and no plans to initiate any positions within the next 72 hours. I wrote this article myself, and it expresses my own opinions. I am not receiving compensation for it (other than from Seeking Alpha). I have no business relationship with any company whose stock is mentioned in this article.
Additional disclosure: Any content in this article should not be considered as a recommendation or investment advice given that financial objectives and individual needs of the end user have not been evaluated. Suggestions or tips are for information purposes only and there is no guarantee on stock returns or market performance. All readers must use their prudence and consult their financial advisors before acting on any of the securities or suggestions mentioned or engaging into any kind of investment. I do not hold any responsibility and can not be held liable for any losses incurred (if any) by acting on the information provided.