Last time I covered Seadrill (NYSE:SDRL) on April 27, 2014, I was wondering if Seadrill shares finally had found a bottom (original thesis here). I argued that there was a high chance that Seadrill's consolidation was overdone at the time and investors would get a solid bargain by purchasing the ultra-deepwater offshore driller for their long-term income portfolio.
I have used the sell-off in high income vehicles since the beginning of March to push hard for income vehicles such as Seadrill, Linn Energy (LINE) and Kinder Morgan Energy Partners (NYSE:KMP) as investors seemed to suddenly dislike high-yield energy related enterprises. With equity markets overall doing well at the moment (at least in developed markets), I think income investments will not necessarily be as popular in the investor community going forward as they used to be.
With stock markets edging from one record to another, high income vehicles such as Seadrill, Linn Energy or midstream MLPs such as Kinder Morgan Energy Partners become 'less sexy'. After all, market prices of securities are mostly determined by fund flows. If investors can make higher returns by investing in technology stocks, they will shift funds over to the tech sector. However, the next period of market uncertainty is just around the corner which should generally benefit high-yield investments like Seadrill.
My call to buy Seadrill at $34.77 might have been lucky, nonetheless, Seadrill shares are up 9.3% since I last covered the stock a little over a month ago.
Seadrill's chart certainly looks much better now as shares have rebounded substantially over the last four weeks. The Relative Strength Index suggests that the stock is approaching overbought territory which could make for a pullback in the stock soon. A short-term breather certainly is deserved after the run up in share price since the mid of April.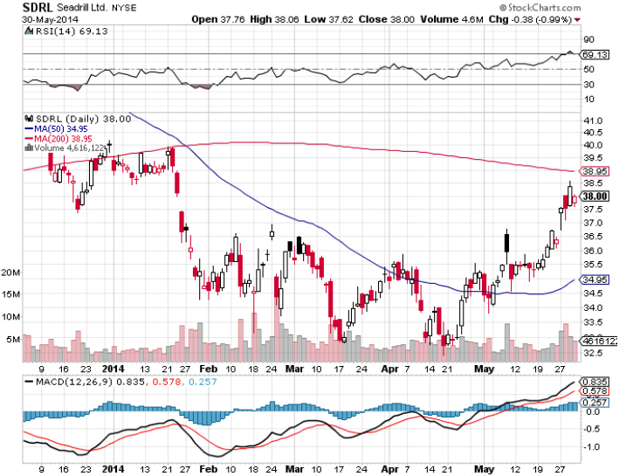 (Source: StockCharts.com)
Alternative exposure to energy exploration
Nowadays, investors mostly concentrate on oil and gas companies that operate in the booming domestic onshore shale regions such as the Eagle Ford, Marcellus Basin or any other high-impact drilling region in the United States. While above-average production growth rates certainly have triggered a modern day oil and gas bonanza in those regions, investors should not forget the highly attractive offshore drilling business. The trend in offshore drilling is to go further and further away from the shores and into ultra-deepwater drilling - the core competence of Seadrill and second largest operator of ultra-deepwater drilling units after Transocean (NYSE:RIG).
Attractive fleet characteristics
Compared to other offshore drilling companies, Seadrill has one of the most modern fleets in the business. Seadrill currently operates or has under construction 34 drillships and semi-submersibles, 32 jack-up rigs and 3 tender rigs. I specifically like Seadrill's exposure to the premium ultra-deepwater segment and its market leading position in ultra-deepwater drilling.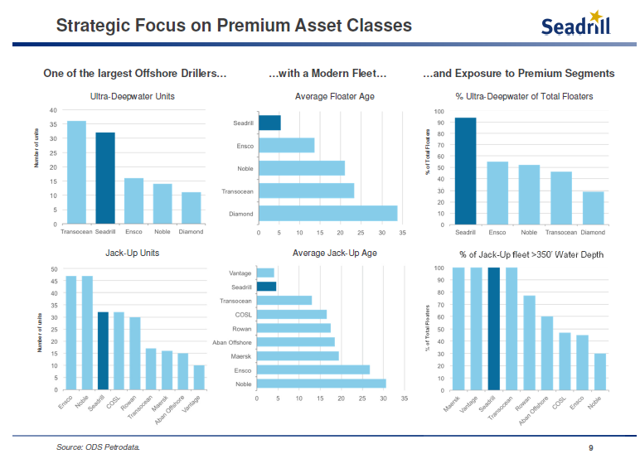 (Source: Seadrill - Howard Weil 42nd Annual Energy Conference Presentation, March 2014)
First quarter results
Seadrill reported first quarter 2014 revenues last week which were quite solid. Revenues for the first quarter came in at $1,221 million vs. $1,469 million in Q4 2013. Contributing to the decline in revenues was the deconsolidation of Seadrill Partners; on a consolidated basis, revenues came in at $1,436 million.
Seadrill's operating income, however, shot up to $890 million, up 61% from last year's $552 million driven by a massive $440 million worth of disposal gains. If we adjusted for gains on disposals, Seadrill would have reported an adjusted operating income of $450 million compared against $490 million in the previous year.
Operating cash flow also grew strongly y-o-y. In the first quarter of 2013 Seadrill reported operating cash flow of $423 million compared to $656 million in the most recent quarter - an increase of 55% y-o-y.
The main drawback in Seadrill's first quarter results was a weakening economic utilization rate for its ultra-deepwater fleet which fell from 94% in the fourth quarter of 2013 to 88% in the first quarter of 2014. I am still optimistic with respect to future offshore drilling demand and see the current setback in fleet utilization only as a temporary issue and not as indicative of a change in business outlook.
Conclusion
I do like Seadrill. A combination of attractive fleet characteristics, a secular shift toward ultra-deepwater offshore drilling which should lead to higher fleet utilization going forward, a still strong order backlog of approximately $19 billion and a solid increase in operating cash flows all support an investment in Seadrill. The offshore driller also increased its quarterly dividend payout to shareholders by $0.02 which brings the quarterly dividend to $1.00 and the annualized forward dividend yield to a whopping 10.53%. Strong Buy for long-term income investors, particularly on pullbacks.
Disclosure: I am long SDRL, LINE, KMP. I wrote this article myself, and it expresses my own opinions. I am not receiving compensation for it (other than from Seeking Alpha). I have no business relationship with any company whose stock is mentioned in this article.