When it comes to energy related income investments, it can be promising to look beyond national borders and traditional U.S. energy companies concentrating on the domestic shale plays. Canadian companies are just as attractive from an income perspective and Canadian equities allow income investors to diversify their existing portfolio. Many investors, unfortunately, are susceptible to the 'home bias' which stipulates that U.S. investors have extraordinary exposure to U.S. companies, U.K. investors have too much exposure to British companies etc. Home bias eventually leads to a situation where investors are under-diversified and also often pass up interesting growth stories merely because they play out in other countries.
Canadian investments are interesting for U.S. investors mainly for two reasons: First, the U.S. is an important export market for Canadian oil and the interconnectedness of the two countries' energy markets has greatly increased over the last decade. Secondly, Canada is close enough to the U.S., culturally speaking, that Canadian investments can provide investors with peace of mind while simultaneously providing them with crucial diversification benefits.
One such noteworthy Canadian energy company is Penn West Petroleum (NYSE:PWE), an Alberta-based oil and natural gas company which concentrates on light oil and whose share price is currently experiencing a strong rebound. A summary profile of Penn West Petroleum is provided below: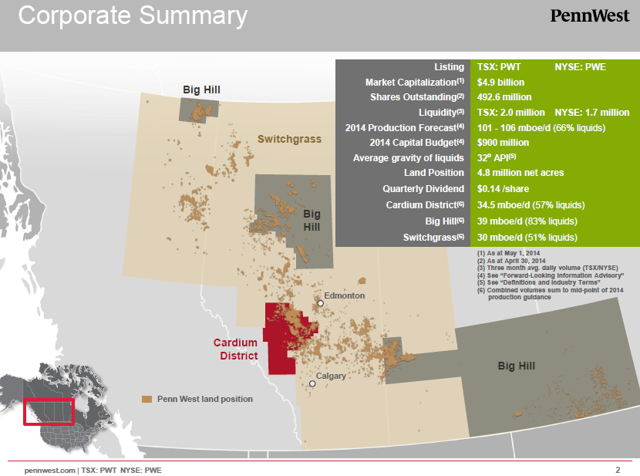 (Source: PennWest Corporate Presentation, May 2014)
First quarter results
On May 1, 2014 Penn West Petroleum reported first quarter results which were mixed for the most part. Total production came in at 110,795 boe/d compared to 142,804 boe/d in the year ago quarter. Average sales prices, however, have increased across the board: Light oil and NGL fetched $91.67 per bbl compared to last year's $80.23 per bbl. The average sales price for heavy oil jumped to $69.15 per bbl vs. $50.78 per bbl last year (a plus of 36%) and the average sales price for natural gas skyrocketed 84% to $5.84 per mcf compared to last year's $3.18 per mcf.
First quarter netbacks (net sales price minus royalties, operating and transportation expenses) increased handsomely from $27.76 per boe in the first quarter of 2013 to $36.67 per boe in the most recent quarter - a respectable plus of 32%.
While total gross revenues declined slightly to $668 million y-o-y, crucial cash flows increased 4% to $0.57 per share. One of the most noteworthy of Penn West Petroleum's latest achievements is the reduction in its debt load: The company has made significant progress in terms of de-leveraging by reducing its long-term debt burden by a whopping 21% y-o-y to $2.4 billion.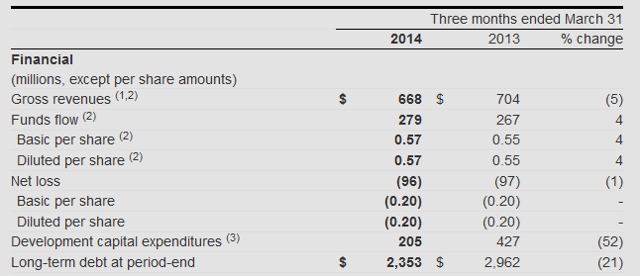 (Source: Penn West Petroleum Investor Relations Website)
Penn West Petroleum is in the process of repositioning its portfolio and selling non-core assets which will lead to declining production volumes in 2014. While the company is busy focusing on developing its light oil production, Penn West Petroleum also has made progress in rigorously bringing down its cash costs.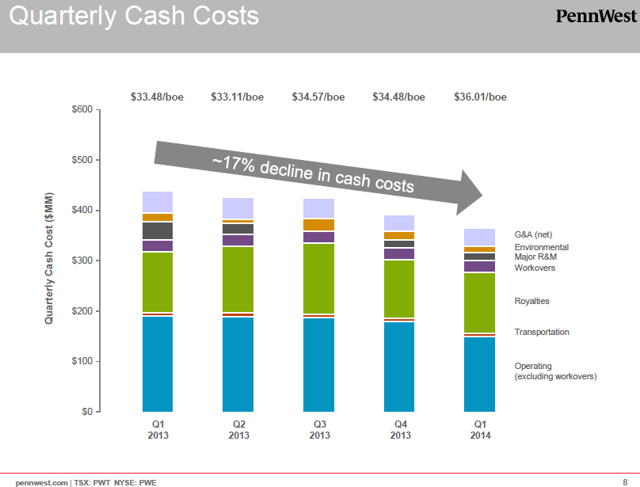 (Source: PennWest Corporate Presentation, May 2014)
Attractive entry dividend yield of over 5%
Penn West Petroleum currently pays investors CDN-$0.14 per share quarterly which translates into a forward annualized dividend yield of 5.4% in US-$ terms. I would also highly recommend investors to participate in the Dividend Reinvestment And Optional Share Purchase Plan which at least allows Canadians and U.S. resident shareholders to reinvest their dividends at a 5% discount to the average market price (see here for further explanation). With a 5.4% initial dividend yield, Penn West Petroleum has a lower yield than high-yield Canadian energy player Pengrowth Energy (NYSE:PGH), but I think Penn West Petroleum, at least for the time being, has better dividend growth prospects.
Conclusion
The Penn West Petroleum story is compelling. Selling non-core assets and focusing on light oil assets in Slave Point, Cardium and Viking are the right moves for the exploration company which has struggled in the past from a fractured operations footprint and a high debt load. Penn West Petroleum has a serious shot at improving its cash flow profile with the refocusing of its portfolio which should ultimately be reflected in higher dividends for investors. Long-term BUY.
Disclosure: I have no positions in any stocks mentioned, and no plans to initiate any positions within the next 72 hours. I wrote this article myself, and it expresses my own opinions. I am not receiving compensation for it (other than from Seeking Alpha). I have no business relationship with any company whose stock is mentioned in this article.