Shares of Colgate-Palmolive (NYSE:CL) traded up sharply over the last few trading sessions. The upward push has caused the shares to notch a new 52-week high on the back of a surge in volume. CL hasn't made any announcements that would explain the volume surge. I decided to investigate further and was intrigued by what I found. In the article below, I will detail the surge in speculation in the shares of CL, my favorite consumer goods manufacturer.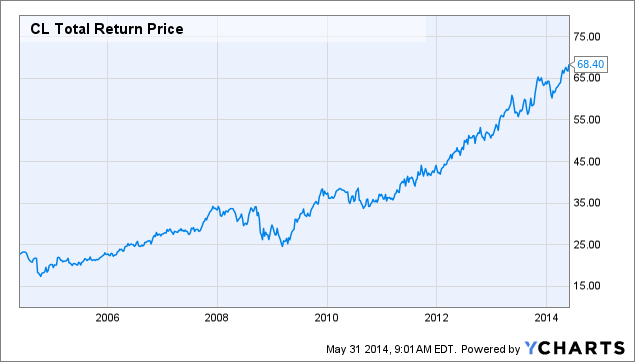 CL Total Return Price data by YCharts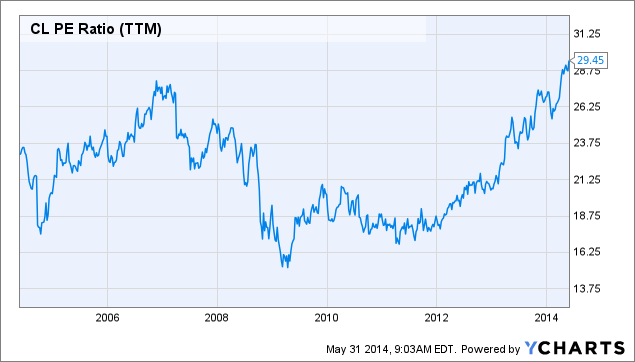 CL PE Ratio (TTM) data by YCharts
CL is my favorite stock in this sector due to its steady, consistent results. The first chart above details CL's returns over the last ten years. CL shares have returned 227% to those who were fortunate to simply buy and hold the shares. The figure also includes the effect of allowing the dividend to reinvest. The S&P 500 returned 104% over the same time frame with dividends reinvested. CL peer group returned 133% over the same time frame as well. Clearly, CL has outperformed not only the overall market but its peer group by a substantial margin.
I anticipate the first argument most will make against owning the shares will revolve around the price/earnings ratio is much higher than they are comfortable with. If we examine the second chart above, CL's p/e ratio was above 23 when the 10 year time frame for its outperformance began. The market places an above average p/e ratio on the shares due to the CL predictable, stable revenue growth.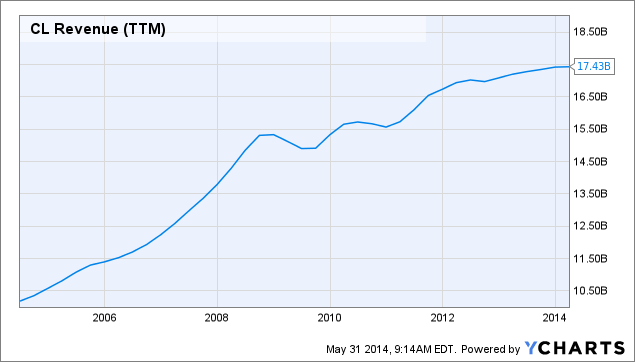 CL Revenue (TTM) data by YCharts
CL's strong durable franchises allow it to predictably grow sales and earnings. Sales growth is the hallmark of all great companies, as the increase in sales almost invariably leads to higher profits. As we can see from the chart above, CL hasn't had many issues in this department growing sales at a compounded annual growth rate (CAGR) of 5.08% over the past decade. The predictable, consistent sales growth allows CL to amply reward shareholders through annual dividend hikes and share repurchases. CL's dividend CAGR registered an outstanding 10.73% over the past ten years. Annual predictable dividend hikes such as this are highly prized by investors as witnessed above by the above average p/e ratio assigned to the shares. Management has steadily repurchased shares over the past decade, reducing share count by a CAGR of 1.35% over the past decade as well. The share repurchases are an additional way in which management returns value to shareholders.
CL Dividend data by YCharts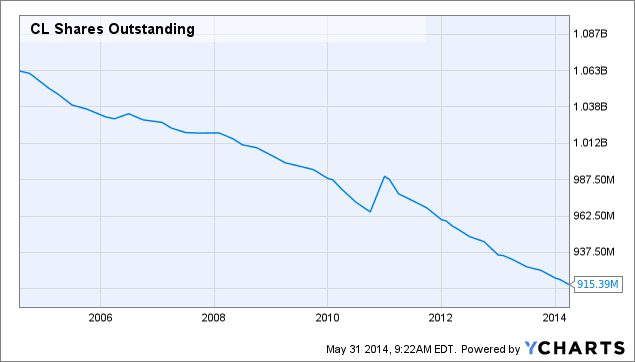 CL Shares Outstanding data by YCharts
I noticed the following blurb from OptionsXpress detailing notable option trading for Friday. I have provided a free link to those who are interested in receiving these blurbs on a daily basis. The service is offered free of charge for those who register.
"Colgate Palmolive adds 52 cents to $67.44 in active trading of 3 million shares. Options volume on the consumer products company is running 10X the daily average, as roughly 37,000 calls and 6,840 puts traded in the name. June 70 calls are the most actives in CL today. 16,875 contracts changed hands. June 67.5 calls, Weekly (5/30) 67.5 calls, and Weekly (5.30) 67 calls on the stock are seeing interest as well. "
The first part of the blurb that caught my attention revolves around the tenfold increase in option volume that was predominately skewed towards calls. As detailed above, due to its slow and steady nature, CL simply doesn't attract this type of option attention. The other interesting note is the short time frame of the options. It seems that traders are reckoning we will have some sort of material announcement that will move the shares more than 5% in less than 30 days.
I decided to visit CL investor relations page to see if the company had any pre-announced events such as earnings release that would explain the sudden interest in the shares. CL earnings release is slated for late July, well past when the above options expire. Perhaps, the options are a speculative bet on CL being acquired.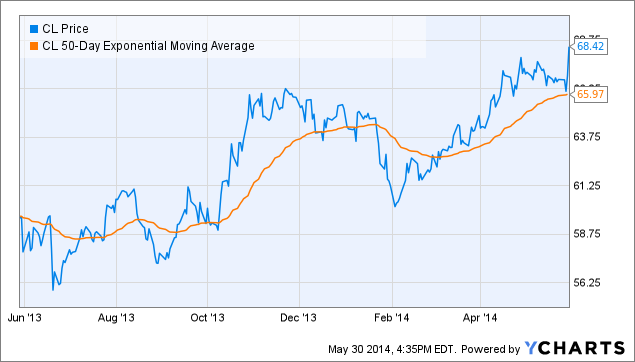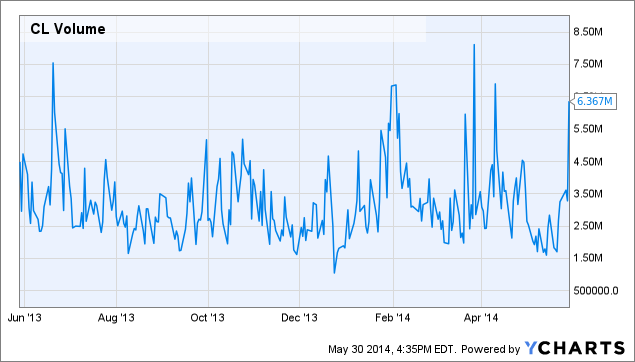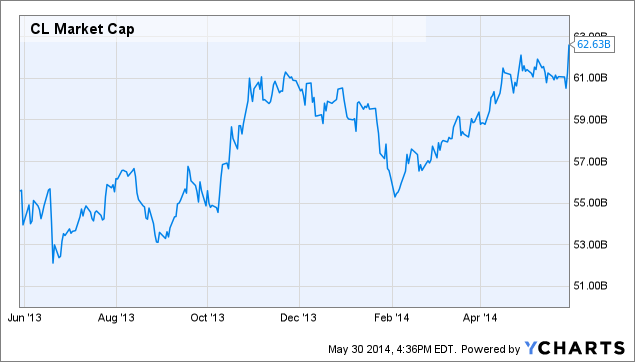 CL Market Cap data by YCharts
As we can see from the chart above, CL has a market cap of over $60 billion which in my view would preclude it from being acquired by a competitor. The company would justifiably command a rich premium, which would push the deal well past the $60 billion price making CL unaffordable for almost all. Those with the financial muscle to do so (Apple (NASDAQ:AAPL) and its enormous cash hoard come to mind) would have no interest since they simply don't operate in the field.
That leaves the most likely explanation to be some sort of acquisition that would add to CL's already formidable stable of products. When a company makes an acquisition, the Street tends to mark their shares lower. The option volume leads me to conclude the acquisition will be viewed quite favorably. As we can see from the first and second charts, the shares have made a new 52-week high today in perfect harmony with the spike in options volume. Perhaps, June will be much friendlier month for CL than last year where we saw the shares mark their 52 week low on concerns of weak spending from the emerging markets they serve.
In conclusion, today's option volume may offer an interesting clue that we may see a higher share price for CL in the not so distant future. If the option speculators are indeed correct, expect a sharp rally above $70 in the next few weeks. I would not be comfortable in acquiring shares of CL at its current quote. The shares are trading at the high end of their historic p/e ratio making long-term gains rather uninspiring. I would wait for a pullback into the low $60's before contemplating adding to my existing position. I fully realize that in today's market, waiting for a greater than 10% pullback in such a venerable name more than likely won't happen. I think Warren Buffett's line "price is what you pay, value is what you receive" fits very well here. CL price is quite elevated and total value won't be as great as it was last year, patience is required here. I will continue to reinvest the dividends received, as I view CL as a buy and possibly hold forever company. I would like to thank you for reading and look forward to your comments.
Disclosure: I am long CL, AAPL. I wrote this article myself, and it expresses my own opinions. I am not receiving compensation for it (other than from Seeking Alpha). I have no business relationship with any company whose stock is mentioned in this article.
Additional disclosure: Investors are always reminded that before making any investment, you should do your own proper due diligence on any name directly or indirectly mentioned in this article. Investors should also consider seeking advice from a broker or financial adviser before making any investment decisions. Any material in this article should be considered general information, and not relied on as a formal investment recommendation.