The last time I wrote about Citigroup Inc. (NYSE:C), I stated, "Due to the technical consolidation, low dividend yield and nasty regulatory environment for the financial sector I will not be pulling the trigger here right now. But I do believe the time to purchase some more shares is approaching." After writing the article, the stock dropped 1.23% (but dropped as low as 3.74%) versus the 2.41% gain the S&P 500 (NYSEARCA:SPY) posted. Citi is a global diversified financial services holding company, whose businesses provide consumers, corporations, governments and institutions with a broad range of financial products and services, which include consumer banking and credit, corporate and investment banking, securities brokerage and wealth management.
On April 14, 2014, the company reported first-quarter earnings of $1.30 per share, which beat the consensus of analysts' estimates by fifteen cents. In the past year, the company's stock is down 5.84% excluding dividends (down 5.77% including dividends), and is losing to the S&P 500, which has gained 16.6% in the same time frame. Since initiating my position back on 19Nov13, I'm down 3.38% including reinvested dividends. With all this in mind, I'd like to take a moment to evaluate the stock on a fundamental, financial and technical basis to see if it's worth buying more shares of the company right now for the financial sector of my dividend portfolio.
Fundamentals
The company currently trades at a trailing 12-month P/E ratio of 11.22, which is inexpensively priced, but I mainly like to purchase a stock based on where the company is going in the future as opposed to what it has done in the past. On that note, the 1-year forward-looking P/E ratio of 8.65 is currently inexpensively priced for the future in terms of the right here, right now. Next year's estimated earnings are $5.5 per share and I'd consider the stock inexpensive until about $83. The 1-year PEG ratio (0.73), which measures the ratio of the price you're currently paying for the trailing 12-month earnings on the stock while dividing it by the earnings growth of the company for a specified amount of time (I like looking at a 1-year horizon), tells me that the company is inexpensively priced based on a 1-year EPS growth rate of 15.29%. The company has great near-term future earnings growth potential with a projected EPS growth rate of 15.29%. In addition, the company has great long-term future earnings growth potential with a projected EPS growth rate of 12.17%. Below is a comparison table of the fundamental metrics for the company when I wrote all articles pertaining to the company.
| | | | | | | | |
| --- | --- | --- | --- | --- | --- | --- | --- |
| Article Date | Price ($) | TTM P/E | Fwd P/E | EPS Next YR ($) | Target Price ($) | PEG | EPS next YR (%) |
| 04Dec13 | 52.62 | 13.25 | 9.71 | 5.42 | 81 | 0.86 | 15.40 |
| 02Feb14 | 47.43 | 10.85 | 8.25 | 5.75 | 86 | 0.73 | 14.91 |
| 29Mar14 | 47.24 | 11.09 | 8.27 | 5.71 | 86 | 0.59 | 18.68 |
| 30Apr14 | 48.16 | 11.36 | 8.72 | 5.52 | 83 | 0.70 | 16.25 |
| 30May14 | 47.57 | 11.22 | 8.65 | 5.50 | 83 | 0.73 | 15.29 |
Financials
On a financial basis, the things I look for are the dividend payouts, return on assets, equity and investment. The company pays a dividend of 0.08% with a payout ratio of 1% of trailing 12-month earnings while sporting return on assets, equity and investment values of 0.9%, 8.5% and 8.2%, respectively, which are all respectable values. Because I believe the market may get a bit choppy here and would like a safety play, I don't believe the 0.08% yield of this company is good enough for me to take shelter in for the time being. Below is a comparison table of the financial metrics for the company for when I wrote all articles pertaining to the company.
| | | | | | |
| --- | --- | --- | --- | --- | --- |
| Article Date | Yield (%) | Payout TTM (%) | ROA (%) | ROE (%) | ROI (%) |
| 04Dec13 | 0.08 | 1 | 0.8 | 8.2 | 8.6 |
| 02Feb14 | 0.08 | 1 | 0.9 | 8.8 | 7.9 |
| 29Mar14 | 0.08 | 1 | 0.9 | 8.6 | 8.2 |
| 30Apr14 | 0.08 | 1 | 0.9 | 8.5 | 8.2 |
| 30May14 | 0.08 | 1 | 0.9 | 8.5 | 8.2 |
Technicals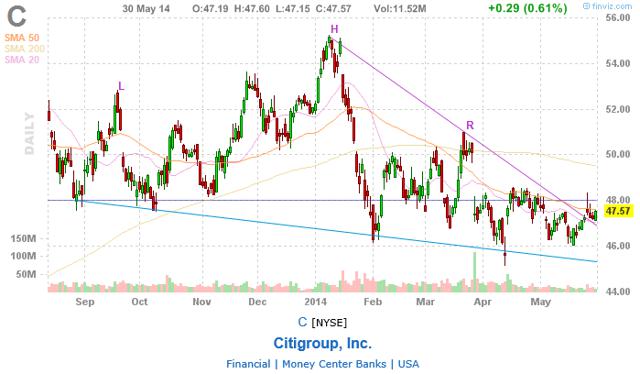 Here is a chart of Citi indicating a head and shoulders pattern, a bearish pattern. I am by no means a chartist, but a head and shoulders, as described by Investopedia, has the following characteristics: 1) "price rises to a peak and subsequently declines. 2) Then the price rises above the former peak and again declines. 3) Finally, the price rises again, but not to the second peak, and declines again." The first and third troughs are considered shoulders, and the second peak forms the head.
From my experience of head and shoulders patterns, you figure out where the neckline is and measure half the distance to the top of the head to figure out how much further the stock is going to drop. The stock must break the neckline with "umph", though, meaning on large volume. It looks as if Citi has done that, broken the neckline with strong volume. So taking $48 as the neckline (shown on the chart) and $55 as the top of the head, half that distance is $51.50. Taking the difference between $55 and $51.50, we get $3.50. So now, I would subtract $3.50 from $48 to get a target of $44.50 for the immediate future. It looks like the stock hit $45.17 back on 11Apr14, making it seem like the downward movement is over. The neckline still serves as resistance and I think only if it breaks above the neckline with the stock actually fly higher.
Recent News
An investigation by Mexican authorities is showing deviations to loans before Citi's Mexican loan fraud. The head of the investigation says the bank may have been trying to be accommodating at the time, but eventually this "accommodation" cost the company $400 million in fraudulent practices.
CEO Michael Corbat presented at a Bernstein conference earlier this week. Mr. Corbat stated that regulation is secular while low interest rates and volatility are cyclical. It's with these low rates and low volatility in markets which are holding back trading activity for the bank and that it's only a matter of time before things change.
Just a couple days earlier, CFO John Gerspach said the company sees larger than expected drop in trading volume at the Deutsche Bank conference. Mr. Gerspach stated that second quarter trading revenue could drop up to 25% from last year. Large drops in second quarter trading volumes seem to be the trend as JPMorgan (NYSE:JPM) stated earlier in May that they see trading volumes at their shop to drop about 20% during the second quarter.
Conclusion
The banks have been the second worst performing sector in the S&P500 so far this year, helping keep the market down overall. Citi has definitely done more than its fair share of the damage by dropping 8.71% in value. Fundamentally, the company is still inexpensively priced based on next year's earnings estimate and on future growth potential while still expected to grow earnings at a high clip for the near and long-term perspective. Financially, there may as well be no dividend to hide out in because it is miniscule. On a technical basis, there appears to be strong resistance around $48 and unless there is a large volume day that pushes the stock above that price then there could be further room to the downside. Due to the reduced earnings estimates for 2015, tiny dividend, and the strong resistance at $48, I'm not going to be pulling the trigger right now.
Because I swapped out BioMed Realty Trust (NYSE:BMR) for Citi in my dividend portfolio, it is only fair that I provide an update from the swap-out date. From November 19, 2013, Citi is down 6.34%, while BioMed Realty Trust is up 13.19% and the S&P 500 is up 7.37%. Citi was performing well up until the emerging market meltdown in early January, as seen in the chart below, and I'm going to remain patient in the name.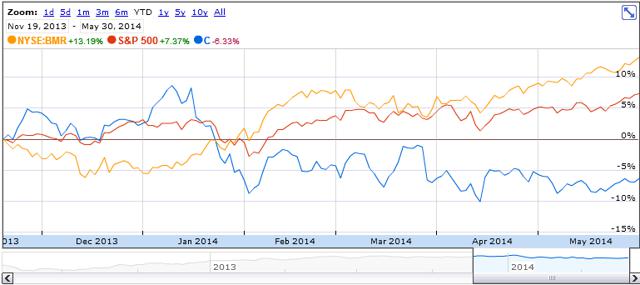 Disclaimer: This article is meant to serve as a journal for myself as to the rationale of why I bought/sold this stock when I look back on it in the future. These are only my personal opinions and you should do your own homework. Only you are responsible for what you trade and happy investing!
Disclosure: I am long C, JPM, SPY. I wrote this article myself, and it expresses my own opinions. I am not receiving compensation for it (other than from Seeking Alpha). I have no business relationship with any company whose stock is mentioned in this article.