I am from the Philippines. Herbalife (NYSE:HLF) is legal here. Direct selling or multi-level marketing is a legitimate business model in my country. Herbalife is just one of many multi-level marketing firms that are legally operating in the Philippines. No, I'm not a member of Herbalife but I used to be an Amway Independent Business Owner. I also signed up for another MLM company last April, A Filipino-owned company called Royale Business Club.
Below is a screenshot of a questionnaire from another website that Seeking Alpha investors should try to answer. This is to evaluate if Mr. Ackman's allegation of pyramiding can stick to Herbalife. The Philippine government regulators found Herbalife satisfied the entire 8-point legality test.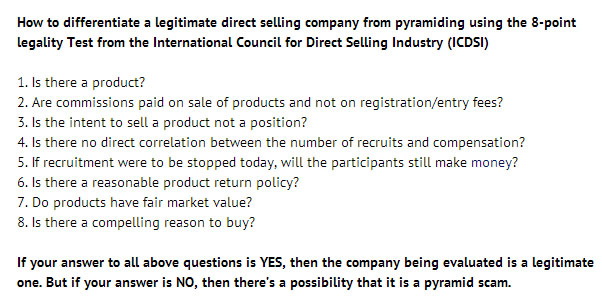 Source: businessdiary.com.ph
I leave it to Americans to make their own interpretation whether Herbalife's marketing plan is legal or not. Mr. Icahn strongly disagrees with Mr. Ackman's view of HLF. The case of HLF has confirmed my observation that the U.S. stock markets are heavily influenced by propaganda.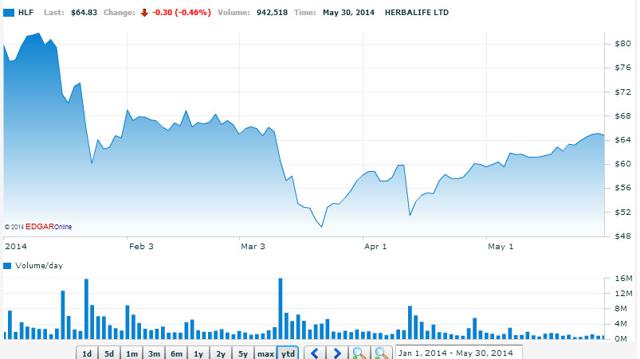 Source: Nasdaq.com
I would like to focus on the fundamentals and statistical performance of HLF. Math is not hearsay evidence.
Strong Buy For HLF Based on Math and Historical Statistical Performance
My favorite primary evaluation tool is Alpha Omega Mathematica (AOM). AOM gives HLF a 90% aggregate score and a Strong Buy recommendation. The evaluation algorithm of Alpha Omega Mathematica doesn't give a damn about the bad propaganda versus Herbalife. AOM still rates HLF the best stock among Personal Products Industry companies.
Math is math and Herbalife's past and present statistical performance has made it better among its peers. HLF suffered a YTD setback of -17.26% primarily because of the federal investigations that largely arose from Mr. Ackman's accusations. The drop in price made Herbalife the best Consumer Goods/Personal Products stock. Alpha Omega Mathematica's statistical evaluation has found out that HLF is indeed a gem of an investment if we only dismiss the noise of pyramid charges.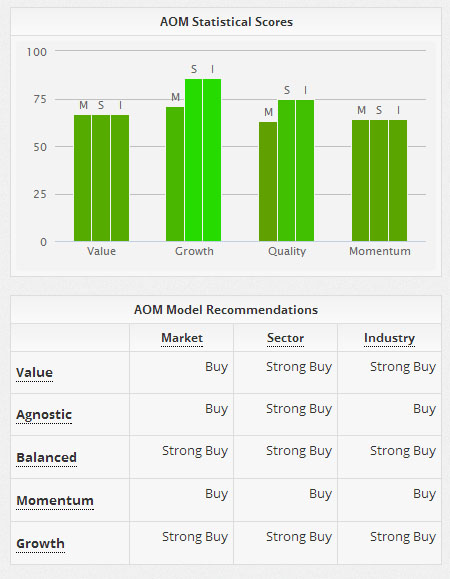 Source: Getaom.com
The screenshot above is a picture that is spouting a million words of positive recommendation for HLF. I'm not a successful MLM marketer. My distributor time with Amway did not make me a millionaire. However, I'm very happy that it is still possible to profit from a publicly-listed multi-level marketing company without having to recruit downline members and sell high-priced food supplements.
I live in a poor country where Amway and Herbalife products are beyond the purchasing power of most people. I do not want to alienate friends and relatives by seducing them to put up money - and then hear them whine about their inability to recruit their own downline members. Yes, I admit that MLM companies like Herbalife are more profitable if you manage to recruit downline members that are also good recruiters.
It is the same thing when stock trading. The best stock market players also try to recruit many investors to their cause so the tickers they bought is boosted. Ackman lost big money on Herbalife because he did not succeed in recruiting enough downline members to his anti-HLF cause.
I am therefore thankful for the recent negative propaganda against Herbalife. HLF is now cheaper than its peers are. I'm tempted to buy a few shares. Yes, I have read about the allegations and I decided that if Amway and Avon (NYSE:AVP) can still operate in the U.S., so can Herbalife. Federal and state investigators are just wasting their time and public money in a futile attempt, Herbalife's direct-selling business model will survive all U.S. investigations and hearsay allegations.
Look at the Modelling Charts below from AOM. HLF is underpriced when compared to its sector and industry peers.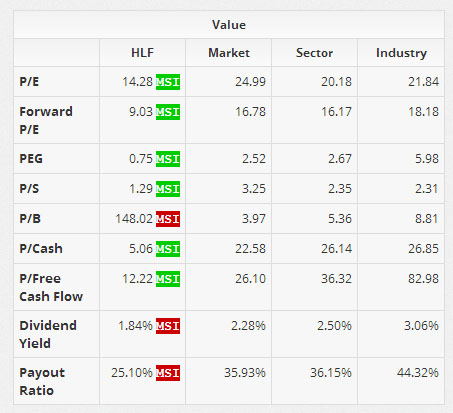 HLF has a lower Trailing P/E of 14.28, lower than sector average of 20.18 and industry average of 21.84. The forward P/E of HLF is also half of that of its industry average of 18.18. I do not like the P/B ratio of HLF but I sure love the PEG and PEG ratios of this company. The Price/Cash and Price/Free Cash Flow of Herbalife are also much better than market, sector, and industry averages.
The Growth Modelling Chart from AOM below also tells us that Herbalife bested most of its market, sector, and industry peers for the last five years. The double-digit annual growth average for EPS and sales are very impressive. Herbalife is not only facing competition against traditional consumer goods companies, it is also in a fierce direct selling industry where Amway, Avon, and other bigger players go rampant.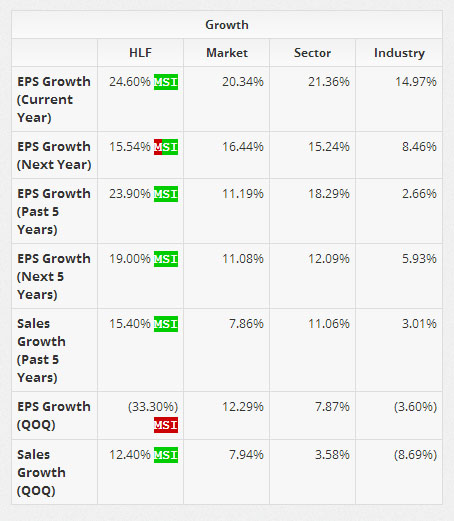 The historical data of Morningstar supports the chart above by Alpha Omega Chart. Herbalife's 10-year income statement record shows the company has consistently improved its EPS and revenue year over year.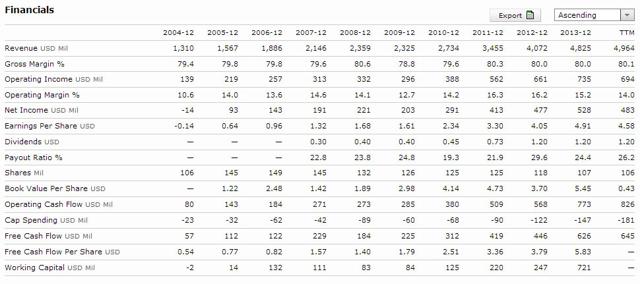 According to NASDAQ's website, HLF also paid dividends since 2007. Based on 10-year total returns, Herbalife did better than Avon, Nu Skin (NYSE:NUS) and Tupperware (NYSE:TUP).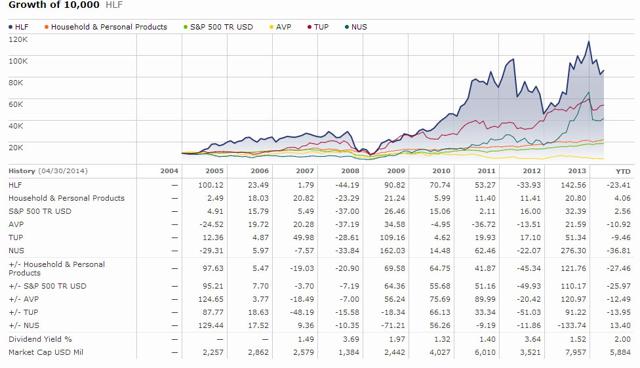 Source: Morningstar.com
Institutional Approval
The excellent returns history of Herbalife is why many institutional investors hold positions in the company. Icahn and others did their due diligence and found HLF a legitimate business that is performing very well. The big boys of investments made their approval of HLF's marketing plan by investing on the company.
A check on NASDAQ's website reveals that 379 institutional investors are very much infatuated with Herbalife. Ackman's pyramiding allegation fell on deaf ears of many fund managers. Herbalife has in turn accused Ackman of paid lobbying to smear the company.
The bad press has yet to make the biggest HLF institutional investors below to abandon their support of Herbalife.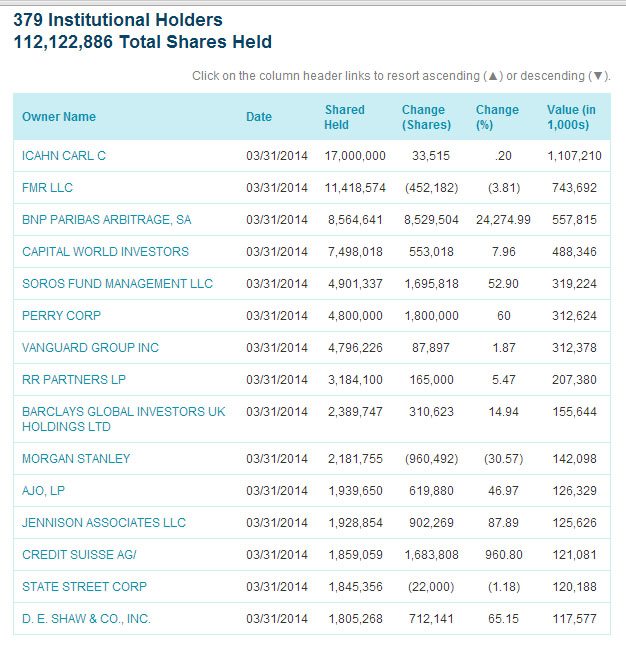 Source: Nasdaq.com
Conclusion
I respect the multi-level marketing business model. I'm not good at recruiting downline members for MLM because of my aversion to alienating friends and relatives. However, if I can't make money being a top upline member of an MLM business, it might be great for my 2016 election campaign fund to follow Icahn and Soros on their bets on Herbalife.
I do have an issue with the high Debt/Equity ratio of HLF. This annoying metric arose from Herbalife's management decision to defend its stock against Mr. Ackman's attack. HLF had to load up on debt to fund its aggressive share buyback as shield against Mr. Ackman's shorting of Herbalife.
Ackman's allegations did affect Herbalife's overall financial stability. Based on another chart of Morningstar, HLF increased its Debt/Equity and P/Book ratios since Ackman started his crusade versus Herbalife. A heavy debt load handicaps the company's future growth potential.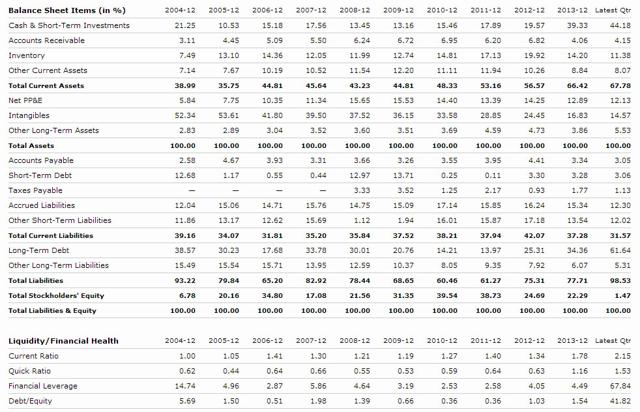 Source: Morningstar.com
Seeking Alpha users, pro-Ackman or anti-Ackman, should still take time to open the books and evaluate the statistical performance of HLF. Despite surviving many years of being accused as a pyramid scheme, Herbalife has indeed flourished as a global business over the last decade.
I support a Buy-on-the-dip bet for HLF. The stock will bounce back up back once Ackman and his few followers realize that Herbalife's chance of being shut down by U.S. regulators is almost nil. For many decades now, Amway has survived many attempts to shut it down. The FTC never succeeded. Since the anti-pyramid group has failed to prove their case in the courts, they accuse Amway of funding politicians to keep it safe.
I am new to politics but I already appreciate why Amway and other MLM companies continue to flourish. The FTC employees are subject to politicians' influence. Ergo, Amway and its clone, Herbalife, will survive for the next decade.
The top selling companies in the world today are all U.S.-owned. I firmly believe that U.S. regulators will never kill this great American invention of direct selling.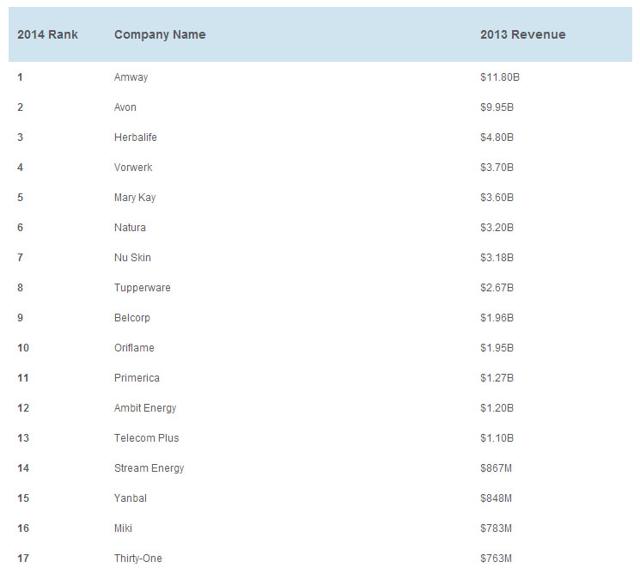 Disclosure: I have no positions in any stocks mentioned, but may initiate a long position in HLF over the next 72 hours. I wrote this article myself, and it expresses my own opinions. I am not receiving compensation for it (other than from Seeking Alpha). I have no business relationship with any company whose stock is mentioned in this article.