Late last May, Linn Energy (LINE) (LNCO) announced it would swap 25,000 net acres of its horizontal drilling position in the Permian in exchange for 500,000 acres in the Hugoton Basin, a place where Linn already has a good foot hold. This year, one of Linn's major objectives has been to reduce overall decline rates and therefore reduce the need for maintenance capex. While Linn has a lot more work to do in this regard, the Permian-Hugoton asset swap is definitely a step in the right direction.
This article will look at a few important ways in which this deal effects Linn Energy: Distributable cash flow coverage, decline rates, corresponding future maintenance capex needs, and finally Linn's pro forma acreage position.
Acreage Swap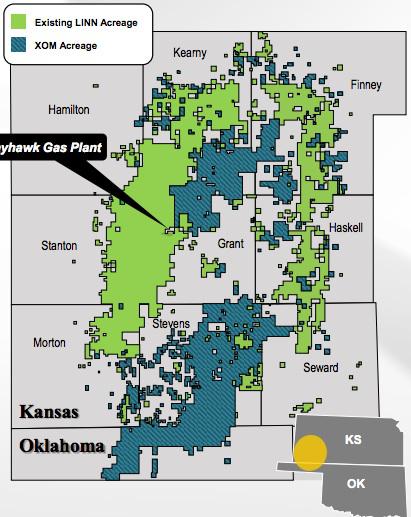 Courtesy of Investor Relations
Let's first look at what Linn is receiving: As you can see, the half-million acres which Linn picked up is contiguous with its legacy Hugoton acreage. This could allow for future synergies and further cost savings from the Jayhawk gas plant on Linn's existing Hugoton position.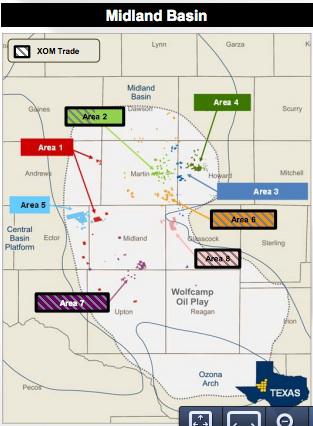 Now let's see what Linn is giving to Exxon Mobil (NYSE:XOM); about half of its Midland Basin acreage. Linn really needs to sell all of this acreage, as its high growth, high decline nature makes it an inappropriate selection for a cash flow maximizing upstream MLP. Linn will keep another 29,000 acres of its Midland Basin position, which I believe it will either sell or swap in the future.
Effect on Distributable cash flow
The Hugoton acreage will have a positive impact on distributable cash flow. This deal is immediately accretive to DCF by between $30 million and $40 million annually. Previous to the acquisition, Linn's distributable cash flow guidance was only 0.98 times that of its annual distribution. When we add $30 million to annual DCF, the new coverage ratio becomes 1.01 times.
Now, this is no guarantee of 1.01 times coverage for the year, only because we are already almost halfway through the year. However, going forward, on an annualized basis, Linn's dividend will be secure even if Linn swaps nothing from here on out.
Reducing decline
Management's first choice for an acreage swap was probably vertical acreage in the Permian Basin, only because declines there are so low. Returns are also high in the Permian due to that area's liquids content. However, at a low decline rate of just 6%, the Hugoton was Linn's next best choice. But unlike that of the Permian, the Hugoton's production will be 80% gas. Still, the most important factor is the decline rate, and with this acquisition, the overall decline rate should drop.
For upstream MLPs, a low decline rate is important because it means that less maintenance capex is needed to keep production even. And because maintenance capex is subtracted from DCF, it is important for upstream MLPs to minimize maintenance capex.
Pro-Forma Linn
In terms of decline rate, the Hugoton acreage fits right in the middle of Linn's asset portfolio: Decline rates in the Hugoton are higher than Linn's flagship Permian and California assets. However, the decline rate in the Hugoton is also lower than that of Linn's acreage in East Texas, the Bakken and the Granite Wash.
Overall, this deal reduced the company's overall rate of decline, but I believe that Linn needs to keep going. Perhaps the company can swap remaining Permian Basin acreage for other acreage which declines moderately. Doing so would further benefit DCF, which, frankly, still needs improvement.
Another good option for Linn would be to buy back shares with further proceeds. Because the distribution rate is still around 10%, which is much higher than the company's cost of debt, buying back stock would have the most cash flow accretive effect. I still believe that Linn should also sell its Granite Wash property to further reduce overall decline. Granite Wash now represents one of the few remaining holdings of Linn's portfolio in which the decline rate is in the double digits.
Conclusion
The speed at which Linn was able to swap out its assets was very encouraging, but not too surprising. After all, Permian horizontal acreage is hot property right now, and many companies are scrambling to enter this play. Linn shouldn't have much trouble making a deal for the rest of its Permian acreage, either.
The most important aspect of this deal was to swap horizontal acreage for mature, cash flow positive acreage and thereby increase distributable cash flow and secure the distribution. This deal accomplishes that by bumping the coverage rate to back over 1 times, on an annualized basis. While this move was a step in the right direction, Linn still has a ways to go: Linn still holds about half of its original Permian horizontal acreage, not to mention a couple other high-decline properties.
Disclosure: I am long LINE. I wrote this article myself, and it expresses my own opinions. I am not receiving compensation for it (other than from Seeking Alpha). I have no business relationship with any company whose stock is mentioned in this article.