The Alerian MLP index gained 0.70% this week and the MLP index has posted a 9.82% total return - including distributions - YTD. The S&P 500 was up 1.21% for the week. Both indexes posted almost identical gains as for the previous week. The overall gains in the AMZ MLP index are reflected in the 20 new 52-week highs for the week against one new low. 55% of the universe is within 5% of their 52-week highs, as shown below: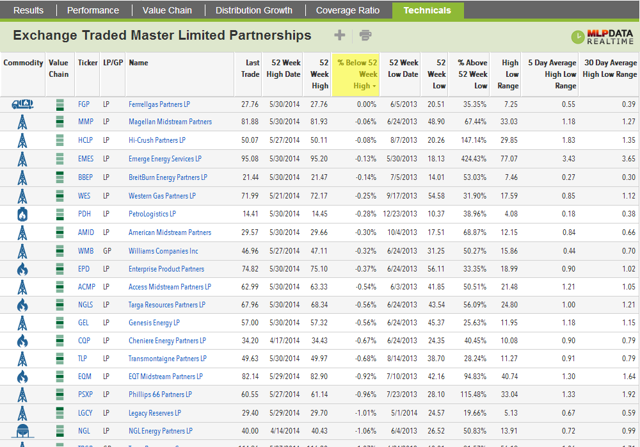 Interesting items coming out of the MLP closed-end funds. The merger of three Tortoise MLP funds (NYSE:TYY) (NYSE:TYN) (NYSE:TYG) was approved. These funds sit in the bottom half of the YTD MLP CEF performance rankings. At the top of the YTD closed-end results, a significant portion of share price gains have been the result of premium expansion and/or discount contraction.

Unit Value Winners and Losers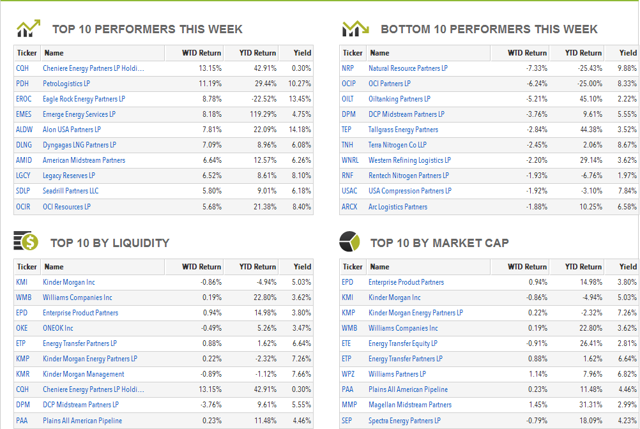 For top gainer Cheniere Energy Partners LP Holdings (NYSEMKT:CQH) investors ignored a Friday morning Seeking Alpha article to steer clear as the post-IPO lock up period expires in two weeks. PetroLogistics LP (NYSE:PDH) announced on Wednesday that the company had agreed to be acquired in an all-cash transaction. The transaction is expected to close by year-end and unit owners will continue to receive regular distributions until the closing. Seadrill Partners LP (NYSE:SDLP) moved sharply higher as a result of their 5/28 earnings result.
Worst performer Natural Resource Partners LP (NYSE:NRP) is a struggling coal producer not helped by news that new EPA regulations will further restrict coal powered electricity production. Fertilizer production partnerships as a group had a bad week, with OCI Partners LP (NYSE:OCIP) having the worst week. Also in the bottom 10 were Terra Nitrogen Partners LP (NYSE:TNH) and Rentech Nitrogen Partners LP (NYSE:RNF). Oiltanking Partners LP (NYSE:OILT) fell sharply on an analyst market perform downgrade, and then rebounded on the 2 for 1 split announcement, which should expand liquidity and improve spreads.
Distribution Rate Changes
Four monthly distribution upstream MLPs announced continuation of the current rates being paid. Linn Energy LLC (LINE) and LinnCo (LNCO) announced continued monthly distributions after Friday's market close.

Insider Trading
The post earnings selling by major insiders of some MLPs continued this week. As previously reported, two weeks ago USA Compression Partners LP (NYSE:USAC) announced a public offering of 6.6 million units including 1 million units coming from insiders.

Share Issuance News
There was one equity deal announced this week, a $75 million offer by EnLink Midstream Partners LP (NYSE:ENLK).
Get the details of any offer of interest by clicking on the specific issue on the Issuance page of the MLPData Dashboard.
ETF, CEF and Mutual Fund Money Flows
MLP focused funds added $276 million in assets for the last week, compared to $317 million from the previous week. The positive inflow levels have trended down for three consecutive weeks. Mutual funds added $258 million, up $100 million for the week and ETFs took in just $17 million, a 90% drop from a week ago.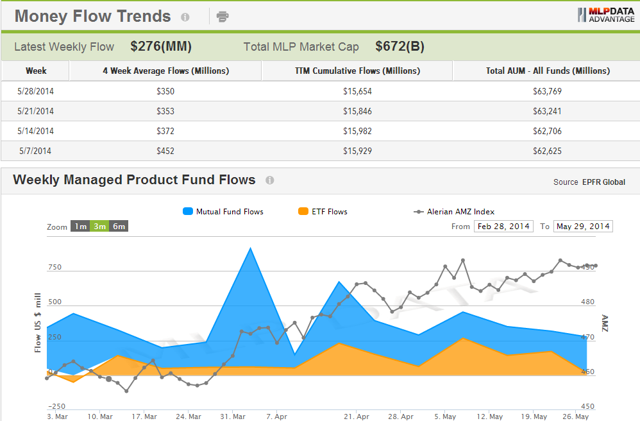 Next Week's Earnings Calendar
The 2014 Q2 earnings season starts afresh on July 17 with the Kinder Morgan companies scheduled to report.
To get this round-up each week, please make sure you are following MLPData here on Seeking Alpha.
All charts and tables provided by MLPData.com
Disclosure: I have no positions in any stocks mentioned, and no plans to initiate any positions within the next 72 hours. I wrote this article myself, and it expresses my own opinions. I am not receiving compensation for it. I have no business relationship with any company whose stock is mentioned in this article.