As if on cue, the headline "JPMorgan Said to Test IPhone, BlackBerry Alternatives" appears the day after I give my nth warning that Research in Motion's (RIMM's) healthy fundamental snapshot taken at any given moment belies a serious structural flaw in its business model. It's losing business opportunities and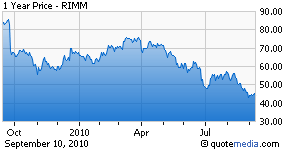 market share at a very rapid clip and a forensic examination of its reporting makes this fact painfully obvious. Of course, the lazy investor simply sees increasing revenues, and then declares the stock to be cheap since the price is going down. Thank goodness BoomBustBloggers are far from lazy. I'm going to skip the "I told you so" this time around for all those non-believers.
From Bloomberg:
Sept. 10 (Bloomberg) — JPMorgan Chase & Co. may soon let employees use iPhones for corporate e-mail, making it an alternative to Research in Motion Ltd.'s BlackBerry at the bank for the first time, two people familiar with the situation said.

JPMorgan is testing the Apple Inc. device and smartphones based on Google Inc.'s Android software, said the people, who didn't want to be named because the plans haven't been made public. The bank is the second-largest in the U.S. by assets and has about 220,000 employees worldwide.

UBS AG, Switzerland's biggest bank, said it is also considering allowing its staff to use iPhones for company messaging as more of them opt for the Apple product. UBS has more than 63,000 employees.

Apple and Google are making inroads in RIM's traditional stronghold with corporate customers, after their devices first caught on with consumers. Standard Chartered Bank Plc said in May it's switching from the BlackBerry to the iPhone for employees and expects to have 15,000 distributed by year-end.

"This phenomenon is very new and we expect it to put increased pressure on RIM's performance," said Pierre Ferragu, an analyst at Sanford C. Bernstein Ltd. "BlackBerry isn't the only alternative to offer employees mobile e-mail."

RIM rose 35 cents to $45.02 yesterday in Nasdaq Stock Market trading. The stock had lost a third of its value this year before today as Apple climbed by a quarter.

… JPMorgan would not buy iPhones or Android phones for employees, as it now does with BlackBerrys. Rather, the bank would allow employees to use the devices to send and receive corporate e-mail if they make the purchase themselves, the other person said.
Damn! You know its bad when customers would rather pay for your competitors product rather then get yours free! That means its not even about price points and margin contraction. In some markets, the Blackberry is dead in the water!
RIM's share of the global smartphone market slid to 18.2 percent in the second quarter from 19 percent a year earlier as customers opted for rivals' phones with larger screens and more applications, according to researcher IDC. Apple's share rose to 14.2 percent from 13 percent, while Android surged to 17.2 percent from 1.8 percent.

Apple said in July that more than 80 percent of the Fortune 100 companies are deploying or testing the iPhone… More companies are set to follow suit, according to an August survey done by Sanford Bernstein. Of 200 companies polled in the U.S. and U.K., 74 percent now let their employees use devices other than BlackBerrys, the research showed. For the U.S. alone, the figure was 83 percent.

…Cost savings and employee preference were the two biggest factors cited by companies for the shift in the Sanford Bernstein survey. Employees would rather own an iPhone and are increasingly willing to buy the device themselves, which helps cuts costs as companies look to rein in spending, said Sanford Bernstein's Ferragu.
So, how does RIM counter this? There is only one way to do so and the window of opportunity is just about shut, and that is to come out with a competitive product. We all want a bigger screen, with a faster processor, more storage and more features. My personal and business phone has a 4.3 inch screen with a screaming processor. The form factor can fit a 5 inch screen with a little intuitive engineering. Why hasn't RIM produced such a product already? The answer is that RIM management has lost the pulse of its constituency, hence it is actually losing said constituency!

Other research suggests BlackBerry loyalty may be fading among the bankers, lawyers and government workers who drove RIM's initial success. About 42 percent of BlackBerry users say they want to stick with the brand when they buy a new phone, according to an August survey by Nielsen Co. The rate is 89 percent for iPhone owners and 71 percent for Android devices.
For those who haven't yet, delve deep into my Research in Motion research and analysis, as well as my entire series on the Mobile Computing Wars. This may be just about as big as the Internet, yet many seem oblivious to it. First, the BoomBustBlog scoop on the Bloomberg article above, complete with much more supporting data: Despite What May Appear to Be Strong Fundamentals RIMM Is In Trouble, Look Past the Present and Into the Future. This is what the stock and the front month puts look like since the article was published yesterday.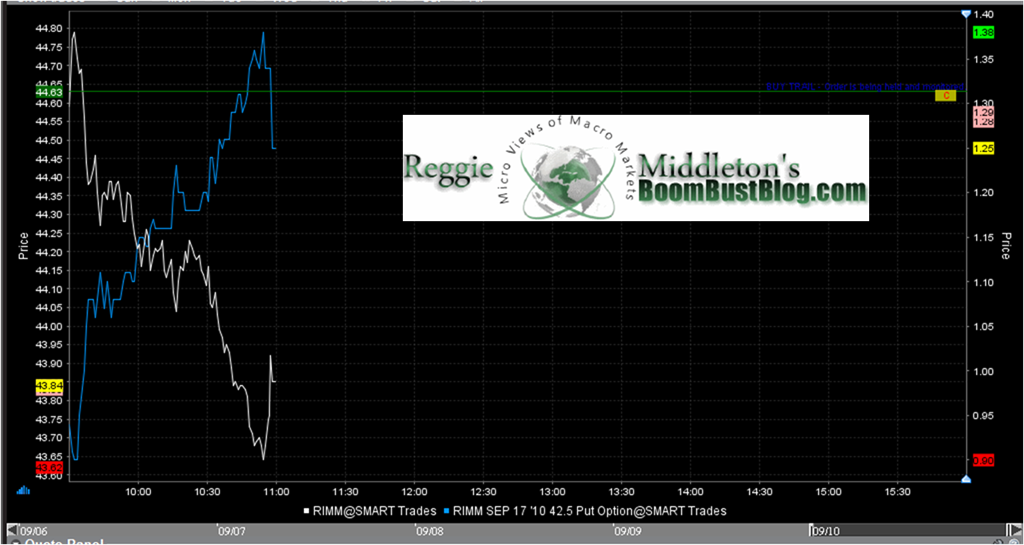 I urge subscribers to dig deep into the valuation and market share models that I have provided (see subscription content links below). I am available to discuss this in the subscriber discussion forums (see links in the user menu in the left hand side of BoomBustBlog) if anyone wants to kick off a deep dive discussion.
Previous Research in Motion commentary
Subscription content (click here to subscribe):
More on the Creatively Destructive Pace of Technology Innovation and the Paradigm Shift known as the Mobile Computing Wars!


Disclosure: Short RIMM