LifeLock, Inc. (NYSE:LOCK) describes itself as a leading provider of proactive identity theft protection services for consumers and fraud and risk solutions for enterprises. LifeLock's threat detection, proactive identity alerts, and comprehensive remediation services help provide some peace of mind for consumers amid the growing threat of identity theft. The LifeLock mobile app helps consumers manage their identity and payment cards on the go and enables LifeLock members to receive alerts and services on their digital devices. Leveraging unique data, science and patented technology from ID Analytics, Inc., a wholly-owned subsidiary, LifeLock offers identity theft protection that goes significantly beyond credit monitoring.
Chart courtesy of stockcharts.com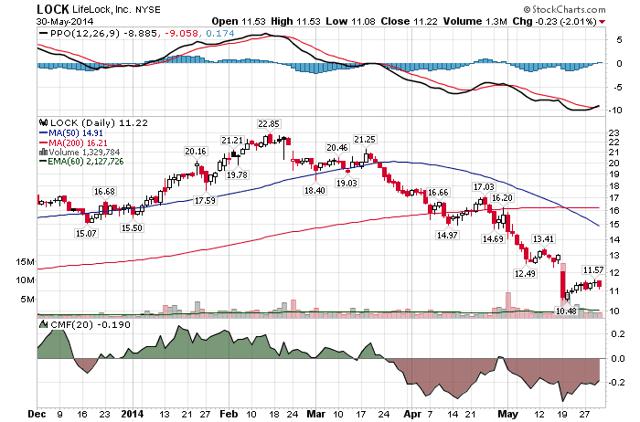 Sounds good, but just recently a possible chink in the company's armor was disclosed when it was announced that LifeLock had pulled its wallet apps and deleted data in light of security concerns. The company's Chairman and CEO Todd Davis communicated the following statement on May 16, 2014.
One thing I've learned in business and, for that matter, life, is the importance of authenticity and transparency.

With that in mind, I want to make you aware of an issue that we identified related to our recently acquired LifeLock Wallet application. We have determined that certain aspects of the mobile app may not be fully compliant with payment card industry (NYSE:PCI) security standards.

For that reason, we are removing the LifeLock Wallet application from the App Store, Amazon Apps, and Google Play, and when users open the LifeLock Wallet, their information will be deleted in the app.
While I completely applaud his pro-active and forthright communication with the company's customers, it does beg another question that comes to mind in light of Jon Fingas article at engadget.com. He states, "The ID protection firm has both pulled the LifeLock Wallet mobile app and deleted user data after learning that its tool (based on recent acquisition Lemon Wallet) "may not be fully compliant" with payment card security standards."
Lemon Wallet, some may recall, was purchased by LifeLock for $42.6 million in December of 2013. Lemon is a digital wallet platform which allows users to store their ID, payment, loyalty cards and more on their smartphone. Lemon first launched in 2011, and had previously raised $8 million in Series A funding the following year from Maveron, Lightspeed Venture Partners, CampVentures, Draper Fisher Jurvetson, Chamath Palihapitiya's Social+Capital Partnership and other angel investors.
For LifeLock, the deal was to allow the company to expand more deeply into the mobile space, something that was much needed. Until that point it only had an iOS app aimed at users of its subscription services, which helped them manage alerts.
"We saw an opportunity to combine an innovative mobile platform - a digital wallet - with access to leading identity theft protection features. The innovation and expertise from a mobile-first company like Lemon gives us powerful new ways to engage with current and future members," says LifeLock president Hilary Schneider. "The acquisition allows us to accelerate our product roadmap, add additional functionality and data to our platform, expand our market opportunity, better serve our members, and develop a more meaningful relationship with a broad set of consumers," she adds.
All good stuff but again "We have determined that certain aspects of the mobile app may not be fully compliant with payment card industry security standards." No small issue, PCI compliance is security 101 and it would appear to be one the company should have long known about in advance of paying $42.6 million for Lemon. Furthermore, how was Lemon not "fully" PCI Compliant when Carl Pascarella (former Pres & CEO of Visa USA) was on their Board of Advisors?
Lastly, with almost 140 alternate mobile wallets in the US market alone, I have to wonder if LifeLock essentially took a $42.6 million gamble on an illusion in the mobile payments space. The illusion is that a mobile wallet equates to a successful mobile payment strategy.
Unfortunately as most in the market have witnessed, a wallet without acceptance is just an app. Any mobile wallet strategy must address both the consumer & business sides of the mobile payments ecosystem (i,e,. Yowza!!). As it stands, LifeLock has very limited, if any, reach into the business merchant community, it's almost exclusively a consumer offering.
Drill down a level in the case of LifeLock and Lemon and it seems the wallet is an app with no acceptance and a payment card industry failure. Recently a number of companies have entered the mobile wallet and payment space each with their own unique configuration and interesting approach, for example Square, LevelUp, Google Wallet, and Starbucks. For all these reasons, one must ask, did LifeLock buy a lemon with Lemon?
Ok so it's one thing to point out a problem and another to offer a solution. What would I have done, and consider doing now, if I were running LifeLock and tasked with creating shareholder value? I believe LifeLock's investment monies would have served them better by acquiring a mobile asset that not only extends value into their existing consumer base yet also assists them with closing the business merchant gap. Simply, I would have taken a long hard look at Spindle Inc. (OTCQB:OTCQB:SPDL), a company I previously have written on and here's precisely why.
Payment processing seems like an easy game from an external perspective. Just swipe or key a card # and in nano-seconds…approved! A 5 year-old can do that. However, what most do not realize, it's a very complicated, regulated and compliance laden game with countless touch points.
This is further complicated by varying international regulations and varying payment methods that impose deeper disciplines (i.e., credit, debit, ACH, gift card, etc…), not to mention the rules vary by card brands within credit for example (Visa, MC, Discover, AMEX, JCB, CUP, etc…) as well as debit (Visa, MC, NYCE, Star, Pulse, etc…).
The very complicated world of processing payments is greatly impacted by card type, presentation, card issuer, MCC (Merchant vertical…different rules for retail vs. car rental vs. ecom merchants), government regulations (Durban), compliance, banking regulations & laws (NACHA) and a host of other influencers…get the point….it's not as easy as it looks. Thus, LifeLock's better wallet acquisition strategy would have been to focus on a target with extensive payments expertise, like Spindle.
LifeLock's strategy should be focused on how to best leverage their existing consumer base with a target that serves the merchant business community, again like Spindle/Yowza!! with "95,000" merchant locations and growing every month. That would truly extend greater value to their consumers…"protection & value" (via offers) through a LifeLock mobile app (with wallet functionality baked-in) that's capable of extending past the illusive interoperability issue with merchant's POS, websites, etc.
I'm thinking a Cloud-based discussion should be had. Note that Spindle has already become one of the first AWS Cloud companies to achieve Level 1 PCI Compliance. Clearly this would have helped LifeLock.
Also, what about Beacon technology? To my knowledge, Lemon didn't have a beacon strategy like Spindle/Yowza does.
So, LifeLock bought a wallet, pulled it and intends to re-release. Wouldn't now be the best time to acquire a company that has solved the cloud-based PCI equation and offers extensive payments expertise, a broad merchant network to leverage, mobile marketing capabilities, beacon solutions and strategic thinkers to complement and extend their Lemon investment?
What if the LifeLock wallet was capable of providing the same real-time protection on each card transaction as it does with your personal credit? Imagine an app that asks if you conducted a card transaction in real-time, as it happens and regardless of where it happens? Now you're starting to add real value to all players in the payments ecosystem (merchant, consumer, acquiring bank, issuing bank, Visa, etc.) From a fraud reduction standpoint alone, this would have every eCom merchant clamoring to get onboard.
Well there you have it, a little criticism, but not absent a solution. LifeLock and its management, along with your strong balance sheet including $190 million in cash and no debt, I've just given you a real way to possibly turn the proverbial "Lemon" into "Lemonade." Do your shareholders a favor and take a close look at Spindle.
Spindle's shares have recently pulled back from all time highs near $3 back in March, to the $1.60 area, despite a recent slew of positive partnership announcements, including iConnect, AllCom, Slim CD, and Moolah. Current price levels could soon prove to be a compelling buying opportunity, not just for a potential acquirer like LifeLock, but also for investors.
Disclosure: I am long SPDL. I wrote this article myself, and it expresses my own opinions. I am not receiving compensation for it. I have no business relationship with any company whose stock is mentioned in this article.