Every time I read or hear that the tobacco business is dead I just have to shake my head and wonder if anyone knows what they are talking about. I have been hearing this since the early 1960's when the surgeon general announced that smoking is bad for us.
I think we can all agree on several facts:
Smoking tobacco causes lots of illness and early deaths.
Smoking tobacco is a disgusting habit.
The smoking tobacco habit is terribly addictive.
Ok so now that we have re-stated the obvious, what is the investing world missing by insisting big tobacco is dead?
Altria (MO) Has Faced All Issues Thrown Its Way And Keeps Enriching Shareholders.
I am not advocating taking up smoking, but I am suggesting that MO is a stock to own now, for the long term. The dividends are plentiful, the dividend history is rich, and the stock has performed amazingly well for a despised industry.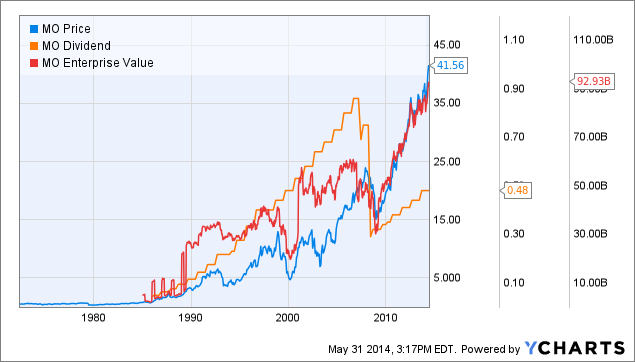 That drop reflects the spin off of Philip Morris (NYSE:PM) by the way, it does not mean the company dropped off a cliff and cut dividends or underperformed. Of course past performance is no indication of future results, so what will be the next catalyst for "Big Mo"?
E-Cigarettes Take Center Stage
The declining sales of tobacco product globally is a natural progression towards a more health conscious world, thankfully. I am yet to be convinced that the remaining 1/3 of the world's population will suddenly quit smoking, however.
Given the fact that the E-Cigarette market is virtually in its infancy, and the regulations are no more than forbidding sales to minors at this point, the entire business segment should be considered a new business, not simply a replacement business.
Keep in mind that MO is still posting huge profits and giving terrific dividends just with the smaller number of tobacco sales. Any incremental business will add earnings and revenues to both top and bottom lines, no matter what the profit margins might currently be. How much earnings and revenues is yet to be seen, but the industry IS growing.
The convenience store channel saw $45.2 million in sales over the four weeks ended Jan. 18, 2014, plus e-cigs accounted for another $12.4 million in national, cross-outlet markets. "This implies about $750 million in annual sales in Nielsen-tracked channels and we believe e-cig sales in non-Nielsen tracked channels (such as vapor shops and boutiques) plus online sales ($500-625 million) suggest the category is now about a $1.85 billion category," said Bonnie Herzog, managing director of beverage, tobacco and convenience store research for Wells Fargo Securities.
According to Harvard Business Review, the question of it being a new business or just a replacement, has already become a clear focus:
The regulations announced this week are modest, prohibiting e-cigarette sales to minors and subjecting the product to FDA review. Advertising of e-cigarettes remain legal, as do flavors like grape and bubblegum that seem aimed beyond current smokers. For now, at least, it is perfectly legal to target e-cigarettes to an entirely new market.
The evidence is not completely in, but this chart shows a potential trend that supports my thesis of E-Cigarettes being a NEW business not just a replacement.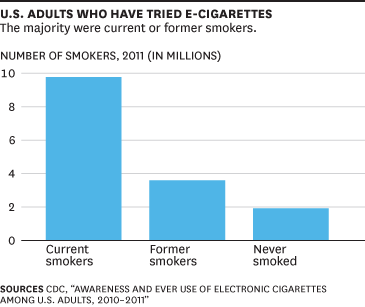 This chart clearly shows that current smokers are the leading users of E-Cigarettes thus far, but combine the number of former smokers and those who NEVER smoked, and the number begins coming close to the current smoker numbers.
That is my entire point actually. If the current smokers use the new products, as well as continuing to smoke, and former smokers who quit but enjoyed smoking now have found a potentially safer way to enjoy the act of smoking, AND non smokers are coming into the fold, this to me means future blockbuster sales on top of regular tobacco products.
OK, But What About The Health Hazards Of E-Cigarettes?
As far as I am concerned, anyone who places a stick in their mouth and inhales something other than oxygen is placing themselves at risk. Once again, that is not the point. For quite some time now, the AMA (American Medical Association) has given a huge thumbs up to any product that will help smokers kick the habit; patches, gum, needles, etc. have all been the gold standard for this medicinal purpose.
Each of the most successful products contains nicotine. Well, E-Cigarettes also have the nicotine, as well as NOT having the proven ingredient that appears to cause most of the health problems; tar. Does that put them in the same category as the AMA stamp of approval products? Apparently there has been quite a debate, and actually it is a huge conundrum for the anti-smoking crowd. To date there has been no clear answer, but take note of this intriguing report.
Smokers trying to quit are 60 percent more likely to report success if they switch to e-cigarettes than if they use nicotine products like patches or gum, or just willpower, scientists said on Tuesday.

Presenting findings from a study of almost 6,000 smokers over five years, the researchers said the results suggest e-cigarettes could play an important role in reducing smoking rates and hence cutting tobacco-related deaths and illnesses......."E-cigarettes could substantially improve public health because of their widespread appeal and the huge health gains associated with stopping smoking," said Robert West of University College London's epidemiology and public health department, who led the study.
My guess is that there will be dueling studies done for years to come and it should be fun to see the AMA attempting to back peddle from its endorsement of OTHER nicotine products that help folks quit, while bashing E-Cigarettes containing the same nicotine. Now THAT is a conundrum.
As investors, we can dislike the product but love the stock. Especially when it has performed the way MO has over the years as well as the current 4.70% dividend yield with Dividend Champion status. The next question might be if MO will be able to keep up with Reynolds American (NYSE:RAI) and Lorillard (NYSE:LO), who have gotten off to a faster start than MO in this new business and could even combine efforts soon!
Never Count "Big MO" Out
The enterprise value of the company approaches $100 billion which is nearly twice the size of both LO and RAI combined. Not only that, MO has the number one brand name on the planet when it comes to smoking products, Marlboro, and there is not one other brand that comes close.
Imagine coming out with all the same flavors that other companies will offer but with the Marlboro name attached. Do not underestimate the power of branding, and putting that name on each of the following rainbow of flavors, might just blow the competitors out of the water.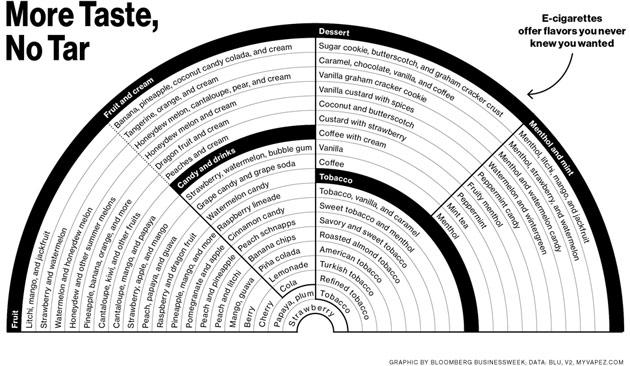 Let's not forget that while MO is playing catch up, its Nu Mark subsidiary does own several popular e-cigarette companies already: MarkTen and now Green Smoke (founded in 2008, Green Smoke generated $40 million in revenue last year by selling both rechargeable and disposable e-cigarette products). With the enormous amount of cash that MO has, it would not surprise me at all that as those small unknown companies continue to develop products, that MO will put its $17 billion in cash revenue flow to work and gobble a bunch of them up, extending the company offerings even further.
Green Smoke only cost $110 million; imagine how cheap the even lesser known brands could be gotten for.
The Bottom Line
Altria has been a core holding in so many retirement plans and institutional holdings for years, do you think it will suddenly disappear? As far as I am concerned, those who hate smoking in all forms, should still love MO as a core retirement stock that pays a healthy dividend of 4.70%.
Not only that, but an entirely new business is emerging, and I do not believe it can be stopped so easily.
Buy MO on any pullbacks for the potential future growth, and stellar dividend record.
Disclaimer: The opinions of this author are not recommendations to either buy or sell any security. Please remember to do your own research prior to making any investment decisions.
Disclosure: I am long MO. I wrote this article myself, and it expresses my own opinions. I am not receiving compensation for it (other than from Seeking Alpha). I have no business relationship with any company whose stock is mentioned in this article.