Sprint Corporation's (NYSE:S) first quarter results were better than expected. The revenues line came in $125 million above my forecast with the gross margin significantly better than expected. The trend of improving profitability is anticipated to last at least through 2015, and my forecasts (currently nonpublic) have been increased to reflect the incremental information.
The company still suffers from long-term challenges emanating from the competitive environment. Specifically, the technology used when operating the wireless network lags behind competitors AT&T (NYSE:T) and Verizon (NYSE:VZ). Also, T-Mobile (NASDAQ:TMUS) appears to be taking customers from Sprint, which is expected to lose at least 350,000 wireless customers during 2014.
With that stated, the value of Sprint's equity as a standalone company is highly uncertain. The company has a takeover value for the right acquirer, which right now appears to be Comcast (NASDAQ:CMCSA). The lack of a clear intrinsic value makes Sprint a speculative long candidate.
Recent Developments
Sprint announced that it and certain of its subsidiaries entered into a facility agreement of up to $1.3 billion that will allow the firm to securitize its wireless service accounts receivable. The agreement is scheduled to remain in place until May 16, 2016.
Deutsche Telekom (OTCQX:DTEGY) reportedly signed off on an agreement with Sprint that will allow the wireless company to acquire 67% of T-Mobile USA.
Sprint reported a net loss of subscribers in the first quarter.
Analyst's Note
Sprint Corp. is a communications company offering wireless and wireline communications products and services to individual consumers, businesses, government subscribers and resellers.
While there are rumors of an agreement between Sprint and T-Mobile, I haven't seen an official document that supports the rumors. That deal, in my opinion, faces a steep regulatory hurdle.
A deal that makes more sense is Sprint and a television-service provider. DISH Network Corp. (NASDAQ:DISH) with its relatively low net profit margin and high debt level may not be the best combination, but it may be worthy of consideration.
The deal that appears to make the most sense is Comcast, Time Warner Cable Inc. (TWC), and Sprint. Obviously, Comcast is going to have to digest Time Warner before making another major strategic acquisition, but that gives Sprint time to improve its profitability.
Turning to the financial performance, first quarter revenues came in $125 million higher than I forecasted ($8.75 billion) with the gross margin coming in well above my forecast. The better than anticipated gross profit dropped down to the operating income level; my forecast was for operating income of $87.5 million and operating income came in at $420 million. The result was a smaller than forecasted net loss of $151 million. As a consequence of this quarter's results and incremental information, I increased the profitability forecast for the full year; simply stated, I'm now expecting full-year diluted EPS of ($0.61).
The balance sheet is roughly in line with where I am expecting for the end of the year. Sprint uses a substantial amount of financial leverage, which reduces the profitability for equity holders.
I'm still expecting Sprint to generate about $2.84 billion of cash from operating activities during the full year. But that isn't enough to cover the $8 billion of capital expenditure during 2014. Thus, free cash flow to the firm is expected to be ($3.31 billion). Sprint is either going to have to use its cash or obtain additionally financing, because cash flow from operations isn't large enough to support the firm's investing activities. The roughly $6 billion of cash appears right now to be enough to get the company through the fiscal year.
The lack of free cash flow to equity is forecasted to be $5.16 billion; that isn't a tenable situation as far as my money is concerned.
Sprint isn't able to compete effectively in the wireless industry. In my opinion, the company is expected to lose 354,000 wireless subscribers during 2014, which could prove to be an overly optimistic forecast. The table below provides my forecasts, which are derived from the bottom-up approach to forecasting, for the company's year-end wireless subscribers.
| | | | |
| --- | --- | --- | --- |
| (In thousands of subscribers) | 2013-12 | 2014-12E | 2015-12E |
| Total wireless subscribers | 55354 | 55000 | 49500 |
There is pricing pressure from the Framily plan that could weigh on ARPU, according to the company's 2013 annual report on Form 10-K. But there are tailwinds for profitability. Sprint is expected to continue to destroy shareholder value during this and next fiscal year.
Technicals & Valuation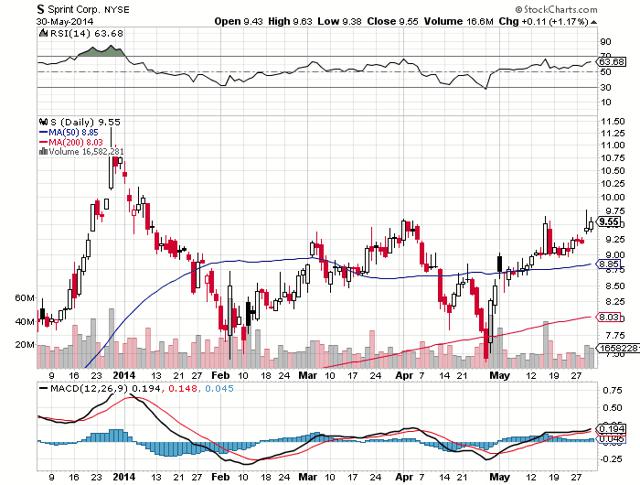 Simply stated, the technicals play is to accumulate on dips during this primary-degree-bull market. The share price could reach $12-13.
My valuations include the fundamentals of the company, which assumes that it remains a going concern. In this case, there is no equity valuation model that I can employ. Sprint clearly has a liquidation value, which is helpful for fixed-income investors. As a going concern, Sprint's equity value is somewhere between worthless and highly uncertain but positive.
Disclosure: I have no positions in any stocks mentioned, and no plans to initiate any positions within the next 72 hours. I wrote this article myself, and it expresses my own opinions. I am not receiving compensation for it (other than from Seeking Alpha). I have no business relationship with any company whose stock is mentioned in this article.